Marcus Mariota Is Closely Monitoring Starting Quarterback Jobs Around the NFL: 'It Is My Goal [to Be a Starter]'
Having gotten a chance to play meaningful NFL snaps this past season, there was some buzz surrounding Marcus Mariota potentially being traded to a new team to act as their starting quarterback. The Las Vegas Raiders are all but married to Derek Carr and have displayed an unwillingness to move off him in the past, and Mariota is still just 27 years old.
The Washington Football Team, Indianapolis Colts, Denver Broncos, Carolina Panthers, and the Los Angeles Rams were all in the market for a starting QB at some point this past offseason. However, each team ended up pivoting in a different direction.
The Football Team signed Ryan Fitzpatrick, the Colts traded for Carson Wentz, the Broncos oddly brought in Teddy Bridgewater, the Panthers acquired Sam Darnold, and the Rams pulled off a blockbuster deal for Matthew Stafford.
Mariota ended up staying put amidst all the QB reshuffling, agreeing to a reworked contract to return as Carr's backup. However, he reportedly remains interested in leaving Las Vegas if it means he gets to be a starter elsewhere.
Current Las Vegas Raiders backup Marcus Mariota continues to pursue starting jobs around the NFL
According to the Las Vegas Review-Journal's Adam Hill, Mariota has yet to give up on his dream of being a starter in 2021.
"It is my goal [to be a starter], so I do keep tabs on what's going on. For us as players, it's kind of important to see what the landscape is," said Mariota.
The current Vegas backup started 61 games with the Tennessee Titans between 2015 and 2019 and was drafted to be the Titans' version of a franchise quarterback. He never lived up to such a title, but Mariota still has enough games started under his belt to make him attractive to quarterback-needy teams.
Marcus Mariota flashed enough potential in 2020 to justify receiving another starting gig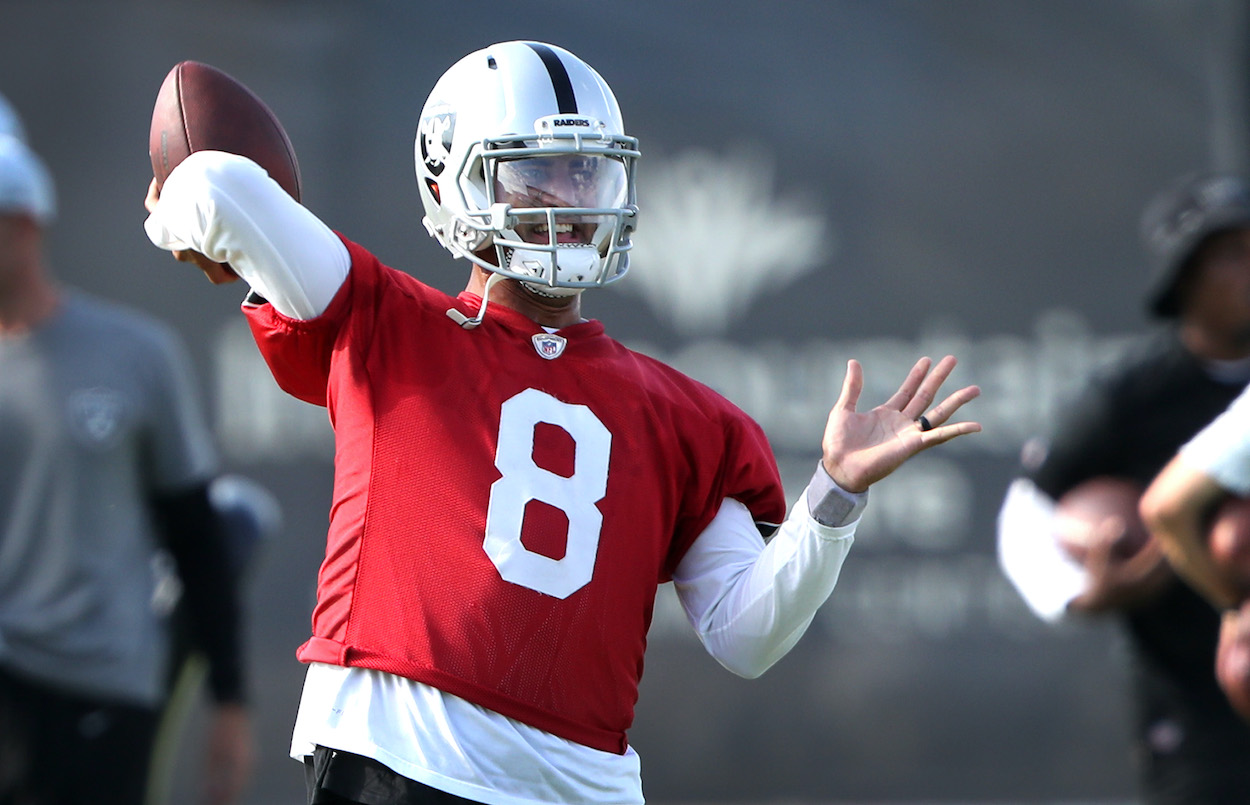 Mariota primarily sat the bench behind Carr in 2020, but he flashed potential during the one game where he did see action.
He completed 17 passes on 28 attempts for 226 yards and ran for an additional 88 during a Week 15 loss to the Los Angeles Chargers. Mariota did throw an interception but also finished with two touchdowns (one passing and one rushing).
It wasn't an earth-shattering performance by any stretch of the imagination, but Mariota coming off the bench cold and putting up 300+ yards of offense was enough to get the NFL's attention. Numerous teams could use production like that every week.
The Colts and Broncos project as possible landing spots for the Raiders' backup
All of the starting quarterback jobs in the NFL are filled at the moment, but that doesn't mean things can't change as the regular season gets underway. The Colts, for example, are set to be without their starter for 5-12 weeks due to foot surgery. If Wentz's rehab isn't going according to schedule, making an impromptu move for Mariota could salvage the Colts' season.
The Broncos are another team that could be in the market for a new quarterback. Their current QB room consists of Drew Lock and Bridgewater — neither are surefire starters. It wouldn't be all that surprising to see the front office panic after a shaky start and look elsewhere.
Injuries are also commonplace in the NFL. All it takes is one team losing their starter for Mariota to look like an attractive option.
Mariota has a no-trade clause attached to his contract. However, he would undoubtedly waive it if meant being moved to a team that provided him with the opportunity to start games. It's something to keep a close eye on, especially as the rumor mill begins to heat up at the trade deadline.
All stats courtesy of Pro Football Reference.