Marcus Smart, Boston Celtics Up for Challenge vs. Kyrie Irving and the Nets: 'We're Definitely Ready'
Marcus Smart and the Boston Celtics are anxious to get back at it after a week off.
A week off might be the only thing that can slow down the Boston Celtics. Veteran point guard Marcus Smart doesn't think that will be the case.
The Celtics were the hottest team in the Eastern Conference the last three months, ending the season on a 26-6 run. The Celtics haven't played since last Sunday's victory over the Memphis Grizzlies that helped secure the No. 2 seed in the conference.
Boston faces a tough test in the Brooklyn Nets on Sunday in their best-of-seven series. Despite the week off, Smart says the energy is still there, saying, "we're definitely ready."
Marcus Smart and the Boston Celtics have been on a roll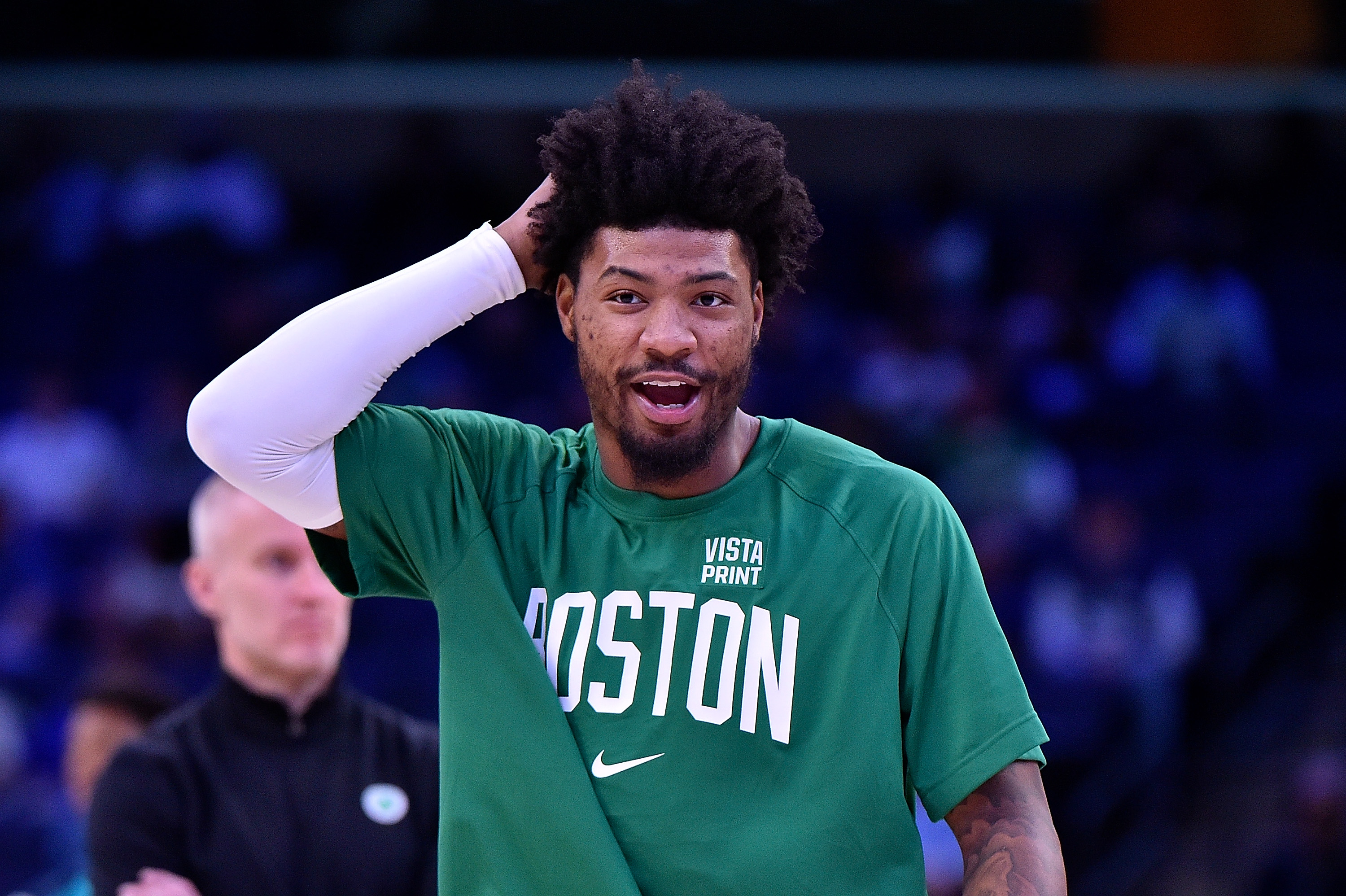 It's been an incredible end to the regular season after such a woeful start in Boston. Through the first 50 games, the playoffs were a serious question mark. Under first-year head coach Ime Udoka, the team struggled to find cohesiveness on both sides of the ball and were a disappointing 25-25.
On several occasions, the Celtics failed to hold on to big leads late in the game. Smart publicly called out teammates Jayson Tatum and Jaylen Brown in a fit of frustration, saying they never passed the ball.
"Every team knows we're trying to go to Jayson and Jaylen," he said after an ugly loss to the Chicago Bulls. "Every team is programmed and studied to stop Jayson and Jaylen. I think everybody's scouting report is to make those guys pass the ball. They don't want to pass the ball.
"That's something that they're going to learn. They're still learning. We're proud of the progress they're making, but they're going to have to make another step and find ways to not only create for themselves but create for others on this team to open up the court for them later down in the game."
The Celtics finally began to pull things together with a victory over the New Orleans Pelicans on Jan. 29. That win ignited a nine-game win streak, and the Celtics haven't slowed down since.
Marcus Smart and the Boston Celtics ready to go after long layoff
It's tough for a team that's been on a roll to have to lay low for a week, but that's what the Celtics have done. Smart said the team is itching to get back into the groove. It will be quite the challenge when Kyrie Irving, Kevin Durant, and the Nets come to town Sunday for Game 1 of their playoff series.
It's a challenge Smart is anxious to face.
"The energy is there," Smart said, per The Boston Herald. "The guys are ready on both sides, I can speak for that. I'm sure, I know for a fact, guys over here aren't getting any sleep because of that and I'm sure it's the same for those guys.
"But the playoffs and this moment and this stage is an exciting moment for everybody. And we just want to all go out there and prove that the work we've been putting in can show the results for us in our favor. So we're definitely ready."
Smart said the wait is finally over.
"It's been nice, but it's been long. It has been long," he said. "Sometimes you just wait so long to play that it's kind of a drag, but finally, it's gonna be here tomorrow and we can actually play some games."
Smart excited for the challenge of guarding Kyrie Irving
Smart knows the task at hand. The Celtics are facing two of the top offensive players in the league in Irving and Durant. Smart knows he'll be hounding Irving, who will be a handful.
"He's truly a magician with the ball," Smart said Saturday after practice, per CLNS Media. "He has a lot of what you call a lot of last-minute moves. You think you've guarded him, and he always finds a way to get out of whatever type of situation he's in.
"It's a gift he has, and it's a gift that's proven to be successful for him," he said. "In that aspect, it's truly amazing to watch him do those things. Being able to play with him for as long as I did, being able to learn things from him and watching how he plays, and vice versa with him, it's in the back of my mind, how he plays."
Irving isn't the only threat. Durant is one who can stretch the floor and present a matchup problem. Smart knows it won't be easy. But he knows Boston will be ready.
"The way that they score on every level. Inside, outside, mid-range, when you got guys like that it makes them difficult to play against, and it always gives them a fighting chance," he said. "We understand how great those guys are, and it's going to take a full team effort."