Marcus Smart's $77 Million Contract Extension Was a Critical Move for the Boston Celtics
Marcus Smart's contract extension with the Boston Celtics will keep him with the franchise through the 2025-26 season. Boston made the critical move to keep Smart around after losing Evan Fournier to the New York Knicks in free agency. Smart's been a key member of the Celtics since he was drafted out of Oklahoma State in 2010 and should head into this year as the team's starting point guard.
Smart provides Boston with toughness, defense, and leadership. Jayson Tatum — who received a new contract extension last season — and Jaylen Brown are the team's best players, but Smart may be its most important. No one else on the roster provides the energy and spark Smart does. He was an important re-signing if the Celtics want to continue to challenge for a top spot in the Eastern Conference.
Marcus Smart's contract extension means Boston will continue to receive all-NBA caliber defense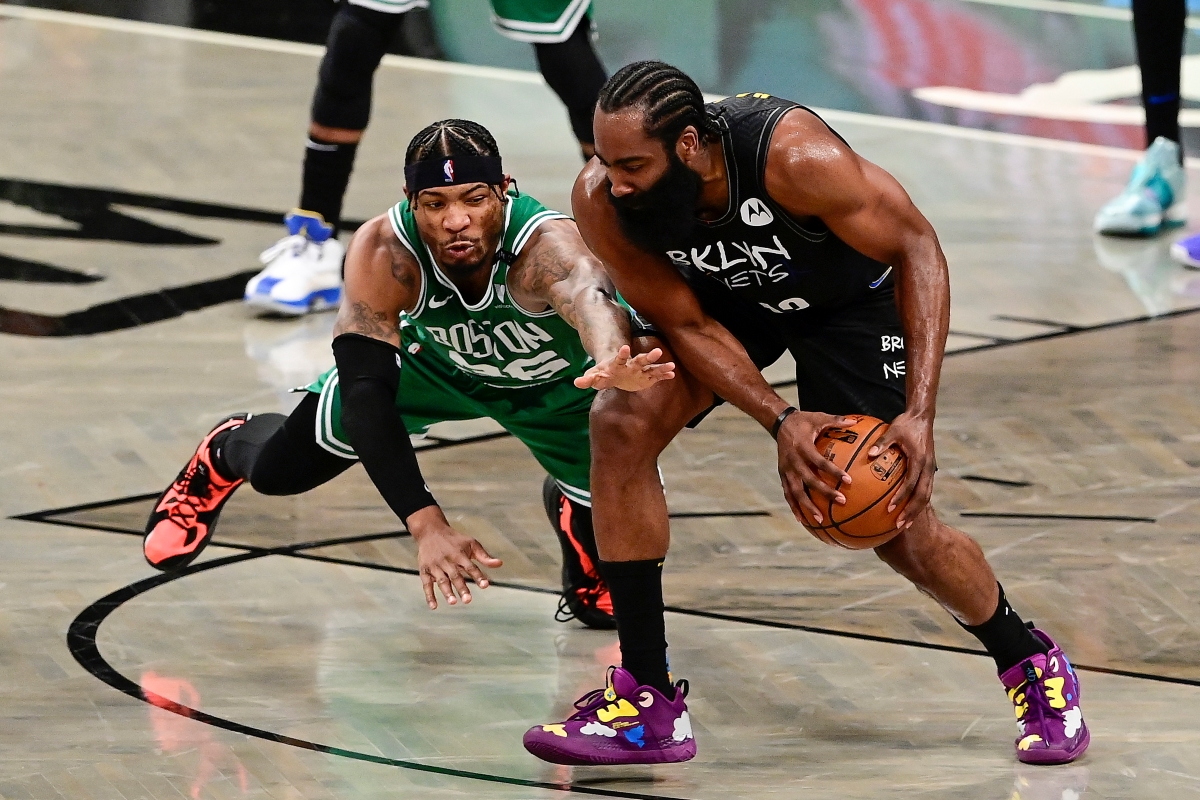 Smart's contract extension is for four years and $77 million, according to Spotrac. It also includes a trade kicker, which will make it more difficult for the Celtics to ship him elsewhere over the next five seasons.
Smart has twice been named to the NBA's All-Defensive First Team. At 6-foot-3 and 220 pounds with elite athleticism, he's a pest to play against. Over the course of his career, the Boston guard has averaged 1.6 steals per game. Over his first seven years in the league, Smart has a total of 17.1 defensive win shares, meaning he has earned an estimated 17.1 wins for the Celtics on his defensive skills alone.
Smart's offensive skills are what have held him back during his career
What the combo guard does on defense is often offset by what he does on the opposite end of the floor. Smart's career stats offensively are uninspiring at best. The former Cowboy has averaged 10.2 points per game during his pro career and has been inefficient in doing so, shooting 37.6% from the field and just 32.0% from three.
Those numbers don't prevent him from shooting, though, as he's averaged 11.0 field goal attempts and 6.3 shots from deep per game over the past two seasons. His offense has improved, but he's still a liability on that end, especially during games when he's an ineffective shot-chucker.
Smart gives the Celtics what no other player on the roster has
Boston moved Brad Stevens from his role as the team's head coach into the front office as general manager. It's telling that Smart's contract extension came during Stevens' first offseason in his new role. It shows that Stevens and the Celtics value what Smart brings to the team, despite his limited offensive skill set.
Smart is one of the NBA's best perimeter defenders, but he also fills other gaps in the team's rotation. Tatum is Boston's franchise player and its go-to scorer. Brown is the Celtics' secondary option. The team recently acquired point guard Dennis Schroder to help in the backcourt as well. Still, all three of those players are missing important qualities every championship roster needs: toughness, intensity, and leadership. Those are three things Smart has in droves, which is why keeping him in Boston was a critical move for Stevens and Co.
All statistics courtesy of Basketball-Reference.