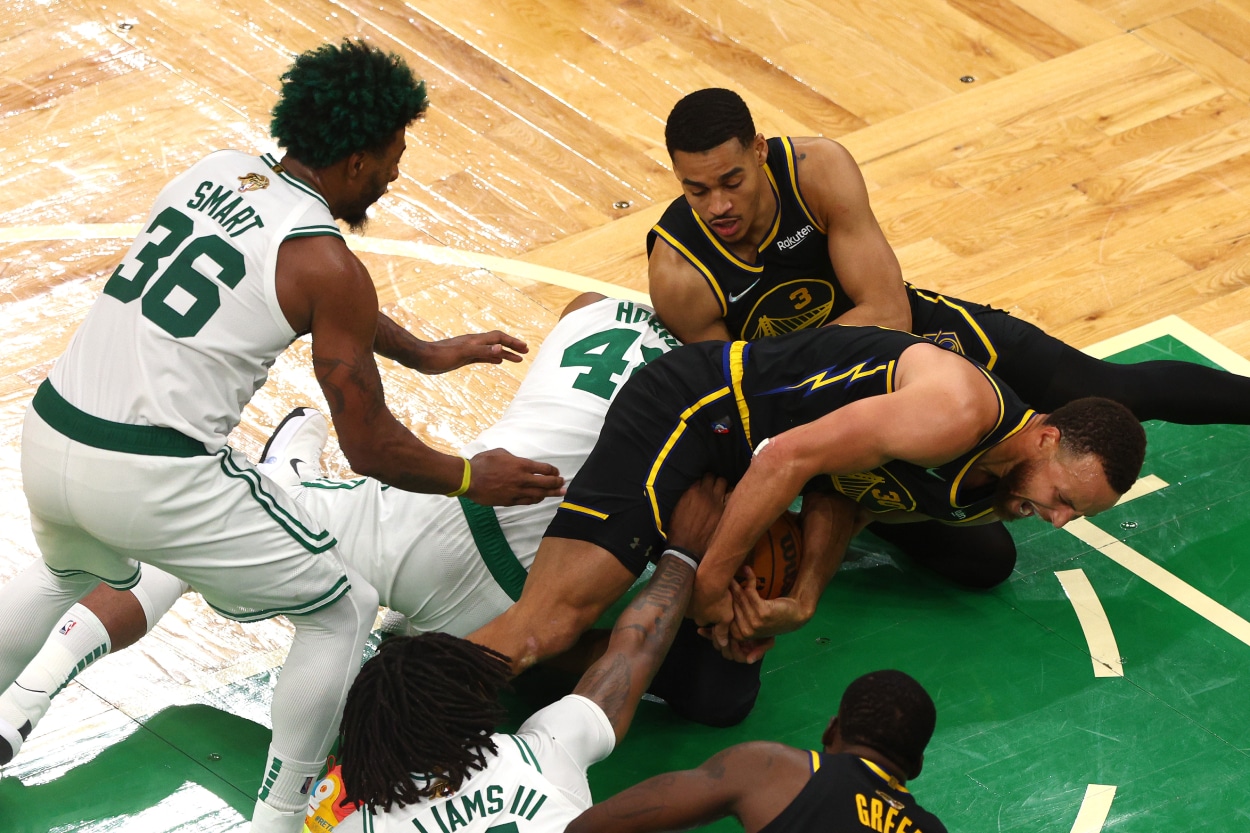 Marcus Smart Fires Back After 'Dirty' Accusations Resulting From Stephen Curry Injury
Stephen Curry said he'll play in Game 4 after getting injured late in Game 3 against the Boston Celtics.
The Golden State Warriors suffered a scare late in the fourth quarter of Wednesday night's 116-100 loss to the Boston Celtics when their big star went down. After a mad scramble for a loose ball, Stephen Curry writhed in pain after Celtics center Al Horford dove for the ball and landed on Curry.
Celtics guard Marcus Smart, one of many others involved in the play, took offense to some social media comments that claimed Horford's dive was dirty.
Marcus Smart finds himself in the middle of another Stephen Curry injury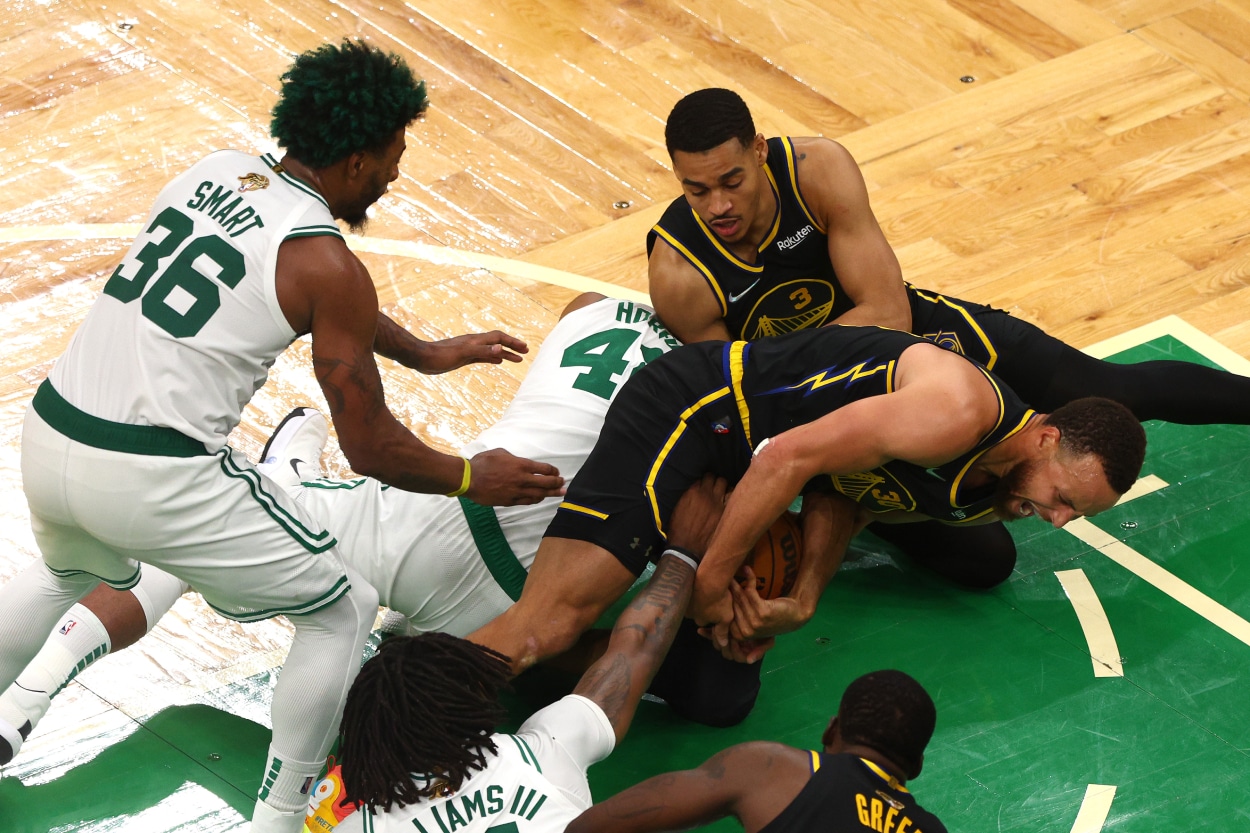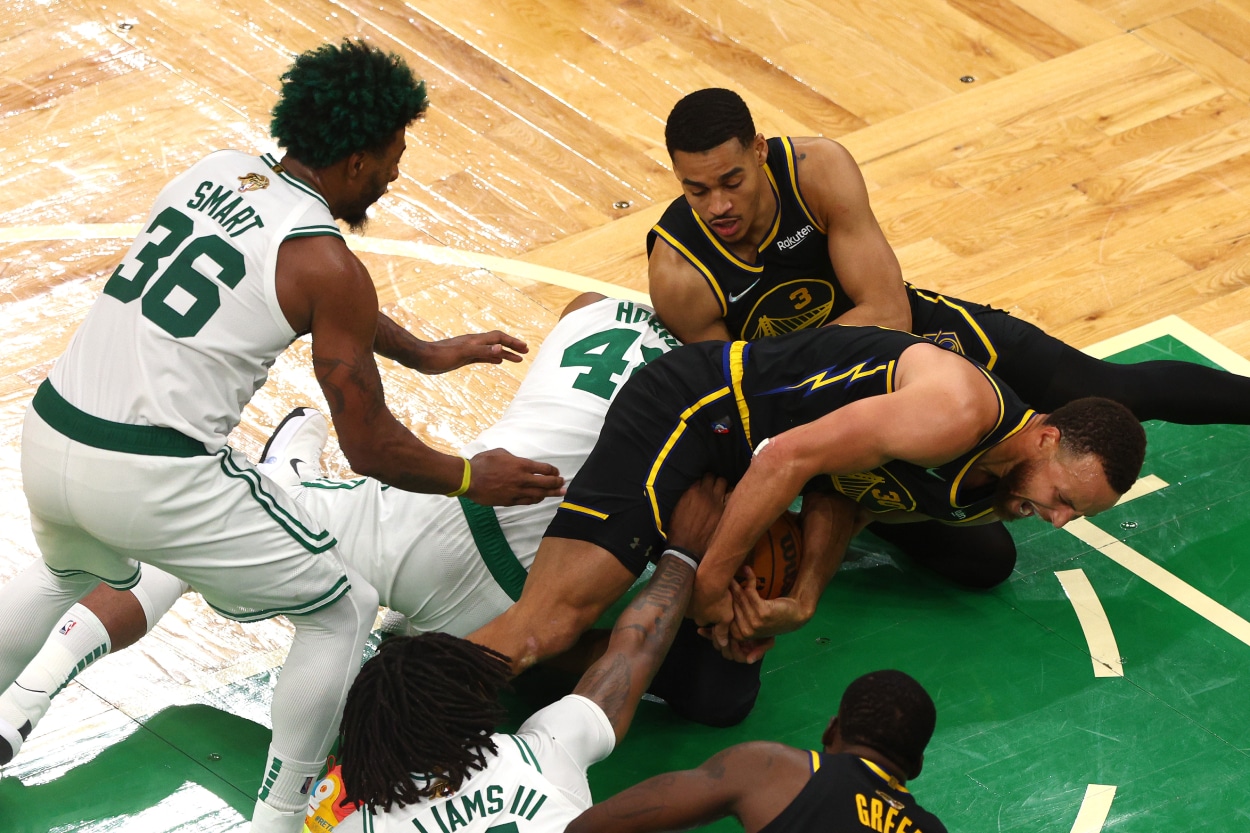 Back on March 16, the Celtics traveled to Golden State for their second and final meeting of the regular season. In the second quarter, Smart dove for a loose ball and slid into Curry, whose ankle turned awkwardly. Warriors coach Steve Kerr was upset, calling it a "dangerous play."
"I thought it was a dangerous play," Kerr said, per ESPN. "I thought Marcus dove into Steph, and that's what I was upset about. A lot of respect for Marcus. He's a hell of a player, a gamer, a competitor. I coached him in the World Cup a few summers ago. We talked after the game and we're good. But I thought it was a dangerous play."
Smart didn't quite see it that way.
"I saw the ball, I dove for the ball, trying to make a play," Smart said. "Unfortunately, that occurred.
"I'm sure I'm going to get called dirty. But I know who I am. … I play very hard and I leave everything on the court. … My teammates, my colleagues, they know I'm not a dirty player."
Curry missed the remainder of the regular season with a sprained ligament in his left foot.
Smart fires back after Curry gets injured again after a dive for a loose ball
The play late in the fourth quarter of Game 3 Wednesday generated flashbacks of Curry's March injury. It was a mad scramble for a loose ball that had Curry screaming in pain. Horford got on the floor, battling for the ball, and landed on Curry's foot. According to Chris Haynes of Yahoo! Sports, many fans on social media labeled it a "dirty play."
Smart defended Horford, saying he hustled on the play. He didn't play dirty.
"It's the Finals. You've got guys diving all over the place," Smart told Yahoo! Sports. "Their guys are diving into us. We don't say nothing. We're getting hurt as well, but we continue to play. Nothing is intentional. It's the Finals. We're trying to win just like them. First one to the ball, as we all know, wins.
"They can complain all they want. It is what it is. There's nothing dirty about it. It's fair game. It's Finals basketball. … Nobody is out here trying to hurt anybody."
Horford said it was a simple hard-nosed basketball play.
"It has nothing to do with Steph," Horford said. "I saw the ball and tried to make a play. We're trying to win a game. I don't think there's any (controversy) there."
Curry left TD Garden with a noticeable limp. He said he'll play in Game 4 Friday night. Curry said his March injury helped him this time around.
"Because I went through what I went through in the regular season and coming back, I know exactly what it is and what I've got to deal with and the soreness, pain level and all that," Curry said, per ESPN. "So once I got checked out last night, I knew I wouldn't have to go get any extra tests just because we've been through this before."
Like Sportscasting on Facebook. Follow us on Twitter @sportscasting19 and subscribe to our YouTube channel.