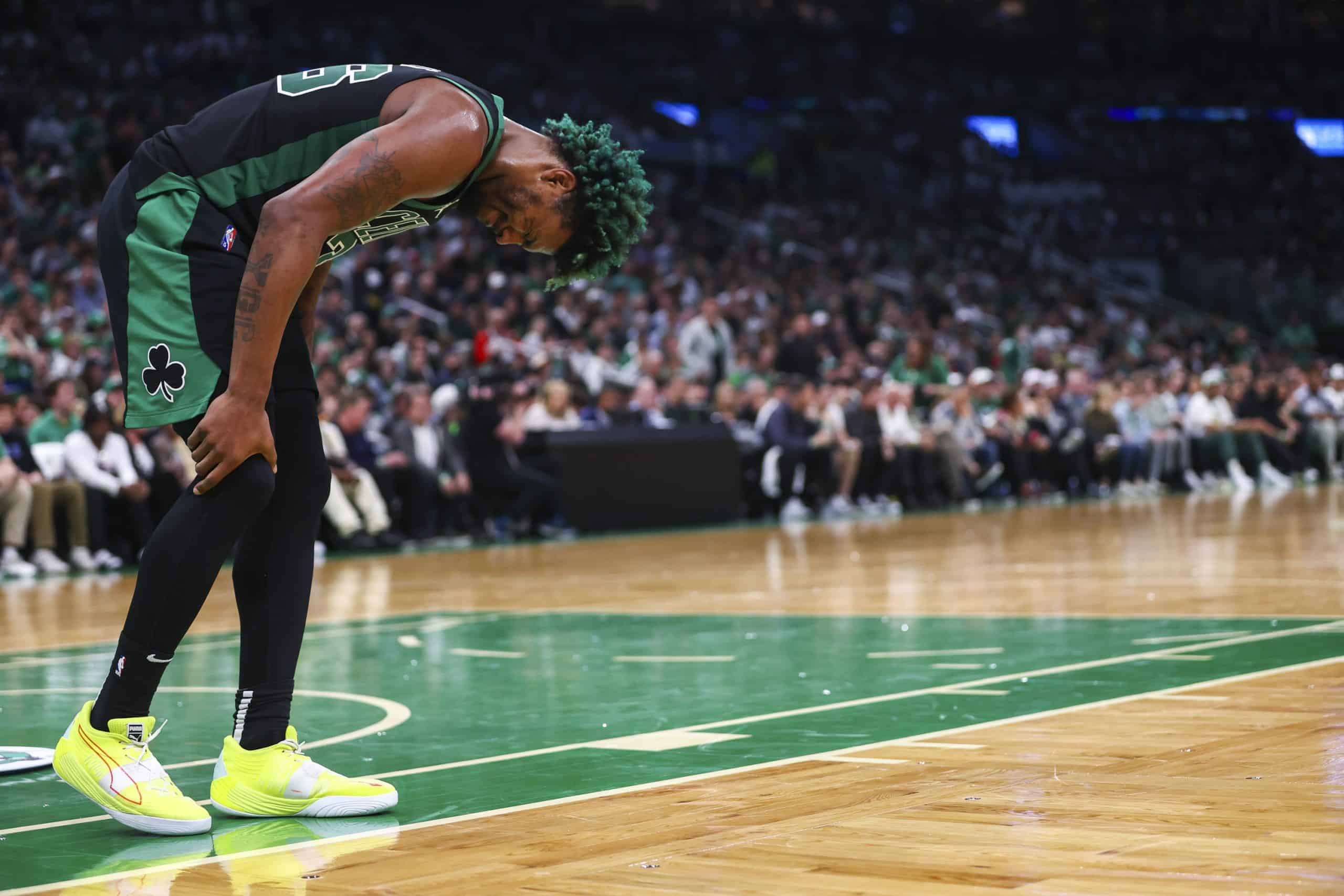 Marcus Smart, Ime Udoka Prove There's No Playoff Tension With the Boston Celtics
Marcus Smart hopes to be back in action for the Boston Celtics on Saturday night against the Milwaukee Bucks.
The Boston Celtics put themselves in a bit of a hole with some poor shooting in Game 1 against the Milwaukee Bucks. Seeing how they responded in Game 2 was key in their Eastern Conference Semifinals matchup with the defending champions.
The Celtics passed the test with a dominant performance in Game 2 to tie the series, despite playing without Marcus Smart, the NBA Defensive Player of the Year. The Celtics showed no signs of pressure. Even during Thursday's press conference, Smart and first-year coach Ime Udoka proved there was no sign of playoff tension.
'Strong likelihood' Marcus Smart returns for Game 3 for the Boston Celtics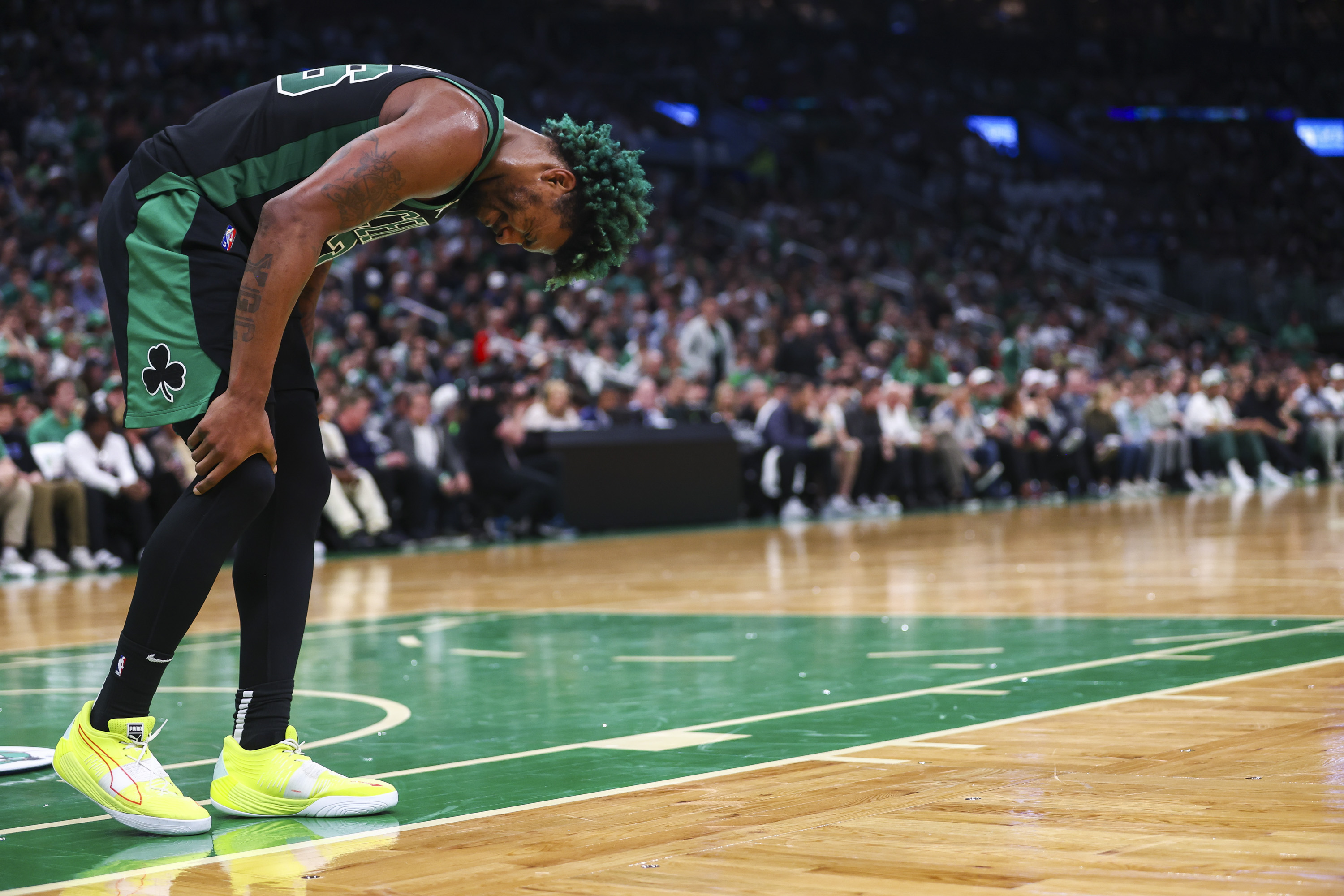 Smart missed Tuesday's game after suffering a right quad contusion in the Game 1 loss. He said fluid buildup has restricted movement, and once that goes away, he'll be back in action.
"Once that goes away, I should be back to feeling to myself," Smart said at Thursday's press conference. "Everything else is healing up the right way."
He told reporters there is a "strong likelihood" he'll be out there for Game 3 on Saturday in Milwaukee.
Smart also said he had trouble sleeping before Game 2 because he knew he wasn't going to play. He wanted to be there for his teammates.
"Just wishing I was out there with my guys," Smart said. "It's really tough. My guys know, anybody who knows me understands that if I'm gonna miss a game, especially a playoff game, something's really gotta be really wrong."
Udoka said Smart is improving, and they'll get a better idea of Smart's availability as the days go on.
"We'll know more tomorrow based on how it feels today," Udoka said. "But obviously looks better today than he did. Just moving around, walking around the last few days when he couldn't go. We'll know more tomorrow."
Marcus Smart and Ime Udoka show there is no playoff tension with the Boston Celtics
After Thursday's practice, a reporter asked Udoka about his team's performance in Game 2 without their top defensive player. The coach, noticing Smart in the room, had a little fun with the injured guard.
"We don't really even need Marcus, honestly," Udoka said with a straight face before nodding at a laughing Smart.
Smart responded.
"Nah we really don't to be honest," Smart said, per NESN. "But it's nice to have him."
The two showed they are loose in the locker room as well as on the court. Smart did turn serious when asked about his potential return Saturday.
"I mean, for me, if I'm out there, I should be able to do the things that I was doing, or I shouldn't be out there," Smart said.
"So when I come back, I'm coming back to be me, that's all I can really say about that. Because if I'm not out there, it's because I didn't feel like I was 100 percent to be out there and do the things I think I'm supposed to be doing."
Udoka also joked about Grant Williams
The jokes didn't stop with Smart. Udoka also messed around with forward Grant Williams. Williams came up big in Tuesday's game on both ends of the floor.
He knocked down six three-pointers and finished with 21 points. Defensively, he got physical with Bucks star Giannis Antetokounmpo and helped force him into an 11-for-28 shooting night. Udoka spoke about
During an appearance on 98.5 The Sports Hub's Zolak and Bertrand, Udoka talked about how much Williams talks, both on and off the court.
"For good or bad, yes, he has a voice," Udoka said Thursday. "He's very talkative, very opinionated. But on the floor it's what we need, we need the communication. Very vocal and we encourage that. Off the court, he doesn't stop either, so we take it with a grain of salt and we'll take it if he's that vocal on the court."
Udoka spoke about one off-the-wall opinion from Williams.
"That he should get plays ran for him like Jayson and Jaylen do," Udoka said. "I called one play for him this year against Oklahoma City when (Shai) Gilgeous-Alexander was on him. He got a post-up and Gil just blocked him at the rim and that was pretty much his one attempt."
On the court, the Celtics are all business. Off it, they're still having a good time.