Marcus Smart Is Proving the Value of a Wild Card in the NBA
From his early days at Oklahoma State to his current days with the Boston Celtics, Marcus Smart has been a bit of a wild card. Not known for his traditional offensive skills, Smart uses defense and a relentless sense of attack to make his presence felt in ways that aren't always on the stat sheet. In doing so, he proves just how valuable a wild card like him can be. 
Marcus Smart's NBA career
Smart's passion was a blessing and a curse in the draft. At his best, he could be the emotional leader of the team. At his worst, however, he was a distraction. By the time he got to the NBA, Smart proved he could harness his game's best aspects and use his unique brand to make the Celtics better. 
Brad Stevens liked Smart's ability to sneak into offensive or defensive scenarios. Sometimes he was a starter; other times he came off the bench. No matter the case, Smart gave 100% every time he stepped on the floor. While many believed the Celtics were on a rebuild, Smart helped offer the support to make it quicker than imagined. 
While the league increasingly relies on superstar power, the Celtics offer a balanced attack similar to the Miami Heat. They have definitive stars like Kemba Walker and Jayson Tatum. Still, it's the balance of effort that makes them a force to be reckoned with in a competitive Eastern Conference. This year, Smart started 40 of his 60 games. 
Knowing he didn't need to keep the ball in his hands may have been his most productive year as an NBA player. Come playoff time, however, he got even more valuable for the team that drafted him. 
Smart shows up when it matters
Smart knows how to use his skill set in ways that make the team far better when he's on the floor. It's not hard for him to play that way, however. He spoke about this after sparking the Celtics to a win over the Toronto Raptors in the second game of the second round.
"That's just me," Smart said per ESPN. "Growing up I've always had confidence. That's just what it is. I believe in myself. I always have and I always will." This style has made the Celtics a threat as a whole. Smart's relentless attack forces teammates to match his effort, and they're better for it. 
"We have to continue to play desperate," Smart said. "Even though we're up, we have to play like we're down. We have to play games to win, not to lose. A lot of teams at this point, they play not to lose instead of just being who they are. For us, that's getting up into guys, playing great defense, and moving the ball on the offensive end
Smart is a wild card in every sense of the word. When he struggles, it can hurt the team, but few can match his intensity and importance to a game of basketball when he's on. 
Taking the wild card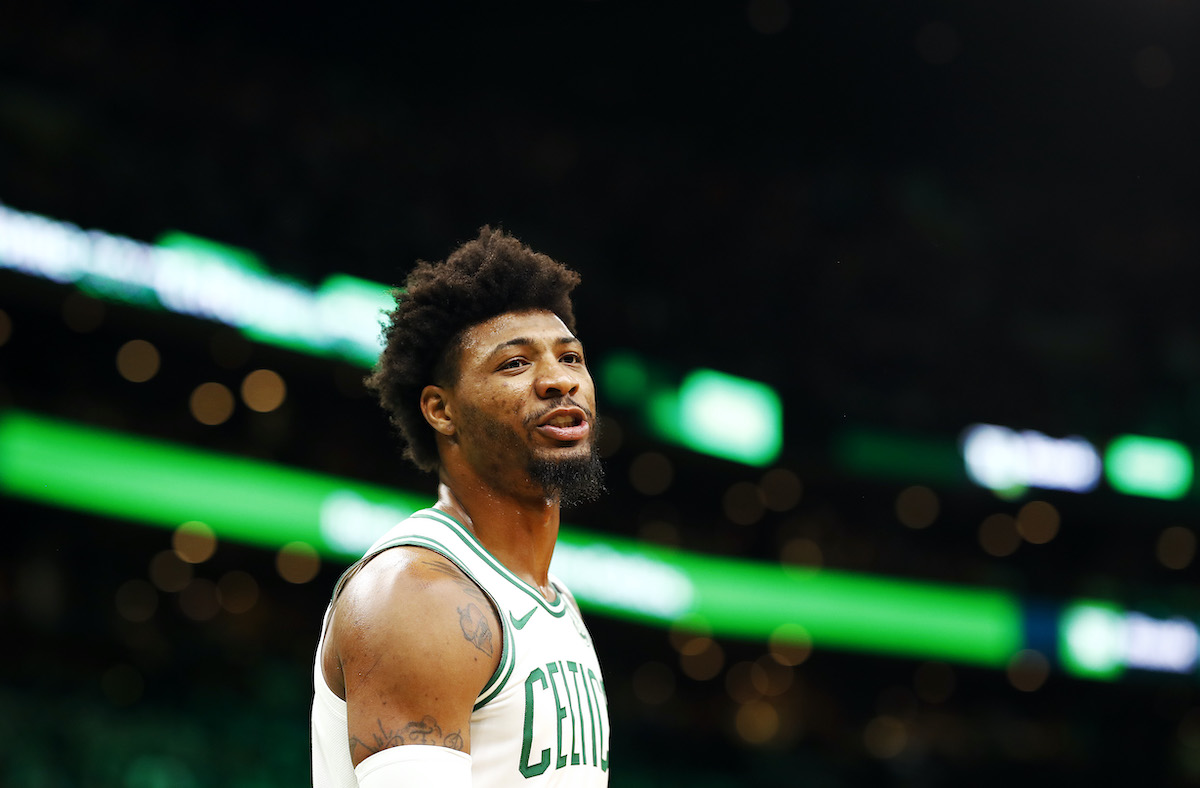 Wild cards come in many shapes and sizes, details Hoops Habit. Players like Draymond Green become wild cards by showing an ability to adapt to a situation, play multiple positions, and dominate the game with a balanced stat sheet. Ron Artest was a borderline star in his prime, but his most valuable years came as a wild card role player with the LA Lakers. 
From JR Smith to Dion Waiters, wild cards have a way of adding excitement and heart to any game they step in. As Smart continues to improve, he might make a name for himself as one of the greatest wild cards to ever play the game.