Marcus Smart Pulled 1 of the Best Pranks Ever on Celtics Rookie Romeo Langford
It's hard being the new guy, and it's no different when your job is in the NBA. In his rookie year with the Boston Celtics, Romeo Langford is still adjusting to NBA life. Veteran Celtics player Marcus Smart welcomed the 20-year-old to the team by pranking him at Chipotle. We hope the joke was enough to make Langford feel at home in Boston.
Romeo Langford's NBA career so far
At only 20 years old, Langford could have a long career ahead of him. He crushed his senior year at New Albany High School in Indiana, ranking fourth on the all-time Indiana state scoring list and being named the state's Mr. Basketball.
Throughout the year, he was scouted by a number of high-profile basketball programs like Indiana, Kentucky, Duke, UCLA, and Vanderbilt. After his senior season, Langford chose to continue his Hoosier life at Indiana University.
His first year at Indiana, Langford averaged 16.5 points per game, the highest among Big Ten freshmen and the third-highest ever for a freshman at Indiana. He finished the season and was drafted by the Celtics as the team's 14th overall pick. Langford signed with Boston in July 2019 but hasn't seen much playing time yet.
Injuries hold Langford back
Langford entered the draft with a known thumb injury, but he's dealt with a number of additional injuries since then. He had surgery for his thumb and then suffered a groin strain. Shortly after he healed, Langford sprained his knee, leading to a disappointing start to his NBA career.
The shooting guard has only got about 14 seconds of playing time. Langford was recently moved to the Celtics' G League team in Maine, the Red Claws. There, he can maintain his skills while recovering from these injuries.
Langford's Chipotle nightmare via Marcus Smart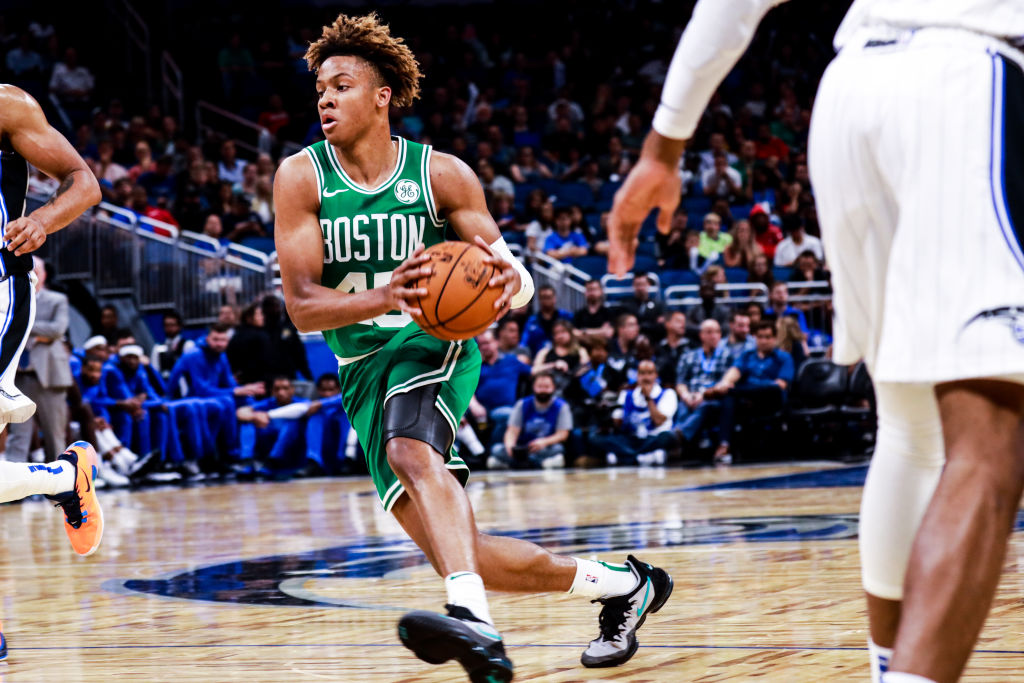 While his court time has been disappointing, it's good to see he's bonding with teammates. Teammate Marcus Smart heard that Langford was a fellow Chipotle fan and decided to have a little fun with the rookie.
Smart ordered over 300 burritos and sides for the Celtics team and staff. He planned for the order to be ready when he knew Langford would be there for his own food. The rookie ordered his single burrito bowl and went to pay when the staff told him that Smart had ordered $4,500 worth of food and wanted Langford to pick up the tab.
Langford's reaction was priceless. He stared at the woman behind the counter and asked, "Can you put it on my tab?" Shortly after the shock started to wear off, Smart walked out from his hiding place in the kitchen, laughing and continuing to poke fun at the rookie. He asked why Langford couldn't afford it since he was an NBA player now. The rookie simply replied he hadn't gotten his first check yet.
Fans love to see the behind-the-scenes fun that teammates have with each other. Fans called the prank hysterical, good team building, and wicked good (truly Bostonians!). Maybe the next time this happens to a rookie, they'll have a Chipotle rewards membership because they could earn a lot of free burritos!