Maria Taylor Bolts ESPN After All the Rachel Nichols Drama
After a rancorous negotiation with ESPN, Maria Taylor ended up where she was likely headed all along. Taylor's contract with ESPN expired, and she made the jump to NBC Sports. She co-hosts NBC's Prime Plus coverage during the Tokyo Olympics and will also work as a correspondent. Taylor spent eight years at ESPN. She closed her stint at the sports media behemoth hosting coverage of the NBA Finals.
That assignment came in the wake of a controversy involving ESPN colleague Rachel Nichols' comments in 2020. Those comments inadvertently recorded by Nichols wound up leaked to the media. Nichols came under heavy scrutiny in the wake of those comments. The network's on-air personalities divided into pro-Nichols and pro-Taylor camps.
In the end, Taylor and ESPN parted company with a joint statement, per the New York Post. Each party said kind words, and the hatchet did not end up buried in someone's forehead. But the controversy served as a reminder that for all the advances made, there's still a long way to go.
Maria Taylor waited a while to respond
On July 4, Kevin Draper of The New York Times reported behind-the-scenes infighting at ESPN in the wake of Nichols' comments. She appeared to suggest Maria Taylor had gotten the hosting duties on NBA Countdown because she is Black.
Nichols' original comments in July 2020 sparked controversy at ESPN that lingered to Taylor's departure.
"I wish Maria Taylor all the success in the world — she covers football, she covers basketball. If you need to give her more things to do because you are feeling pressure about your crappy longtime record on diversity — which, by the way, I know personally from the female side of it — like, go for it. Just find it somewhere else. You are not going to find it from me or taking my thing away."

Rachel Nichols
Strong criticism hit Nichols for only advocating for Black journalists when she didn't have a personal stake in the outcome.
Taylor did respond to the controversy a few days after the Times report with a tweet to keep the discussion positive.
Maria Taylor will get a shot at NFL and Super Bowl coverage at NBC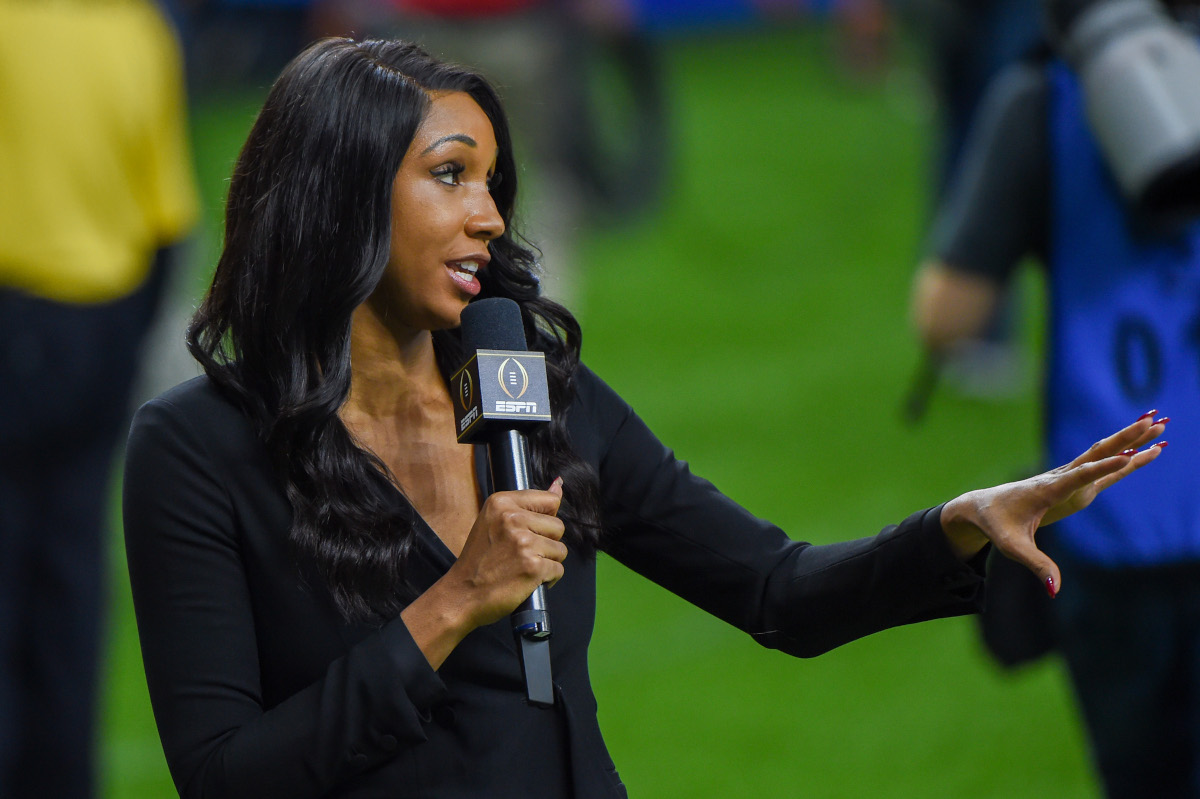 Maria Taylor's new gig at NBC Sports began with Olympics coverage. But she will also work with the Football Night in America coverage team. She will participate in Super Bowl coverage when NBC is up in the rotation.
In a press release from NBC Sports, Taylor's comments were upbeat.
"Incredibly excited to have the opportunity to work with Pete (Bevacqua), Molly (Solomon), Sam (Flood), Fred (Gaudelli), and the entire NBC Sports family. Literally, hosting the Olympics, Football Night in America, and the Super Bowl is what I dreamed of when I started in television — and this would not be possible without standing on the shoulders of all of those who came before me and made this path possible. And I plan to pay it forward."

Maria Taylor
The Football Night in America duties bring with them the potential for some initial awkwardness. Recently retired New Orleans Saints quarterback Drew Brees signed with NBC. When Brees commented last year about athletes protesting during the national anthem, Taylor was a particularly loud critic.
What comes next for ESPN?
ESPN has taken a great deal of criticism over the years for its less-than-sterling record regarding workplace diversity. According to a column from Iliana Limón Rivera of the Los Angeles Times, former ESPN journalist Jemele Hill called out the network.
"This isn't a Rachel vs. Maria story. This is a story about why they didn't value Maria enough to allow her to take full ownership of the job. ESPN collects Black faces, but it seems like that when those Black faces become Black voices, it's a problem."

Jemele Hill
Several Black ESPN employees told the Times that Nichols' comments provided more confirmation of a long-held belief. According to some, Whites at the network are only publicly supportive of Blacks.
It's easy to be supportive of a cause that does not affect your day-to-day life. It's even easier only to express that support when it's most beneficial to you. In the end, it's what we do when no one is watching that determines what kind of people we are.