Mark Andrews Is Quickly Transforming Into the Most Prolific Receiver in Ravens History Thanks to a Record-Setting Season
Mark Andrews has become a premier go-to weapon for Lamar Jackson and the Baltimore Ravens. The fourth-year tight end continues to improve, and his hard work is paying off.
With two games left in the 2021 NFL season, Andrews has a unique opportunity to make history in Baltimore. By breaking a 25-year-old record, he can cement his place in Ravens history at just age 26.
Mark Andrews is closing in on an elusive Ravens record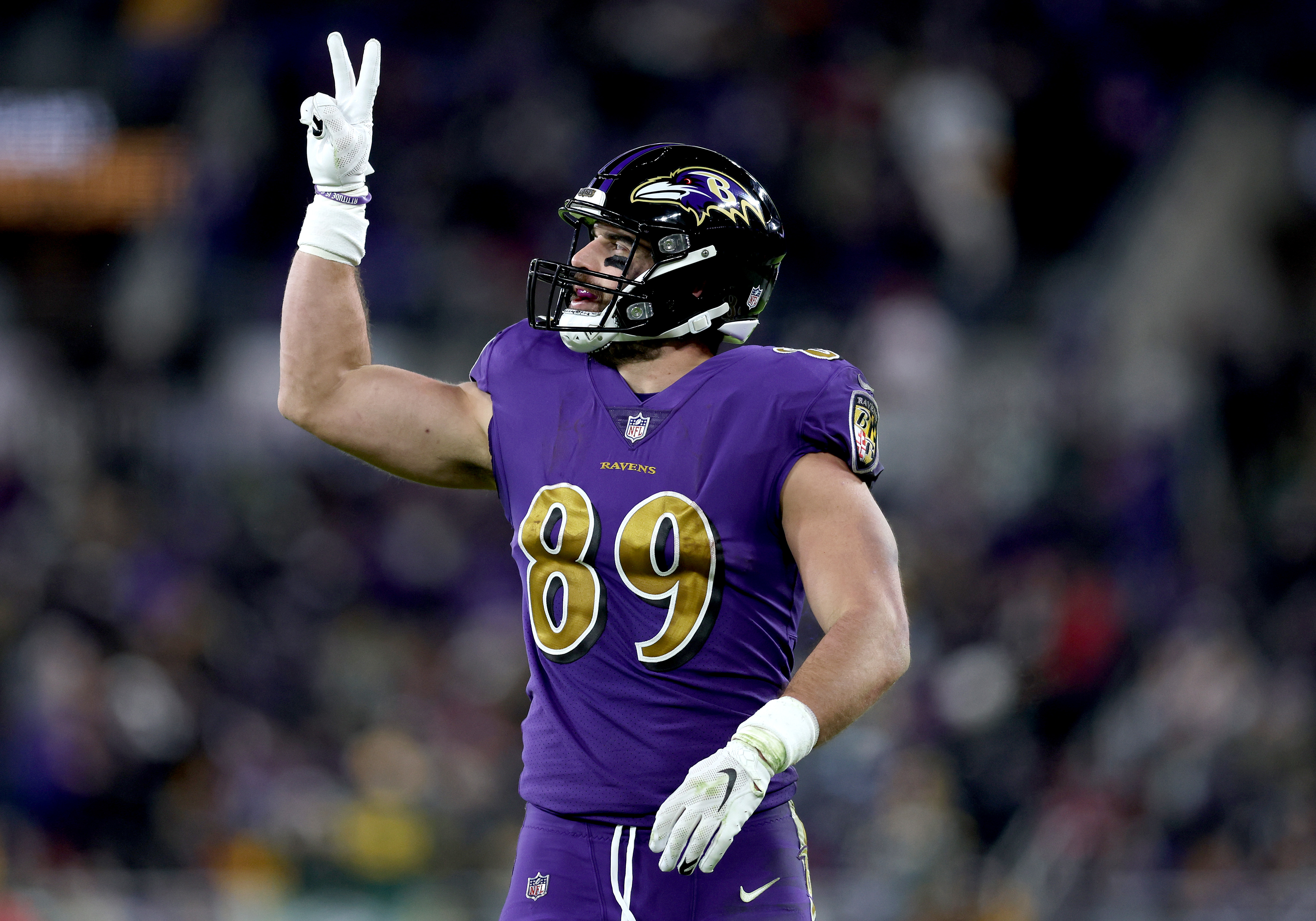 Mark Andrews needs only 15 yards to break the Baltimore Ravens' single-season receiving yards record.
The franchise record has stood since 1996 when Michael Jackson caught 76 passes for 1,201 yards. Andrews is in a prime position to set the new mark against the Los Angeles Rams in Week 17.
The former Oklahoma Sooners standout has recorded 93 receptions for 1,187 yards and nine touchdowns so far in the 2021 season. He continues to be a security blanket for Ravens quarterbacks, whether it's Lamar Jackson, Tyler Huntley, or Josh Johnson.
If (likely when) Andrews breaks the record, he will have accomplished something some talented wide receivers couldn't. Steve Smith Sr., Torrey Smith, and Anquan Boldin came up short.
The 2-time Pro Bowl tight end is also closing in on Derrick Mason's single-season receptions record. A 33-year-old Mason recorded 103 receptions in 2007. Mark Andrews needs 11 catches to break that record as well.
Baltimore will likely lean heavily on its most reliable weapon with a playoff berth at stake. He should break the receptions record and shatter the yardage mark.
The Pro Bowl tight end could be one of the greatest offensive players in franchise history
Mark Andrews is only in his fourth NFL season. Still, he's already creeping into the conversation with the best offensive players in Ravens history.
Andrews, a third-round pick out of Oklahoma, has been a model of consistency since arriving in Baltimore in 2018. He's eclipsed 500 receiving yards in each season and is getting increasingly better with more experience.
The Scottsdale, Arizona native has amassed 249 receptions, 3,292 receiving yards, and 29 touchdowns in 60 games. Not only is he having a fantastic 2021 season, but he's also on a pretty cool pace to set some all-time franchise marks.
Andrews ranks fourth in franchise history in receiving yards. He trails just Derrick Mason (5,777), Todd Heap (5,492), and Torrey Smith (3,591). He's also fourth in receptions behind Mason (471), Heap (467), and former running back Ray Rice (369).
If the Ravens' star tight end catches one more touchdown pass, he'll pass Mason for third all-time in that category. Numbers don't lie. Mark Andrews has been stellar in Baltimore.
What current and former Ravens are saying about Andrews
Mark Andrews is not only becoming an elite receiving option by Baltimore Ravens standards, but he's also one of the best tight ends in the NFL today.
Even though he's just four years into his promising pro career, the Oklahoma product continues to turn heads of those in and around the Ravens organization.
"He catches everything," said former Baltimore wideout Derrick Alexander per ESPN. "For a big guy, he can run. He can run after the catch. He has it all and deserves to get that record."
Super Bowl-winning receiver Qadry Ismail isn't a one-trick pony. "Mark isn't just a catch-out-in-the-flat guy," he said. "Now, it's like 'Oh snap, we have to be careful regardless of where he's at on the field.' When it's regardless of where you're at on the field, and you're making plays, you're being productive for your football team."
Oft-injured former tight end Dennis Pitta praised Andrews for staying on the field. "Mark's greatest attribute is his durability and availability," said Pitta. "Mark is starting to separate himself from the pack because he's so durable and because he hasn't had any injuries."
Center Bradley Bozeman is watching history up close, and he's looking forward to what's next for Mark Andrews.
"He's going to be one of the best to ever do it, to be honest."
All stats courtesy of Pro Football Reference