Mark Cuban Claimed Shaquille O'Neal Used to Call Him 'All the Time' About Forming the Best Frontcourt in NBA History: 'Come and Get Me'
Shaquille O'Neal ultimately formed a new power duo with a young Dwyane Wade after leaving the Los Angeles Lakers in 2004 and later teamed with Hall of Famer Steve Nash in Phoenix. But what if he instead joined Dirk Nowitzki in Dallas? Mavericks governor Mark Cuban said it could have happened.
Cuban and the Mavs tried to trade for Kobe Bryant in 2007, but he revealed in 2019 that The Diesel had a real interest in coming to Dallas.
Mark Cuban said Shaquille O'Neal routinely called him about playing for the Mavericks
Mark Cuban and the Mavericks failed to acquire Kobe Bryant after then-Lakers governor Jerry Buss convinced Bean to stay in LA. But Dallas still had the attention of another former Lakers star.
During a 2019 interview with Kristine Leahy, Cuban revealed that Shaquille O'Neal used to call him incessantly, inquiring as to why the Mavs hadn't made a bigger push to bring Big Catcus to the Big D.
It appears O'Neal had a real stake in playing for the Mavs. He might even have accepted the mid-level exception to play alongside Dirk Nowitzki.
Indeed, Cuban said the team tried to orchestrate his move to Dallas, but ultimately came up short.
Mark Cuban and the Mavs believed they could find a way to land Shaq
According to Mark Cuban, Shaquille O'Neal would have been willing to take a pay reduction to play for the Mavericks, something he never would have dreamed of doing during his Lakers years.
Cuban told Leahy that Dallas thought it could convince O'Neal's employer to agree to a buyout, at which point Shaq would sign the mid-level exception to play for the Mavericks. Although he didn't sound supremely confident about the exact year, Cuban indicated that scenario unfolded in 2007, placing O'Neal with the Miami Heat.
That timeline would seem to make sense. O'Neal began the 2007-08 season in South Beach, but the Heat traded Shaq to the Suns ahead of the 2008 deadline. He spent the remainder of that campaign and the following season in Phoenix, playing two more years with the Cleveland Cavaliers and Boston Celtics (respectively) before retiring from the NBA.
Mavericks fans can likely only wonder what might have transpired had Cuban found a way to sign Superman.
Shaquille O'Neal and Dirk Nowitzki would have formed the best frontcourt in NBA history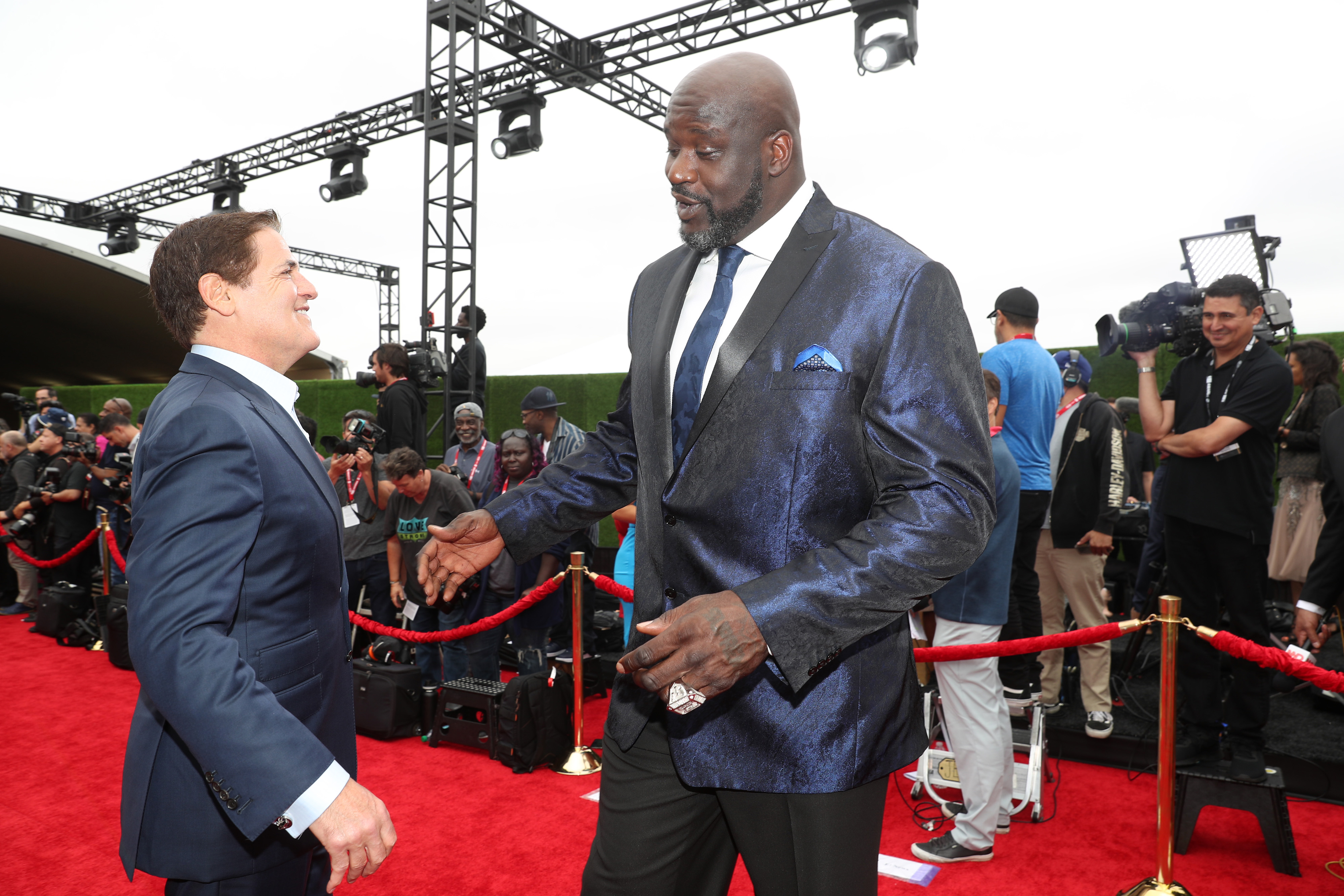 For the sake of clarity, let's say Mark Cuban is accurate in his timeline and that the Mavs hypothetically could have acquired the Hall of Fame big man in 2007. Dirk Nowitzki and The Big Aristotle would have formed the best frontcourt in NBA history.
Although Shaquille O'Neal was far from the world-beater he was with the Lakers, he was still a productive player in the latter stages of his career. Remember, The Diesel was an All-Star for the Suns in 2009, a season in which he averaged 17.8 points and 8.4 rebounds while leading the NBA in field goal percentage (.609). Was it a sympathy vote? Maybe. But Shaq still got his numbers.
O'Neal also likely would have been even better in Dallas than in Phoenix, especially given where Nowitzki was at that stage of his career. Dirk was coming off an MVP season in the summer of 2007. He was rapidly becoming one of the best power forwards in basketball history, and his ability to stretch the floor and dominate the midrange almost certainly would have benefited Shaq's ability to control the paint.
Basketball fans will never know how an O'Neal-Nowitzki partnership might have worked, but the thought of the two legends in the same frontcourt surely tantalized Cuban and the rest of the Mavericks' brass.
Stats courtesy of Basketball Reference.