Mark Cuban Gives an Eye-Opening Dirk Nowitzki Update Sure to Thrill Luka Doncic
The Dallas Mavericks will celebrate the greatest player in franchise history when they retire Dirk Nowitzki's No. 41 on Jan. 5. But governor Mark Cuban suggested Dirk has more to offer the Mavs in the very near future.
Cuban spoke to NBA.com on Nowitzki's legacy in Dallas — which nearly ended before it even began — and his excitement at seeing Dirk's jersey raised to the rafters. He also teased a development that is sure to thrill Luka Doncic.
Mark Cuban expressed excitement at Dirk Nowitzki's upcoming jersey retirement ceremony
Mark Cuban bought the Dallas Mavericks just as Dirk Nowitzki began to realize his superstar potential. In essence, he witnessed Dirk's journey to becoming the greatest European player ever.
As the Mavs prepare to honor Nowitzki in January, Cuban reflected on his relationship with Dirk and excitement regarding the upcoming jersey retirement ceremony. He even said (h/t NBA.com) Dallas plans to have unique non-fungible tokens (NFTs) made for Nowitzki.
"I love Dirk to death. I'm thrilled for him. Every award he gets is awesome. We're not going to have a statue unveiling or anything like that. We might tease what it looks like, but it's pretty obvious what it's going to look like. We're going to have some special NFTs made."

–Mark Cuban, via NBA.com
However, according to Cuban, Dirk's jersey retirement does not mark the end of his association with the Mavericks. Far from it, in fact.
Cuban hinted at Nowitzki getting a new role with the organization. He might not serve on Jason Kidd's leadership council, per se, but the announcement could nonetheless benefit both Kidd and especially Dallas' franchise cornerstone.
Cuban alluded to Nowitzki carving out a bigger role with the Mavericks in retirement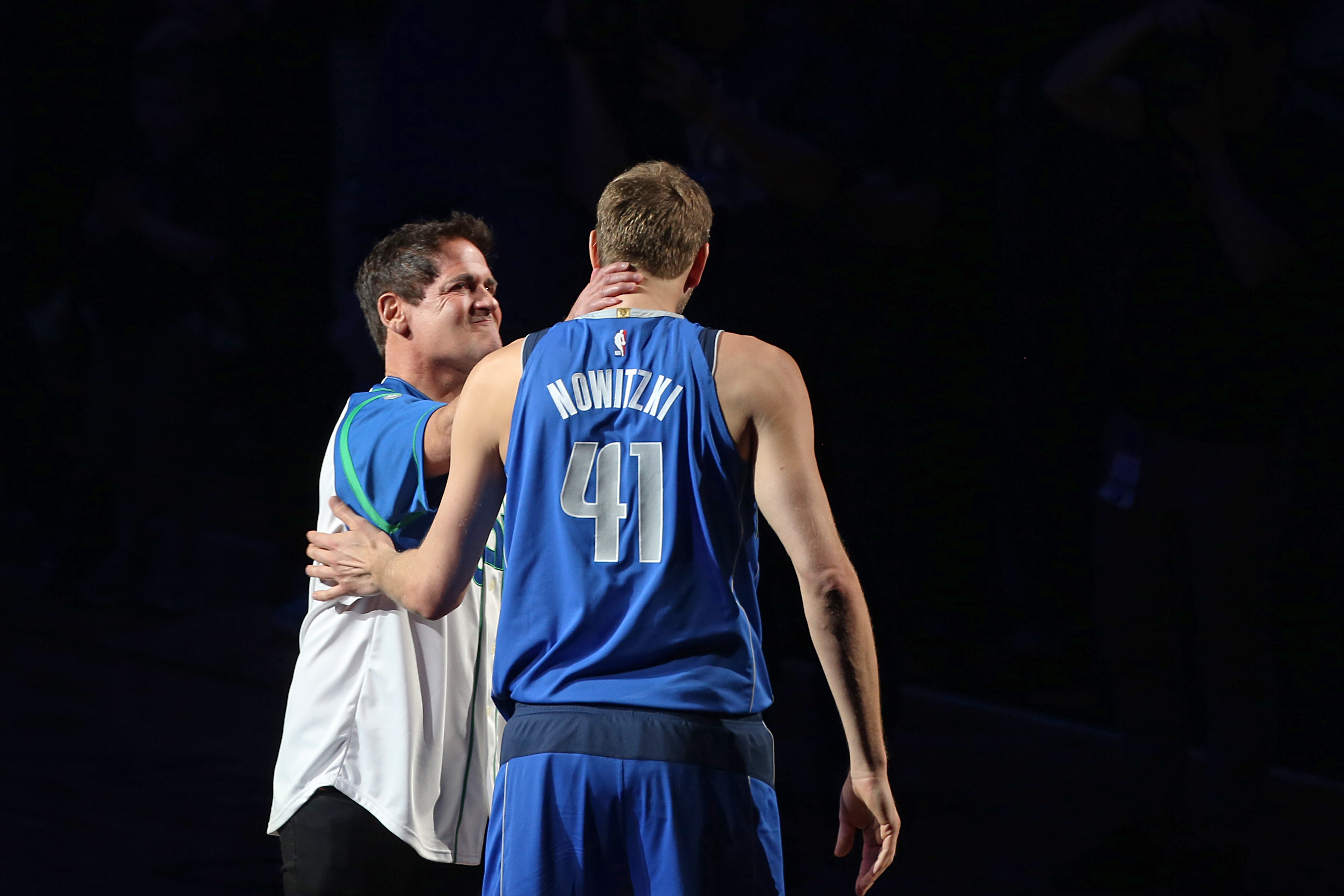 Could Dirk Nowitzki be on a path to joining Dallas' coaching staff? What about the front office? Judging by Cuban's latest comments, one of those options might be on the table.
Cuban suggested Nowitzki is feeling the itch to start a new chapter in retirement. He also revealed to NBA.com that Dirk is getting an office at the Mavs' practice facility.
"I think he's getting antsy. But I can tell you this … I'll break you one piece of news. Dirk has an office in the new practice facility."

–Mark Cuban, via NBA.com
The outspoken Mavs governor declined to divulge what precisely the office could look like, saying it would be on Nowitzki to determine how he plans to use the office. There's just enough ambiguity to make fans wonder.
Regardless, Dirk figures to make regular appearances around this current Mavs team. That bodes well for the happiness of another European player whom the Mavs coveted from an early age and have since watched blossom into one of the NBA's top superstars.
Dirk's presence could have a positive impact on Luka Doncic
Luka Doncic came into the NBA just as Dirk Nowitzki prepared to exit the league. He had the privilege of learning from Dirk and now figures to soak up even more information.
The Mavs remain ultra-reliant on Doncic. Fortunately, Luka's generational abilities are helping him avoid any pitfalls or potential burnout, at least for now.
Nowitzki can be a strong voice for the Slovenian sensation if he gets frustrated or things start to look dire in Dallas. There's a certain comfort in having a mentor figure around more regularly.
Mark Cuban might have casually dropped the knowledge of Nowitzki's new office, and it might seem insignificant on its face. But Dirk's voice and wisdom could be critical in keeping Luka level-headed, which is essential for the Mavs as they build for the future.