Mark Jackson Admitted He's Willing to Cheat and Start LeBron James Over Magic Johnson on His All-Time Starting 5
Regardless of who you'd choose as the greatest basketball player in league history, it's universally agreed that LeBron James and Michael Jordan are each on most people's all-time starting fives.
Former New York Knicks point guard and current NBA announcer Mark Jackson agrees wholeheartedly. However, he's willing to cheat — and that's his words, not ours — to ensure James earns a spot on the team.
Mark Jackson would start LeBron James over Magic Johnson on his starting five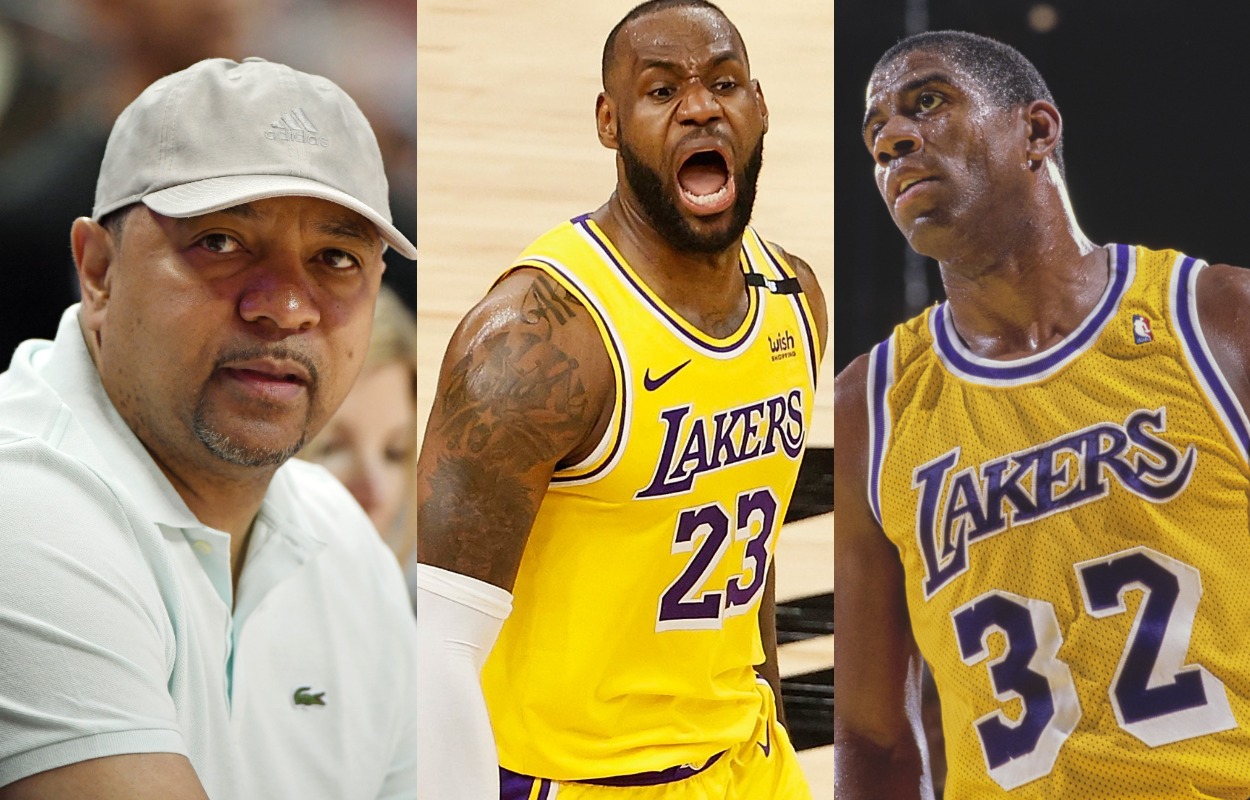 Knowing full well what they say about assumptions, we're willing to offer one up. If you're reading this and you have a personal starting five containing NBA legends, we're guessing Jordan is either at shooting guard or small forward and, depending on where you placed the Chicago Bulls legend, that means James is at small forward or power forward.
Jackson is like many fans in that regard, and he revealed his own list in an interview with the New York Post earlier this year. However, he listed James, and not Los Angeles Lakers great Magic Johnson, as his starting point guard.
And yes, Jackson knows he may not have followed the rules involved with assembling a starting five.
"I cheated in putting LeBron and his versatility — it's always been Magic. But I think LeBron's versatility in 2021, I can get away with putting him at the 1. And that's saying a lot about his greatness, and it gives me the opportunity to put Kobe [Bryant] and Michael at the two and the three."

Mark Jackson
As Jackson said, he chose Bryant as his shooting guard, Brooklyn Nets All-Star Kevin Durant is at power forward, and Wilt Chamberlain is the center.
James has always been more of a point guard than people give him credit for
Look, we'll give Jackson a pass (no pun intended, we promise) here. James has played point guard in the NBA — not as much as he's played either of the forward spots, of course — and he handled himself well in that role, both with the Cleveland Cavaliers and the Lakers.
It's worth noting, though, that James has always been an unofficial point guard of sorts. He's been the focal point of the offense and the man who took the ball up the court. Conversely, Derek Fisher served as a true point guard for the Lakers during part of Bryant's 20 seasons in Los Angeles.
Mike Brown, who coached James on the Cavaliers from 2005-10, told SLAM in 2020 that he viewed the four-time NBA MVP as a point guard during that stretch. The franchise listed the All-Star as a small forward at the time.
Brown said he viewed the team's point guards, including All-Star Mo Williams, as shooting guards.
"I guess they just assumed the shortest player was our point guard," Brown said. "But that was never the case."
Don't be surprised to Stephen Curry enter the discussion soon
Jackson is willing to cheat now and ensure James gets on his starting five. It will be interesting to see if the former Golden State Warriors head coach ever changes course and eventually includes Stephen Curry, who became an All-Star point guard in their time together from 2011-14.
Curry is among the greatest sharpshooters in league history and helped engineer the modern 3-point revolution. Warriors forward Andre Iguodala told ESPN in 2019 that he considered Johnson the top point guard in league history and would rank his teammate second.
Iguodala said he wouldn't argue with anyone who listed Detroit Pistons legend Isiah Thomas over Curry. The problem with comparing those point guards is Johnson and Thomas each served as traditional floor generals. As 29 of the league's teams know firsthand, Curry is an offensive nightmare because of his shooting and prowess from long-range.
Curry, who turned 33 earlier this year, still has plenty of time to change minds and establish himself as a mainstay in fans' starting fives. Who knows? Maybe Jackson will find another way to cheat so he can keep James and Jordan in his dream lineup.
Like Sportscasting on Facebook. Follow us on Twitter @sportscasting19.