Mark Jackson Learned The Hard Way Not To Celebrate Too Much Against Michael Jordan
Brooklyn native Mark Jackson had a reputation as an irritating opponent during his 17 NBA seasons. A New Yorker through and through, Jackson played at Bishop Loughlin Memorial in Brooklyn before a four-year stint at St. John's. Drafted by the New York Knicks in 1987, he was the NBA Rookie of the Year and made an All-Star trip in 1989. And Jackson could be abrasive. Early in his career, he got a lesson in humility from none other than Michael Jordan.
Jackson never won a title. Buried behind Jordan and the Bulls in the 1990s Eastern Conference, that was an impossible task with both the Knicks and Indiana Pacers. On the other hand, he was a playoff point guard for the Los Angeles Clippers in the 1990s. That by itself is nearly a Hall of Fame-level feat.
Mark Jackson never beat Michael Jordan in the playoffs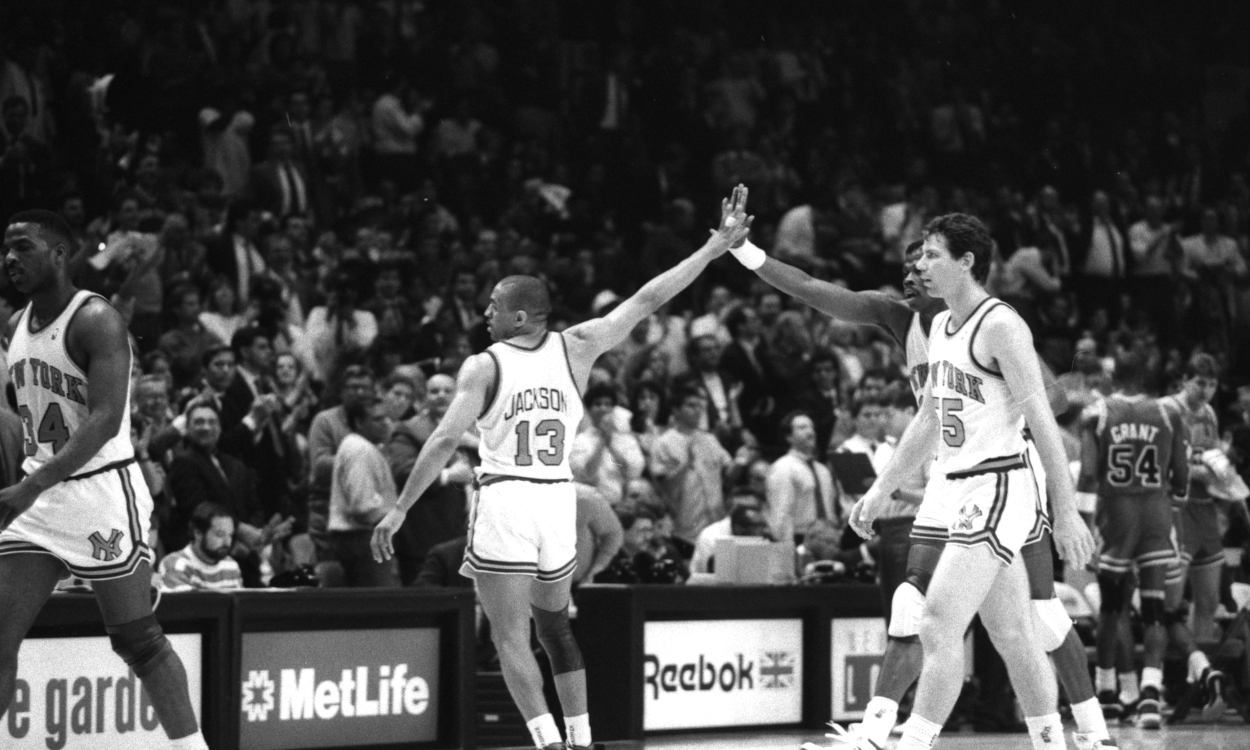 Michael Jordan turned this trick against many opponents during his run of championships in Chicago, so it's no surprise Mark Jackson came up empty against Jordan in the postseason.
While with the Knicks, the Bulls eliminated New York in the Eastern Conference semifinals in 1989, a first-round sweep in 1991, and a seven-game conference semis loss in 1992 that featured a 29-point Game 7 defeat at old Chicago Stadium.
In 1998, Jackson and the Pacers took the Bulls to seven games in the Eastern Conference Finals. Home-court ruled the series as Chicago won all four games at United Center while the Pacers swept their three in Indianapolis. It was a battle — three of the last four games were decided by five points or less. The Bulls prevailed in Game 7 with a 9–4 crawl (hard to call that a run) in the final 4:45.
Jackson's fatal mistake against Michael Jordan
On a recent appearance on the Club Shay Shay podcast with Pro Football Hall of Famer Shannon Sharpe, Mark Jackson appeared embarrassed when Sharpe asked him a question. In Game 2 of the 1989 Eastern Conference semifinals, Jackson got a steal against Michael Jordan. Fouled on the breakaway, the cocky young point guard went up for the shot anyway, giving the Madison Square Garden crowd a signature Jordan tongue wag.
As he learned the hard way, that was a poor tactical decision.
"Just young and dumb, man. I had a moment. I thought we had every answer because we were rolling. So I stripped him. I stripped him. I was like, 'Oh, it's on — New York City. I stripped him, and now they foul me on the break. And I go in the air, and I act like — the play is dead, but I stick my tongue out. Mistake. Huge mistake.

"Because like he talked about it in the documentary, he takes all of that and uses it as fuel. And he took advantage of that and used it as fuel and took over the game. I don't know what made me do it. I can remember my dad. I look over at my dad. He's like, 'Don't do it. Don't — don't do that.'"

Mark Jackson
The Knicks did win Game 2 of the 1989 Eastern semis. But Jordan put his foot down from there. He averaged 41.3 points, 9.8 rebounds, 8.8 assists, 3.0 steals, and 2.0 blocks over the final four games of the series. Mama, there goes that man — taking Jackson's lunch money and sending him home for the summer.
Mark Jackson is still waiting for his next coaching opportunity
In June 2011, the Golden State Warriors stunned the NBA establishment when they plucked Mark Jackson from ESPN's broadcast table to be their head coach. Golden State was an NBA punchline at the time, with just one playoff appearance in 17 seasons.
The Warriors got better under Jackson, from 23–43 in his first season to two consecutive playoff berths and a 51-win campaign in 2013–14. Golden State fired Jackson after a first-round loss to the Clippers in 2014. Steve Kerr came in, and the Warriors went full Michael Jordan on the NBA with five straight NBA Finals appearances and three championships.
In a February 2021 appearance on the Boardroom: Out of Office podcast, Jackson said he believes the narrative surrounding his firing is why he hasn't gotten another opportunity to coach despite a 121–109 record in three seasons in the Bay Area. Specifically, Jackson — an ordained minister — faced accusations he forced his religious beliefs on his players.
It might have more to do with charges of a toxic environment fostered by Jackson. While at Grantland in 2015, NBA analyst Zach Lowe reported that Jackson convinced his players that injured center Festus Ezeli was cheering against the Warriors.
Like taunting Michael Jordan, Mark Jackson doesn't always make the best decisions. Maybe that more than a conspiracy is why he's still behind a microphone.
Statistics courtesy of Basketball Reference.
RELATED: Michael Jordan Once Claimed He Was the Only Player Who Could Block a Former Bay Boy's Fadeaway Jumper