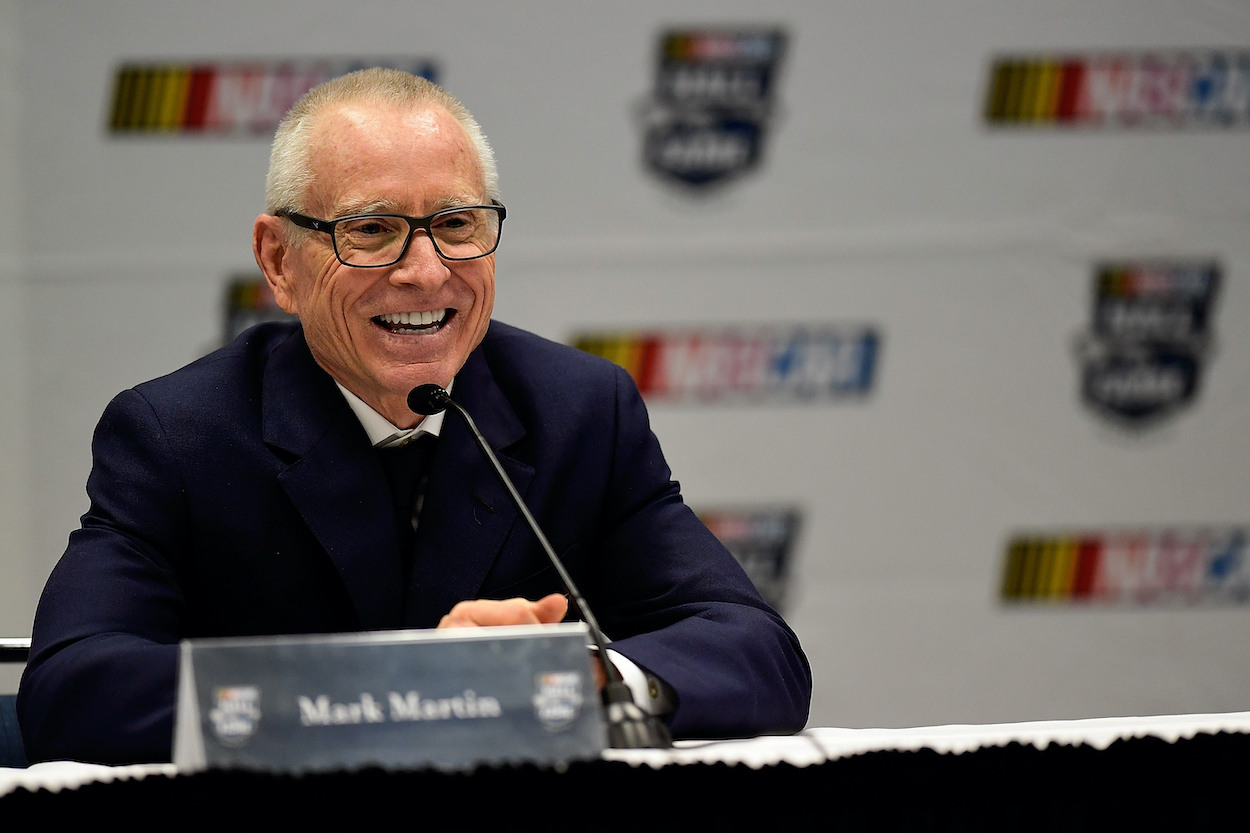 Mark Martin Offers 3-Word Response That Excites Fans About His Possible Return to NASCAR in a Different Role
Mark Martin made an intriguing comment over the weekend that he is interested in a return to NASCAR in a different role if the opportunity presents itself.
Mark Martin hasn't raced in NASCAR since 2013, when he retired at age 54. He was inducted into the Hall of Fame in 2017. This weekend the 63-year-old was asked about a possible return to the sport in a considerably different capacity as a broadcaster with Fox. He immediately shot down the idea and offered a litany of reasons. Then, at the end, he softened his stance and was open to it happening.
Mark Martin had a Hall of Fame career but enjoying retirement
Mark Martin had an impressive career across NASCAR's top three series, including seven wins with the trucks, 49 in Xfinity Series (second-most ever), and 40 victories with the Cup Series. He retired after the 2013 Cup Series season and was inducted into the Hall of Fame in 2017. 
Since retiring, Martin has moved on to another life outside of racing. 
"I love racing with all my heart. It's just something that I'm not interested in doing (anymore)," he told NASCAR.com last year. "I want to do other things. I want another chapter in my life before it closes. And in something that's different than what I did the past 40 years."
Today, he can be found working on his motorhome and traveling in it around the country with his wife.  
Fox announces Tony Stewart joining broadcast booth for two races
This weekend, after months of speculation, Fox announced Hall of Famer Tony Stewart would be replacing Jeff Gordon and joining Clint Bowyer and Mike Joy in the broadcast booth to start the 2022 Cup Series season. The three-time Cup Series champion is scheduled to work the first two races of the year at the Clash in the Coliseum and the Daytona 500.
"I'm teammates with @ClintBowyer again," Stewart tweeted after the announcement. "@MikeJoy500 will have his hands full. This is going to be fun."
"Looking forward to having ol' Smoke in the booth with us to get things kicked off," Bowyer said. "Sure to be fun!!"
Mark Martin expresses interest in being a race analyst
With Stewart serving as an analyst for just the first two races, fans naturally began to speculate that Fox planned on using a rotation of guest analysts to work with Bowyer and Joy throughout the season. Fox has not commented on the situation.  
One fan posed the question to Martin on Twitter about whether or not he would have any interest in working as a guest analyst. His response was quite interesting.
"I have a few reasons I wouldn't want to. I don't think I would be any good at it. I'm afraid I would embarrass myself. I'm dumb as hell. I love being retired and hate meeting a schedule anymore. I enjoy watching it on TV and letting the experts do a great job," Martin said, falling in line with his comments from last year. Then, he offered an interesting final remark. "I might try."  
Those final three words give all Mark Martin fans hope that he might return to NASCAR in the broadcast booth, if only for a couple of races. If Fox does indeed go the route of a rotational lineup, there's one retired NASCAR Hall of Famer waiting for the call. 
Like Sportscasting on Facebook. Follow us on Twitter @sportscasting19.