Mark Sanchez Made Nearly $70 Million and Doesn't Deserve His Negative Reputation
Mark Sanchez defined the raw, boom-or-bust quarterback prospect when he entered the 2009 NFL draft. Over a decade later, Sanchez retired with four playoff wins to his name, memorable upsets of some of the league's best quarterbacks, and a famous fumble on national television.
Although Mark Sanchez was never elite, he doesn't deserve the negative reputation he retired with last year. Here's why Sanchez, despite all of his flaws, should be discussed in a far better light than he is and will continue to be.
Mark Sanchez had a rocky, yet successful, NFL career
No one is going to suggest Mark Sanchez had an excellent 10-year stint in the NFL. Sanchez retired with 86 touchdowns to 89 interceptions and a career 37-36 record.
The 6-foot-2 quarterback is with the likes of David Carr and Vince Young as quarterbacks who necessarily weren't outright busts, but certainly never lived up to expectations. Mark Sanchez made nearly $70 million in his career, according to Over The Cap, and avoided major long-term injuries.
But as easy as it is to joke about Mark Sanchez's NFL career, people forget just how successful he was with the New York Jets. Sanchez won four playoff games in two seasons and, although most of the credit went to his defense, threw nine touchdowns to three interceptions in six playoff games.
Mark Sanchez defeated two future Hall of Fame quarterbacks, Peyton Manning and Tom Brady, on the road in 2010. Sanchez looked like a rising star for most of the 2011 season before a late-season collapse derailed him and the Jets' playoff hopes.
After things went south in New York, Sanchez was 4-4 as the Eagles' starting quarterback in 2014 and threw 14 touchdowns against 11 picks. Sanchez kept Philadelphia in the playoff race when starter Nick Foles missed the end of the year with a broken collarbone.
Mark Sanchez was, at his core, an average quarterback. In a league where so many quarterbacks are the extremes on both ends of the scale — the greats like Peyton Manning and Tom Brady and the busts headlined by JaMarcus Russell and Brandon Weeden — Sanchez was the rare first-round pick caught in the middle. And that in itself, for him, is a fine legacy to leave.
Sanchez's unfair, lasting legacy is the 'Butt Fumble'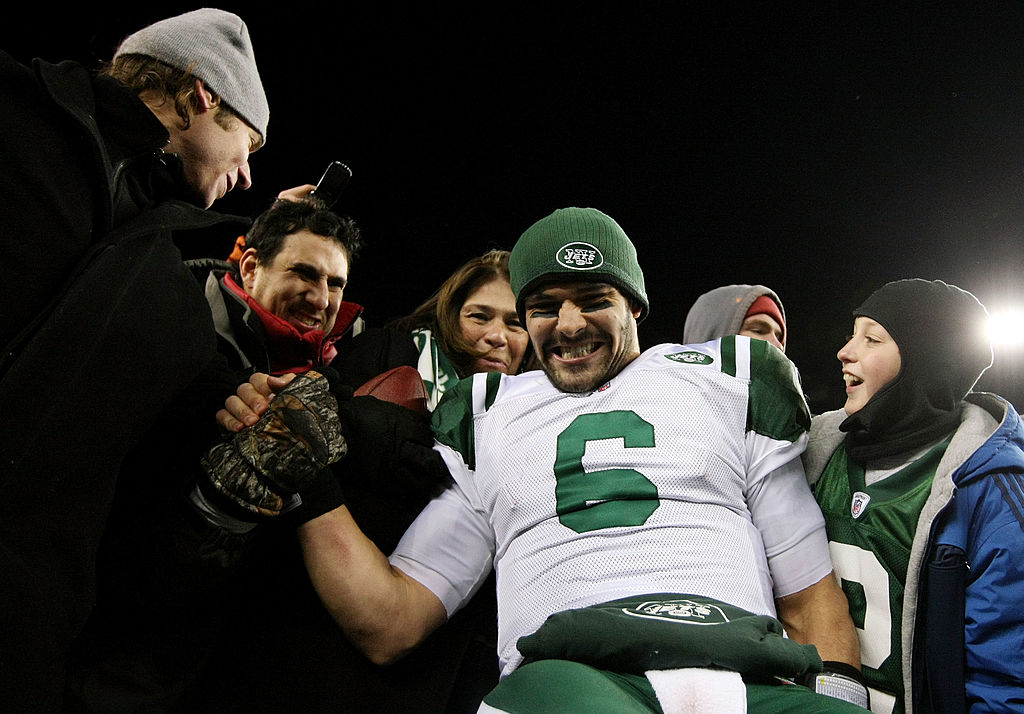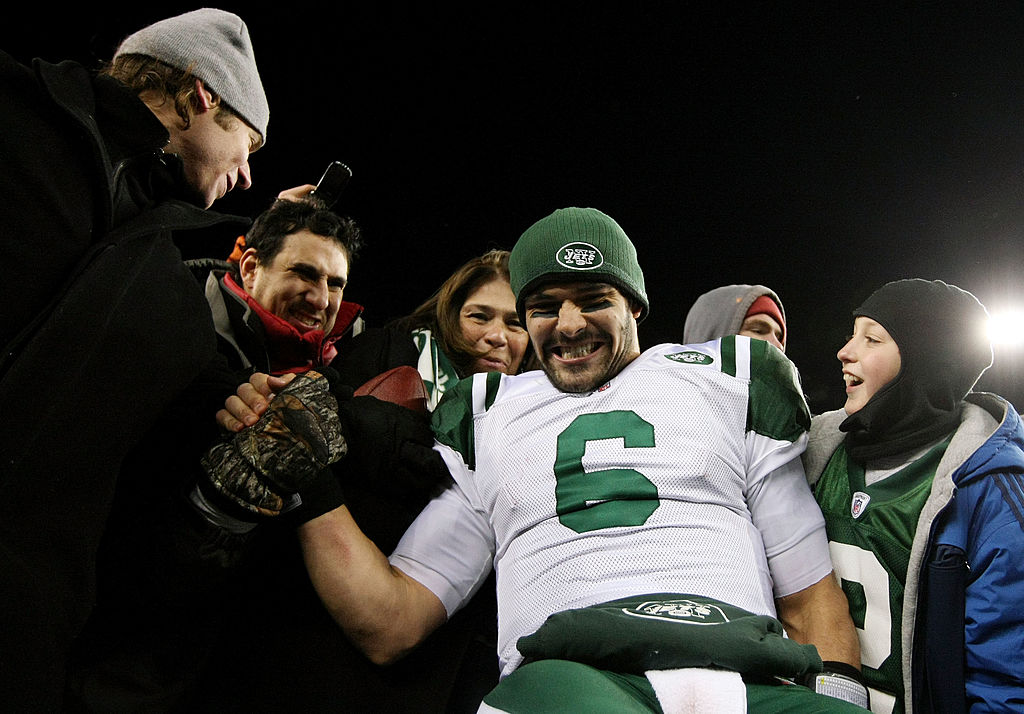 Of all the negative moments people point to when discussing Mark Sanchez's career, it always comes back to the infamous 'Butt Fumble.' Sanchez famously ran into the back of offensive lineman Brandon Moore and fumbled against the rival Patriots in a Thanksgiving game on November 22, 2012. Patriots safety Steve Gregory recovered the ball for a touchdown.
Sanchez immediately called it a "mental error" after the game, a 49-19 loss that all but eliminated the Jets from playoff contention. Less than a week later, Sanchez reflected on the play and called it "embarrassing."
"You screw up the play and I'm trying to do the right thing. It's not like I'm trying to force something. I start to slide and I slide in the worst spot I possibly could—right into Brandon Moore. I guess [I was] more stunned than anything. Just like a car accident. I was like, 'Whoa. What just happened?' Then, the ball's gone. It was weird."
Where is Mark Sanchez now?
Mark Sanchez had an unmemorable end to his career after such an explosive start. Sanchez spent most of 2016 with the Dallas Cowboys and all of 2017 with the Bears, although he never saw game action in Chicago. A two-game stint with the Redskins in 2018 saw Sanchez threw three picks and no touchdowns.
Mark Sanchez joined ESPN as a college football analyst last summer. He also appears on studio shows like First Take and Get Up to lend insight both on college football and the NFL. Sanchez's TV gig could provide him an opportunity to finally change his reputation.