MLB: Mark Teixeira's 5 Greatest Moments With the Yankees
You might say Mark Teixeira's career with the New York Yankees has been a tale of two ballplayers. The first was the story of a switch-hitting slugger with a slick glove who carried the late-Jeter-era Yankees into the postseason and ultimately to a World Series title; the second was of an injury-prone, pull-happy player who frustrated fans hoping for more of that superstar's ways.
Following Teixeira's August 5 announcement the 2016 season will be his last on the field, we are taking a look back at his eight-year career with the Yankees. When he was at his best, few players contributed on both sides of the game the way Tex did for New York. Here are his five greatest achievements while wearing the pinstripes.
1. The 2009 regular season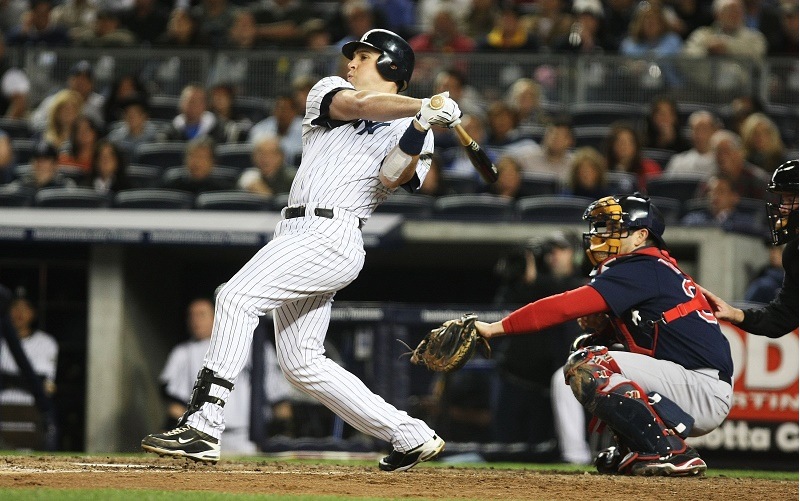 Remember the 2008 Yankees? Not many people do, except as the team that broke a streak of 13 straight playoff appearances for the Bronx Bombers. That team had a few good hitters (Derek Jeter, Alex Rodriguez) but were otherwise a mess on the pitching end. When it was all said and done, the club finished in third place, missed the playoffs, and watched Mike Mussina, its only reliable starter, ride off into the sunset.
The House of Steinbrenner needed a winner to open the new Yankee Stadium the following year, so it did what came natural: It reloaded, acquiring C.C. Sabathia, A.J. Burnett, and Teixeira in the offseason. On the offensive end, Teixeira was expected to deliver big, and he did just that, hitting a league-best 39 HR and 122 RBI with a .948 OPS.
Those numbers earned him a Silver Slugger award, but his fielding at first also landed him his first Gold Glove with the Yankees (his third overall). When MVP voting came around, Teixeira placed second behind Joe Mauer, who hit .365 that year catching for the Twins. But the first season at the new stadium was a triumph, and the Yankees' new first baseman seemed to be at the heart of every rally.
2. Walk-off home run in Game Two of 2009 ALDS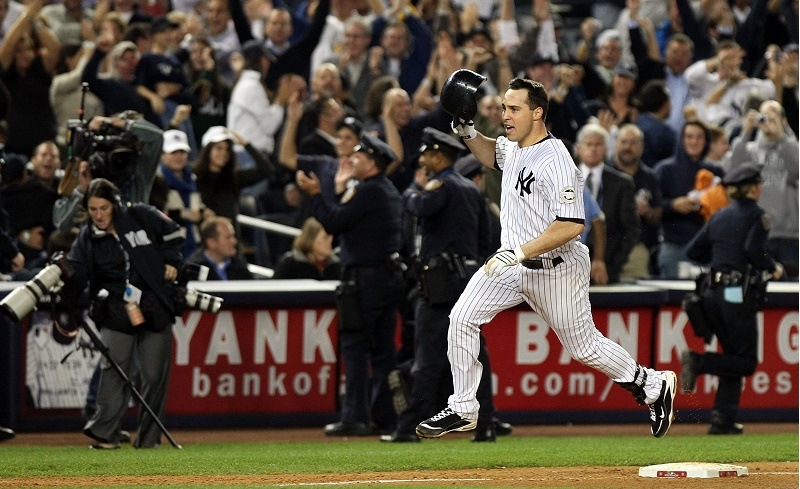 In terms of spoiled fanbases, few have compared with those rooting for the Yankees who came of age in the 1990s, when the Bronx Bombers won three of four titles that concluded with a World Series victory over the Mets in 2000. As we mentioned earlier, those fans saw the Yankees make the playoffs (including two World Series) every year after that run until 2008. So few were impressed with the team's regular-season dominance. They wanted to see it in the postseason.
New York drew a tough assignment in the first round of the playoffs with Minnesota in the ALDS. After a dominant showing by Sabathia in Game One (a 7-2 win), the second game was a nail-biter, with the Yankees trailing 3-1 in the ninth facing Joe Nathan in his prime. Teixeira sparked a rally with a single to lead off the frame and scored on A-Rod's game-tying, two-run homer the next batter. Tied 3-3, the game went to extra innings, and Tex decided it leading off the 11th inning.
Fans were skeptical whether or not this team had the guts to become postseason legends, and who knows what would have happened had the series returned to Minnesota tied 1-1. No one will ever know because of what Teixeira did.
3. His third Gold Glove (2012)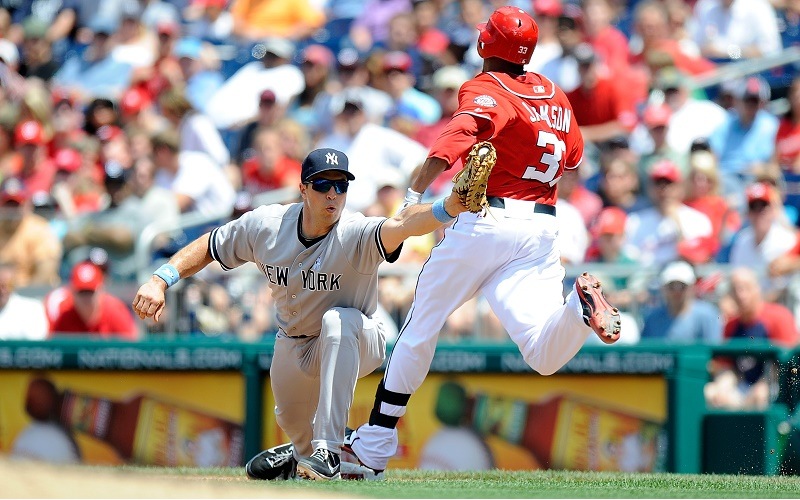 Not since Don Mattingly has there been a Yankee first baseman who could pick it, throw it, make the stretches, and execute running catches like Teixeira. In 2012, he picked up his third Gold Glove award in his four years of playing for New York. Since he took over the position for Jason Giambi, Teixeira has been a run-saving machine when it comes to poorly thrown balls headed his way. Whether Greg Bird steps in at first or the Yankees look for a more veteran presence on the market, chances are the fielding at first will take a hit in 2017. Teixeira's glove might be missed for years to come.
4. His 400th home run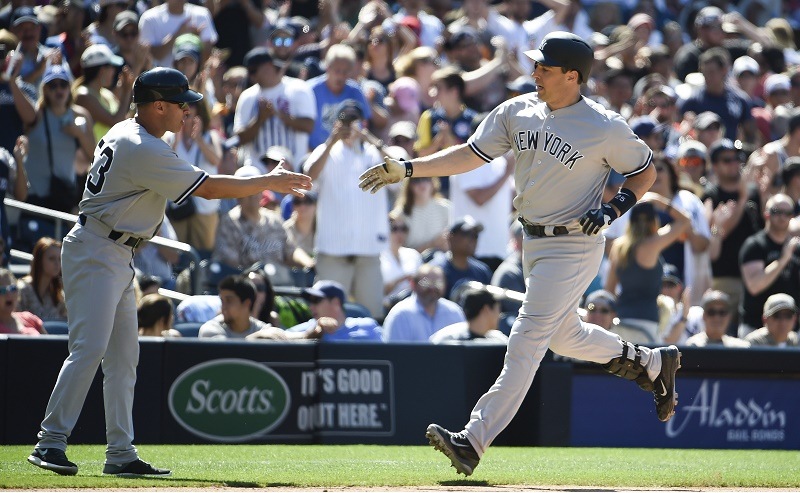 While 500 home runs may be (in some circles) the gold standard for sluggers, there have only been five switch-hitters who connected for as many as 400 in baseball history, including Mickey Mantle (536), Eddie Murray (504), Chipper Jones (468), Carlos Beltran (active, who did it earlier in the season playing for the Yankees), and Teixeira.
Tex connected on July 3 in San Diego with a high-arcing drive over the right-field fence. When you look back at his celebration, you see how he was likely contemplating retirement already and was happy to check this huge milestone off the list. He joins what will be four Hall of Famers on an elite list of switch-hitters who did serious damage.
5. The Yankees' only title since 2000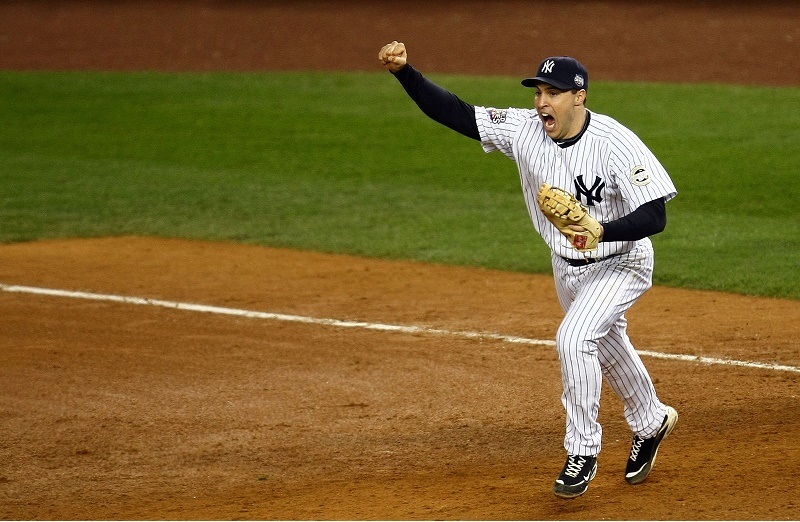 If you play for the Yankees, your success is measured in championships. Talk of the great Don Mattingly's career always mentions how he never won a championship (he only played in one postseason series in his career). In Teixeira's case, he did what Mattingly, Mike Mussina, Jason Giambi, and many other great players could not do in their time in New York: He won a ring in 2009, the only title for New York since 2000.
It's difficult to imagine that team going all the way without Mark Teixeira's hulking presence at first base and in the heart of the lineup. During his retirement announcement, he spoke of not feeling the ball hit his glove when he caught the final out from Robinson Cano, and it's likely a moment he'll relive for the rest of his life. Yankees fans will be right there with him.
Connect with Eric on Twitter @EricSchaalNY
Statistics courtesy of Baseball-Reference.