Marquez Valdes-Scantling Is Willing to Turn His Back on Aaron Rodgers (if He Has to) to Stay in Green Bay, and the Packers Should Honor That
Marquez Valdes-Scantling will become a free agent at the start of the 2022 NFL league year. MVS says he wants to remain part of the Green Bay Packers organization. Even more notably, he says he'll roll with the Packers even if Aaron Rodgers isn't part of the future.
The Packers should honor his wishes and extend him a second contract.
Marquez Valdes-Scantling has yet to reach his true potential for the Green Bay Packers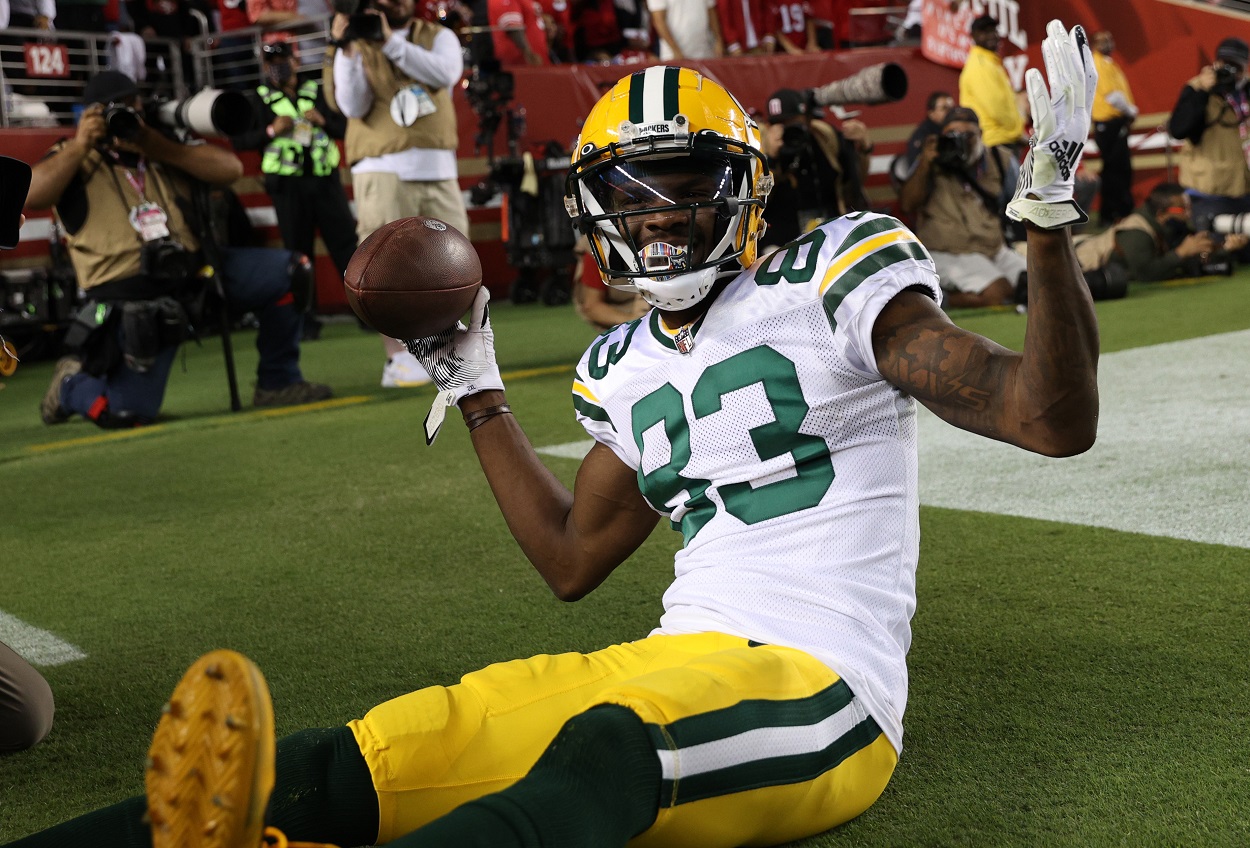 Valdes-Scantling has everything you look for in a big-time receiver, which is why the Packers took a flyer on him in the fifth round of the 2018 NFL Draft. He's tall and lanky at 6-foot-4, 206 pounds, and he's one of the fastest players in the NFL. He ran a 4.37 40 at the NFL Combine and has proven that game-changing speed multiple times in his four seasons with the Packers.
The problem for MVS is that he's been wildly inconsistent. He's also dealt with a multitude of injuries. He played in only 11 games in 2021.
When he's on the field, he's proven the ability to get behind defenses and be a home run threat. He averaged 16.5 yards per catch in 2021. He was even more explosive in 2020, averaging 20.9 yards per reception.
His hands have been an issue; there's no doubt about it. Valdes-Scantling has had an on-and-off relationship with a severe case of the drops. With that said, he has proven to be much more effective as of late, and if you look closely, you can see his true potential as a number two receiver in Green Bay's scheme.
For instance, he caught four passes for 115 yards (28.8 yards per catch) and one touchdown in the 2020 NFC Championship Game. He also showed off his big-game potential in Green Bay's 2021 loss to the Minnesota Vikings on the road. MVS caught four passes for 123 yards and a touchdown in that game, averaging 30.8 yards per reception.
MVS is willing to part ways with Aaron Rodgers if need be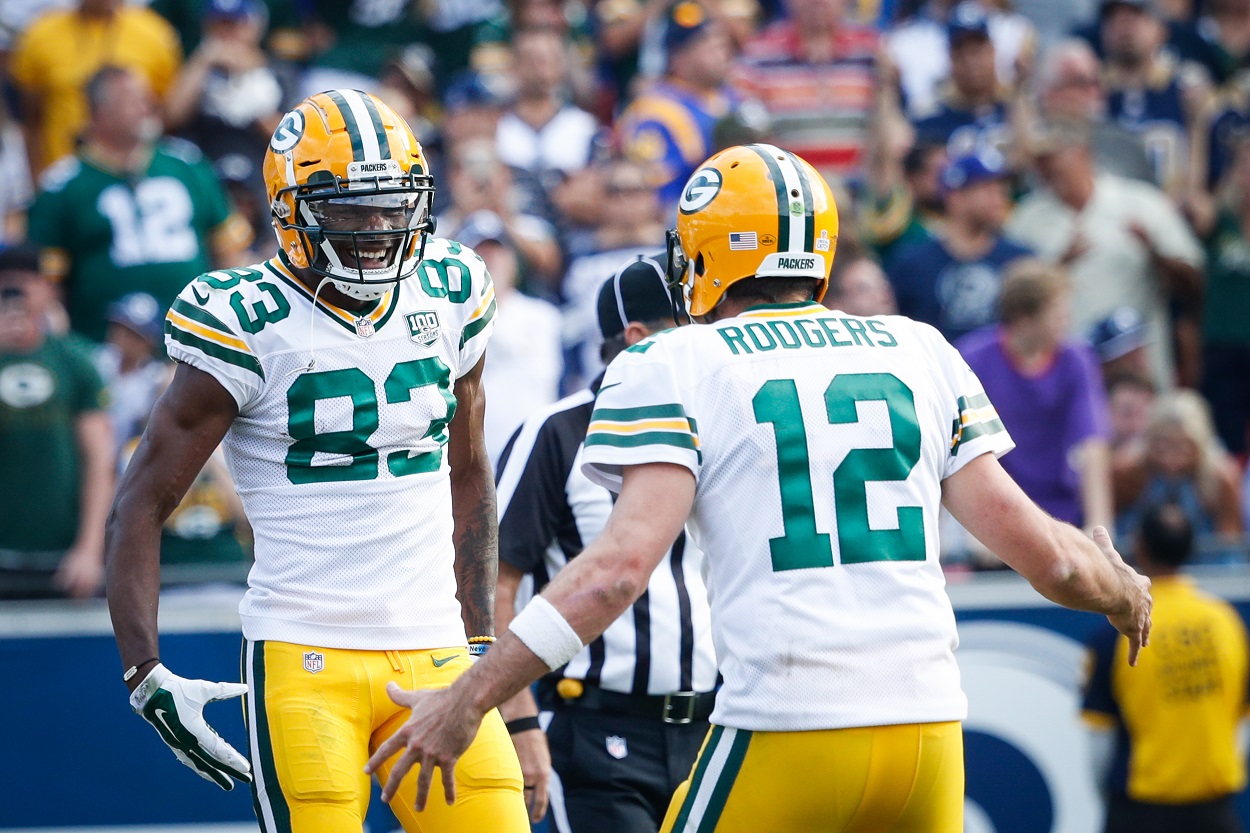 Rodger's future with the Packers is up in the air. He's promised that he will not drag out any decisions this offseason, but that can't make the Packers' brass feel that much better. The future of their organization literally hangs in the balance.
For what it's worth, recent reporting suggests that the Packers feel optimistic about the prospects of Rodgers returning for 2022 and beyond. With that said, he could choose to retire. That has been openly talked about as an option. He could also demand a trade. The Denver Broncos have been linked to trade rumors for a while now. There are also new rumors that the Tennessee Titans could be a potential landing spot for Rodgers because he's building a home near Nashville.
Wherever Rodgers does end up, there have been reports that he's hoping that his No. 1 receiver and good friend Davante Adams, who will be a free agent, is there with him. Somewhat surprisingly, he also would reportedly like to remain linked up with MVS.
The two struggled with chemistry in 2021 and couldn't connect on the deep ball as well as they'd like to. Still, Rodgers has talked about how hard Valdes-Scantling works and how he's gained his trust over the years.
One would think those words would be flattering enough to get MVS to follow Rodgers if the opportunity is there, but according to Packers Wire, the wideout's loyalties lie with Green Bay, and not necessarily the quarterback.
He told Packers Wire that the team has indicated that they'd like to bring him back, and the feeling is mutual. He also said that Rodgers' eventual decision wouldn't impact his.
"That really doesn't factor into it," Valdes-Scantling said. "Obviously, I would love to continue to play with Aaron Rodgers – he is the best quarterback in the history of football. But if I don't play with him, there's going to be a new quarterback no matter where I go."  
Valdes-Scantling can be a big part of Green Bay's future
The talent is there. If MVS can stay healthy and put together a consistent stretch of games, he has the talent to be one of the better wide receivers in the NFC, if not the league as a whole.
Tall wideouts with world-class speed don't just grow on trees, and the Packers may be able to re-sign him at a decent price. 
Money issues are the main off-season story in Green Bay, as the Packers are currently projected to be almost $50 million over the cap in 2022. The front office will have to work some magic to retain key players and keep the Super Bowl window open. And yes, while a lot of that has to do with the futures of Rodgers and Adams, it would appear that bringing back MVS should be a pretty easy decision for Green Bay either way.
Unfortunately for him, his inconsistencies and injuries will hurt him on the open market. He is a veteran receiver, so he can demand some money, but he won't break the bank. That means that Green Bay can afford to bring him back.
He wants to be in Green Bay with or without Rodgers, and the Packers need to do everything they can to keep their existing talent in the fold if they want to remain contenders moving forward.
Re-signing MVSs would be a win-win for both parties.
Stats courtesy of ESPN and Pro Football Reference.
RELATED: Tom Brady Retiring Makes It More Likely Aaron Rodgers Stays and Plays With the Green Bay Packers