Marquise Brown Sends a Strong Message to Ravens Doubters Not To Count Them Out: 'We Got Lamar Jackson'
Lamar Jackson's favorite weapon is on fire to start the 2021 NFL season. Marquise Brown has stepped up for the Baltimore Ravens offense in the wake of several injuries to key players.
After upsetting the Kansas City Chiefs on Sunday Night Football, Brown has the utmost confidence in the Ravens moving forward. He warned people against counting them out in 2021.
Marquise Brown says Ravens always have a chance with Lamar Jackson
The Ravens pulled off a thrilling comeback victory over the two-time defending AFC champion Chiefs in Week 2. They don't win that game without Lamar Jackson at quarterback.
Marquise Brown shares a close bond with Jackson and understands No. 8's importance to Baltimore's overall success. He spoke with Kay Adams on NFL Network's Good Morning Football to discuss the team's outlook for the rest of the season.
When asked why people should not count the Ravens out, Hollywood gave a simple response. "We got Lamar Jackson," he laughed. "You should never count us out anytime you got him."
Injuries have decimated Baltimore dating back to training camp. J.K. Dobbins, Gus Edwards, and Marcus Peters are among the players who suffered season-ending injuries.
The Ravens also have the most players on injured reserve in the NFL. The list includes first-round draft pick wide receiver Rashod Bateman.
"Next man up," said Brown. "We believe in the coaches. We believe in Lamar, so we're just going to keep pushing."
The Ravens offense still has hope despite the injuries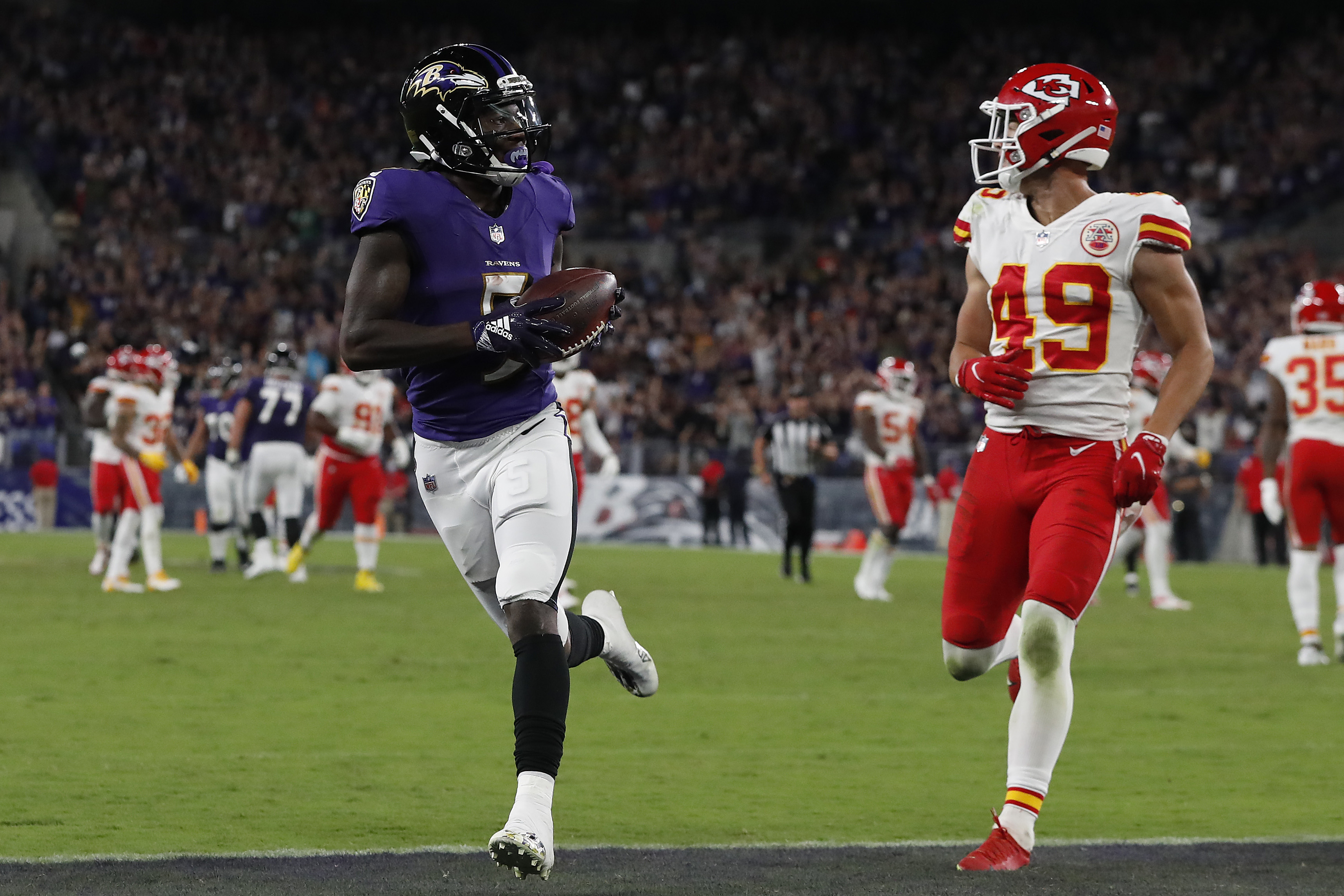 The biggest setbacks for the Ravens offense against Kansas City were two first-quarter interceptions thrown by Lamar Jackson. However, he bounced back.
Jackson threw for 239 yards and one touchdown while completing more than 69% of passes. He also rushed for 107 yards and two more scores. The former MVP's dual-threat ability is a nightmare for opposing defenses.
After Baltimore fell to the Las Vegas Raiders in its season opener, concerns arose about if the Ravens' Super Bowl aspirations were just a pipe dream. Jackson's performance in Week 2 should give Ravens fans hope for the rest of 2021.
The Ravens are currently sixth in the NFL in total offense, racking up 887 yards through two games. They boast the league's most potent rushing attack, led by Jackson and incumbent starting running back Ty'Son Williams. Baltimore has churned out 440 yards and five touchdowns on the ground.
Hollywood Brown and Sammy Watkins have made big plays for the offense. Their performance has helped offset the loss of Rashod Bateman, who should return soon.
The Ravens offense has been more productive than many people realize.
Can Marquise Brown continue his stellar play?
The Baltimore Ravens drafted Marquise Brown with the No. 25 overall pick in the 2019 NFL Draft out of Oklahoma. The cousin of All-Pro wide receiver Antonio Brown, high expectations were set for Hollywood.
Brown caught 46 passes for 584 yards and seven touchdowns as a rookie. He followed it up by recording 58 receptions for 769 yards and eight touchdowns in year two.
Lamar Jackson targeted the young wideout 71 times in 2019 and 100 times in 2020. Brown has been targeted 16 times so far in 2021 and is on pace to receive a career-high 136 targets for the regular season.
The Hollywood, Florida native has caught 12 passes for 182 yards and two touchdowns through the first two weeks of the 2021 season.
Hollywood's diminutive size was a significant knock on him heading into the draft. However, he emphasized getting stronger. Brown bulked up to 180 pounds.
Brown possesses elite top-end speed and can make game-changing plays. While he may never become a true No. 1 receiver, he has proven to play a vital role in Baltimore's offense.
The Ravens are hoping the connection between Lamar Jackson and Marquise Brown continues to flourish.
All stats courtesy of Pro Football Reference
RELATED: Lamar Jackson's Unwavering Mental Resolve Reinvigorates the Ravens Amidst Chaos