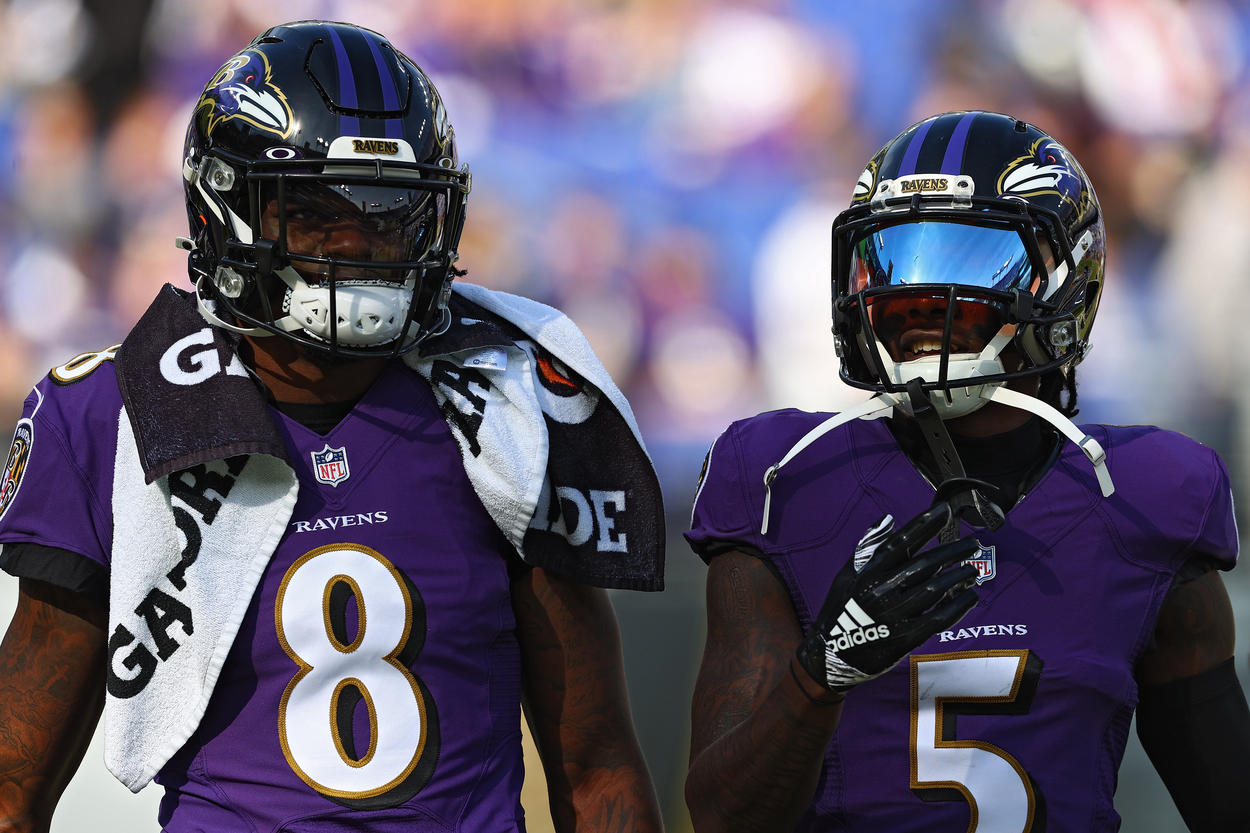 Marquise Brown Trade: New Cardinals WR Bemoans Not Getting to Finish Career With Lamar Jackson
New Arizona Cardinals receiver Marquise Brown made it clear he's upset he won't get to catch Lamar Jackson's passes anymore, and the quarterback is outright devastated.
Baltimore Ravens teammates Lamar Jackson and Marquise "Hollywood" Brown spent the last three seasons trying to carve through opposing defenses and rule the AFC North with an iron, purple-tinted fist.
Now, Brown's days of catching Jackson's passes are over, and both players made no effort to hide their devastation.
Baltimore traded Brown, who turns 25 on June 4, and a third-round pick to the Arizona Cardinals on Thursday, April 28, for the 23rd overall pick; the Ravens then traded down with the Buffalo Bills and used the 25th overall pick on Iowa center Tyler Linderbaum. Brown is entering the fourth year of his rookie contract and set career-highs in receptions (91) and receiving yards (1,008) in 16 games last year.
Brown, who departs Baltimore ranked 10th in receptions (195) and 12th in receiving yards (2,361), shared his love and respect for Jackson in a tweet following the trade.
"Wish I coulda played with my brotha forever but ima see you at the top," Brown wrote, tagging his friend in the post.
Jackson, who is entering the final year of his rookie contract, quoted Brown's tweet with two "fingers-crossed" emojis. The 2019 NFL MVP also retweeted a profanity-laced post referencing the controversial trade.
Things reached an ugly point later in the night when Jackson tweeted "Wtf" immediately following the team's decision to select Linderbaum. The Louisville product then wrote, "It's not about my new center" in a separate post.
Shortly before midnight on the East Coast, the Cardinals tweeted a picture of Brown posing with owner Michael Bidwell at the team's draft party. According to the Cardinals' official website, Arizona general manager Steve Keim confirmed the team would pick up the 2019 first-round selection's fifth-year option.
Brown will reunite with former Oklahoma teammate Kyler Murray, who is expected to play for the Cardinals in 2022 despite ongoing frustration regarding his contract. Arizona recently picked up the quarterback's fifth-year option, a move that guaranteed Murray a $29.7 million salary for the 2023 season.
"(Brown) makes sense for a number of reasons," Keim said. "Two years of controlled costs, a dynamic receiver who has played inside and outside, obviously the chemistry with our quarterback, and is a vertical threat."
Understandably, Jackson quoted the Cardinals' tweet with two emojis depicting someone about to cry. He also included the emoji for someone spewing profanity.
Barring any trades, the Ravens will pick 45th and 76th on Friday night. Although North Dakota State receiver Christian Watson and Georgia wideout George Pickens could each be off the board by No. 53, the Packers could still have a chance at Alabama's John Metchie III or Purdue's David Bell. Later in the draft, Baltimore might also be tempted to target Memphis' Calvin Austin III, a versatile all-purpose weapon.
Or, the Ravens could use one of those two picks on a quarterback, one who could potentially replace Jackson if the latter leaves Baltimore after this season. Suddenly, what once seemed like a far-fetched idea doesn't sound so ridiculous.
For more on this year's draft, check out our comprehensive page here.
Like Sportscasting on Facebook. Follow us on Twitter @sportscasting19.