Marshall Faulk Gets Candid About Kyler Murray, Baker Mayfield and Why Their Biggest Difference Proves They're Not on the Same Level
The Arizona Cardinals and the Cleveland Browns are heading in different directions. Kyler Murray has led the Cardinals to a 6-0 start, firmly placing himself in the MVP conversation. Baker Mayfield has struggled at times and is now injured. The Browns are sitting at 3-3, despite lofty preseason expectations. Pro Football Hall of Famer Marshall Faulk notices a glaring difference between the two quarterbacks.
Kyler Murray is 2-0 against Baker Mayfield
People will forever link Kyler Murray and Baker Mayfield's careers to one another.
Both quarterbacks played under Lincoln Riley at the University of Oklahoma. Murray and Mayfield went No. 1 overall in 2019 and 2018, respectively.
The former Sooners standouts and Heisman Trophy winners have dueled twice in their young NFL careers. Murray has gotten the better of Mayfield both times.
The first meeting took place during Murray's rookie season in 2019. He threw for 219 yards, one touchdown, and one interception. He also rushed for 56 yards. Mayfield passes for 247 yards, two touchdowns, and an interception. However, the Cardinals toppled the Browns 38-24.
In Week 6 of the 2016 season, Arizona dominated again. Mayfield threw for 234 yards, two touchdowns, and an interception while completing 67.8% of his passes. Murray passed for 229 yards and four touchdowns with no interceptions.
Marshall Faulk notices a big difference between Murray and Mayfield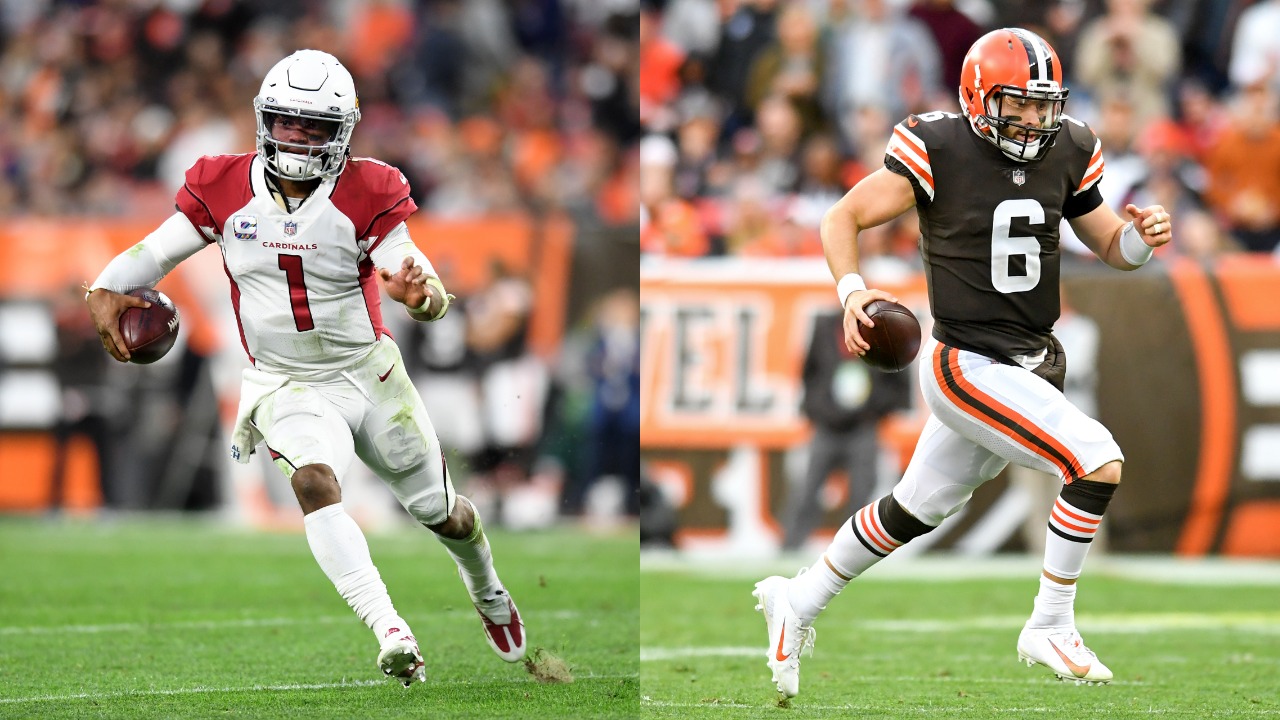 While Kyler Murray and Baker Mayfield have plenty in common, they're hardly the same player. Still, they are often linked with one another due to their past.
Former Indianapolis Colts and St. Louis Rams running back Marshall Faulk recently was a guest on The Rich Eisen Show. He and Rich Eisen discussed the biggest difference between Murray and Mayfield.
"We saw the difference between Kyler Murray and the guy who has all the commercials," said Faulk. "There's a huge difference between those two quarterbacks."
The Hall of Famer isn't talking about their play styles, either. "Kyler Murray is the reason why you win, and he's the reason why his team is in a position that it is," he said. "One is the reason why a team can win. The other is managing the team. It's just different."
Faulk added that he's "not down on Baker" but is making an assessment based on what he's seen thus far in their careers.
Murray is an MVP candidate while Mayfield is struggling
The Arizona Cardinals take an unblemished record into a Week 7 tilt with the lowly Houston Texans. Kyler Murray is the biggest reason why his team hasn't lost in 2021.
Arizona destroyed the Browns and dominated them from start to finish. The Cardinals continue to silence their doubters. How convincingly they beat Cleveland was surprising.
Murray led his team to another impressive victory while head coach Kliff Kingsbury was absent from the sideline. The third-year quarterback has thrown for 1,741 yards, 14 touchdowns, and just four interceptions through six games. He's also completing 73.8% of his passes.
The Cleveland Browns, on the other hand, are heading in the wrong direction. Kevin Stefanski's squad entered the 2021 season with Super Bowl aspirations. The team hardly looks like a championship contender at this point.
Baker Mayfield is part of the problem. He hasn't played up to par through the first six weeks, and he's failed to take the next step. Mayfield is dealing with a shoulder injury and will miss the Browns' Week 7 matchup against the Denver Broncos.
Despite the talent on the Browns' roster, they haven't done much to instill confidence in them as Super Bowl contenders. Mayfield needs to be better, but he may never become the MVP candidate that Murray is.
As Marshall Faulk said, there is a huge difference.
Stats courtesy of Pro Football Reference.
RELATED: Even if Baker Mayfield's Shoulder Doesn't Require Surgery, the Browns Would Be Wise To Let Case Keenum Take On the Broncos