Marshall Faulk Slams Urban Meyer for His Fatal Mistake During Failed Jaguars Tenure: 'I Don't Know How You Don't Get on That Plane'
With Urban Meyer's tenure as the head coach of the Jacksonville Jaguars now officially over, people all around the NFL are taking turns criticizing the failed experiment. Hall of Fame running back Marshall Faulk is the latest to weigh in on what went wrong in Duval County. The retired star reveals he saw the writing on the walls long before the front office pulled the plug.
Marshall Faulk points out Urban Meyer's biggest mistake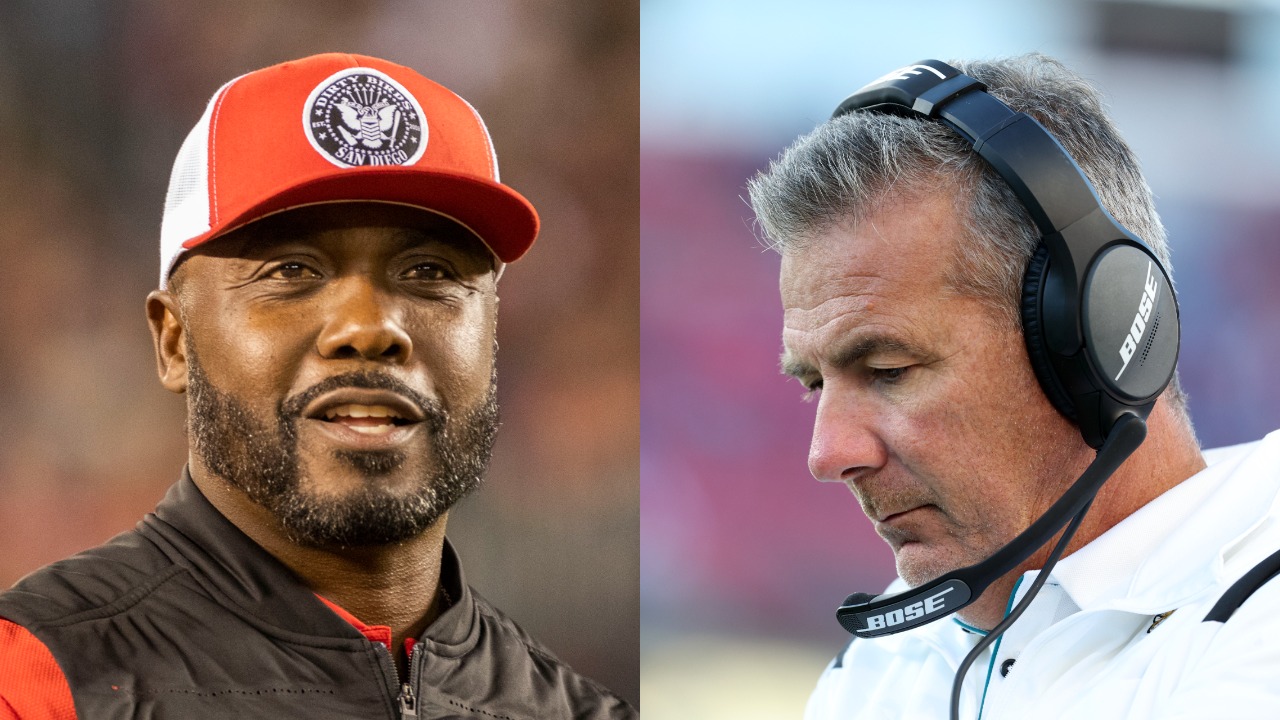 After he retired from the NFL, Marshall Faulk made a career in sports media because he formulated strong opinions. His stance on Urban Meyer making the transition from college football to the NFL was always one of skepticism.
The former Indianapolis Colts and St. Louis Rams running back recently joined The Rich Eisen Show to discuss Meyer's failed stint with the Jaguars and the aftermath of his firing.
The 7-time Pro Bowler harkened back to the Week 4 loss to the Bengals as a turning point for Meyer's relationship with the team.
Instead of flying back on the team plane to Jacksonville with his players and coaching staff, the head coach ended up in an Ohio bar, stirring controversy.
"I don't know how you do not get on that plane," said Faulk. "You can get on that plane and take a private jet back. But I don't know how you don't get on that plane. I don't want to get in the man's personal stuff. Crap happens, but not getting on that plane, that was the deciding factor. You don't not get on the plane with your team. That's unheard of."
Marshall Faulk has played under some great head coaches and doesn't think Urban Meyer shares similar qualities.
The Hall of Famer never thought Meyer would make it with the Jaguars
Many college coaches have attempted to make the jump to the pros, but very few have been able to sustain long NFL careers. Marshall Faulk suggests he's not surprised that Urban Meyer didn't work out with the Jacksonville Jaguars.
"I don't want to kick the guy while he's down," Faulk said. " But they got on me. I was like, how do you hire a guy when you look at everywhere he's been, he eventually stepped down? Eventually, that's going to happen."
The Hall of Fame running back also questioned Meyer's ability to help rookie quarterback Trevor Lawrence grow early in his NFL career.
"If I'm hiring a college coach," said Faulk. "Kliff Kingsbury has developed talent at the quarterback position, so I can understand Arizona. I just didn't get the Urban Meyer hire for the young quarterback. All the great teams that he had, he had Alex Smith as his only quarterback starting in the NFL. That said something to me. I couldn't trust him to develop the first overall pick."
Although Faulk said he didn't want to kick Meyer while he was down, the NFL legend couldn't help but relish in the fact that he predicted the experiment would go awry.
"I told you so," Faulk exclaimed.
Jacksonville must be careful about its next hire
Jacksonville Jaguars owner Shad Khan and general manager Trent Baalke have some serious work to do in the offseason.
The Jags dropped the ball with the Urban Meyer hire and now must pick a new headman who can instill confidence in the players and the fan base.
Offensive coordinator Darrell Bevell is holding down the fort in the interim. Still, he seems to be just the short-term answer. Several names have been tossed around as potential candidates for the head coaching vacancy in 2022.
Tampa Bay Buccaneers offensive coordinator Byron Leftwich makes a lot of sense, especially given his ties to the Jaguars franchise as a player. New England Patriots offensive coordinator Josh McDaniels could potentially help develop Trevor Lawrence if he genuinely would take the job.
Kansas City Chiefs offensive coordinator Eric Bieniemy and Dallas Cowboys OC Kellen Moore are seeking their first NFL head coaching gigs. Some former head coaches like Doug Pederson and Jim Caldwell come to mind as well.
Regardless of what direction Khan and Baalke take, they should tread carefully. This is a fractured locker room left by Urban Meyer. The Jaguars need a strong leader who can gain the trust of the players and coaches and right the ship.
Jacksonville has some enticing pieces in place but will need to make a wise choice to avoid disaster again.
Like Sportscasting on Facebook. Follow us on Twitter @sportscasting19.