How Marshawn "Beast Mode" Lynch and 4 Other Players Got Their Cool NFL Nicknames
Fans, NFL coaches, and sportscasters enjoy giving out colorful nicknames to certain, mostly more successful players in the league, and we love those references. There are the basic and more blatant ones, such as former Patriots tight end Rob "Gronk" Gronkowski, and more seasoned fans may remember William "The Refrigerator" Perry, as an enormous lineman who played for the Bears.
So without any unnecessary time outs or delay of game flags flying, let's get right into our lineup of these five active NFL players with really cool nicknames, and the stories behind these titles.

5. Rhodes Closed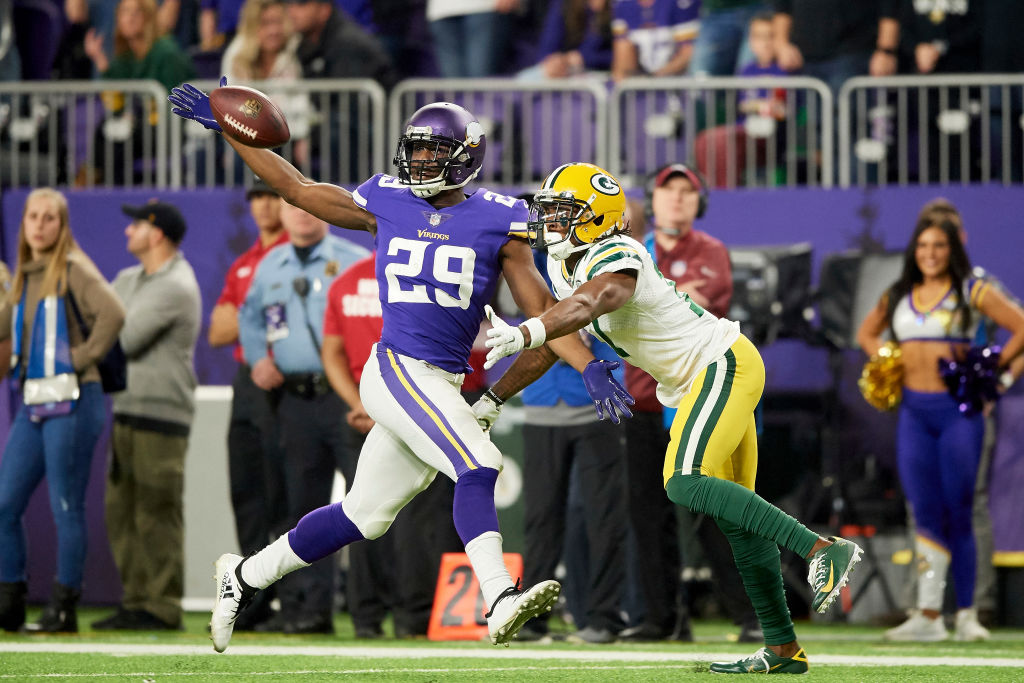 Cornerback Xavier Rhodes shut down quarterbacks in 2016 at a record-breaking level, and his performance on the field inspired this play on words. During that particular season with the Minnesota Vikings, Rhodes led the league with the lowest percentage of passes completed under his protection at 41.8%.

4. The Punisher
As a fan of the Marvel series "The Punisher," San Francisco 49ers safety Adrian Colbert was only too happy to embrace this nickname for his powerful and often violent plays on the field. Originally wearing the number 38 for the Niners, Colbert recently changed his jersey to No. 27 after too many comparisons to another popular player, Dashon Goldson, who recently wore No. 38.

3. The Red Rifle
With his ginger hair, Bengals QB Andy Dalton was affectionately given the title of the Red Rifle for his powerful passing arm. However, after the Texans shut down Cincinnati's winning streak in 2016, it was Houston's Defensive End J.J. Watt who came out with this canned quote after the game:

"Our goal was to come out here and make the Red Rifle look like a Red Ryder BB gun and I think we did that today."

Although that was obviously a pre-planned statement, Watt and his defensive line were still able to keep The Red Rifle's gun holstered by denying him of a touchdown and keeping Dalton under 200 yards during the game. Meanwhile, Watt racked up two tackles and a sack.

2. The Goat
Unfortunately for popular Patriots QB Tom Brady, he's not happy with his "Goat" status, which is an acronym rooted in praise for him being the Greatest Of All Time at the position. In a recent article from the Boston Globe, Brady said, "I don't really like it, truthfully." It looks as though No. 12 on the New England Pats is in the market for a new nickname associated with his successful throwing game.

1. Beast Mode
Outside of knowledgeable NFL trivia buffs, many aren't aware legendary RB Larry Csonka of the 70s-era Miami Dolphins could have been given the title of playing in "Beast Mode." Fast-forward to the 21st century, and Marshawn "Beast Mode" Lynch has a beastly title with roots to his rough upbringing on the streets of Oakland and his physical running style.

He has several notable accolades (Super Bowl champ, All-Pro, five-time Pro Bowler) in his career as well as and ties to other nicknames:

Traded to the Seahawks where Seattle's rowdy fan section the "Twelve" (formerly the 12th Man) loudly cheered his performances on the field.
After retiring in Seattle, Lynch came back to play another two seasons in his hometown for the Oakland Raiders and gained favor from spectators in Bay Area inside the "Black Hole."
Along with these stats and facts, Bills Wire recently reported Lynch will be retiring from the NFL once again. Buffalo drafted him in the first round in 2007, and then he shipped off to Seattle and Oakland. If 2018 was really the end for Beast Mode, it will be the end of an awesome chapter in NFL history and goodbye to one of the best NFL nicknames we can remember.