Marshawn Lynch and Calvin Johnson May Have Just Changed the NFL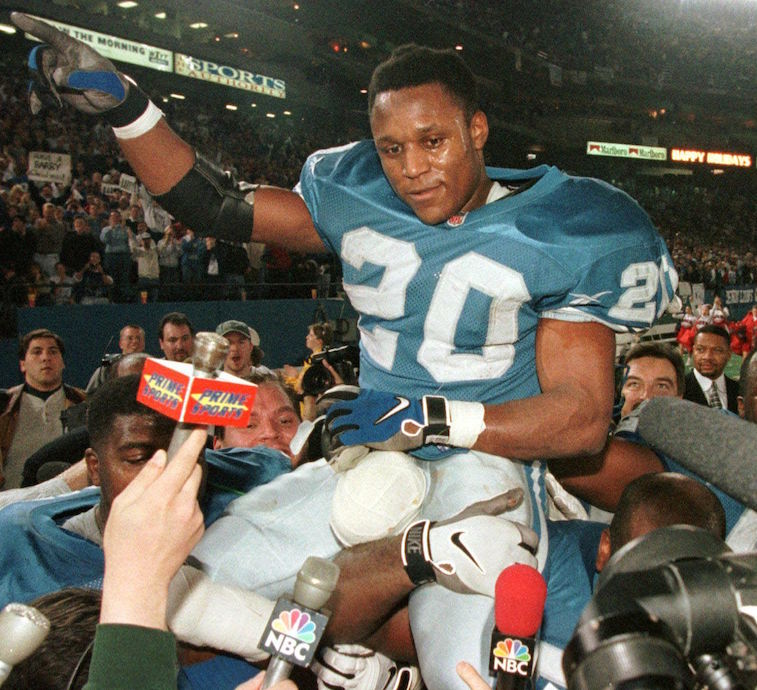 About 18 years ago, 30-year-old Detroit Lions running back Barry Sanders abruptly announced that he would retire from football, leaving the game when he was still seemingly one of the greatest to ever grace a backfield. This pronouncement left the Lions organization and fans in shock. After all, in just 10 seasons, the star tailback had never failed to reach the 1,000-yard mark.
So, when news broke a few weeks ago that Lions' wide receiver Calvin Johnson would retire, Lions fans — or at least those who remembered Sanders' retirement — had a familiar feeling. Coincidentally, "Megatron," as he was aptly named during his career, is also 30 years old. And he appears to have just as much good football left in him as Sanders did 18 years ago.
While there's still some speculation about whether or not Johnson will actually hang up the spikes when push comes to shove, his retirement announcement wasn't the only one to shake things up. Seattle Seahawks running back Marshawn Lynch announced his plans to retire during the Super Bowl. Lynch, who's 29 and just a year younger than Johnson, did struggle with injuries this past season, but he could still make an impact on most NFL rosters.
Assuming that these two players stick with their retirement claims, the game will lose two offensive weapons. Both Johnson and Lynch changed their respective positions; Lynch, combining his crushing style of running with speed and agility, and Johnson using his sheer size and speed to not just outrun and out-jump opposing defenses, but to be the most athletic player on the field in almost every game, too.
The only question that remains is why? To start, Lynch was hampered with nagging injuries for the majority of last season, and Johnson experienced more than a few bumps and bruises throughout his career. Lynch started just six games for Seattle in 2015, and when he was finally healthy enough to return for the playoffs — a strategic move by the Seahawks — he didn't look the same. And though Johnson has only missed nine games in his career, it seems like every season he's limited from week to week due to injuries.
Given the workloads these two players had in front of them, this shouldn't come as a surprise. Whether it was the battering that Lynch took in the trenches — his running style didn't help his cause — or the various big hits Johnson took coming across the middle, they drew a lot of attention as the focal points of their respective offenses.
Despite NFL players regularly competing while hobbled, Lynch and Johnson have apparently weighed their options and decided it's just not worth it anymore. And as we know, they can still compete and hold their own on the gridiron — being 29 or 30 years old isn't too far past their prime — but the health repercussions seem to be an obvious answer.
With the current trend of concussion-related fears and uncertainties about what a decade's worth of football really does to an athlete, there's no doubt that NFL players have seemingly become more cautious concerning their bodies. Whereas Sanders might have been before his time in that regard, Johnson and Lynch may be the beginning of a more common practice.
Instead of letting the game dictate their retirement — retiring when they physically can't play any longer or when no team will take them because of decreased production — Lynch and Johnson went out on their own accord. Maybe both players were used to competing at a high level and realized they might not be there anymore, so they decided to retire. That's certainly plausible. But it doesn't seem likely.
Both players, if healthy, showed that they can still put up impressive numbers as major game-changers. It's not that they decided they couldn't impact games anymore; they just decided they don't want the repercussions to impact their lives anymore. And thus, the more health-conscious NFL players become, the more early retirements we may see moving forward.
Statistics courtesy of Pro-Football-Reference.com.