Marshawn Lynch and the 9 Most Infamous Holdouts in NFL History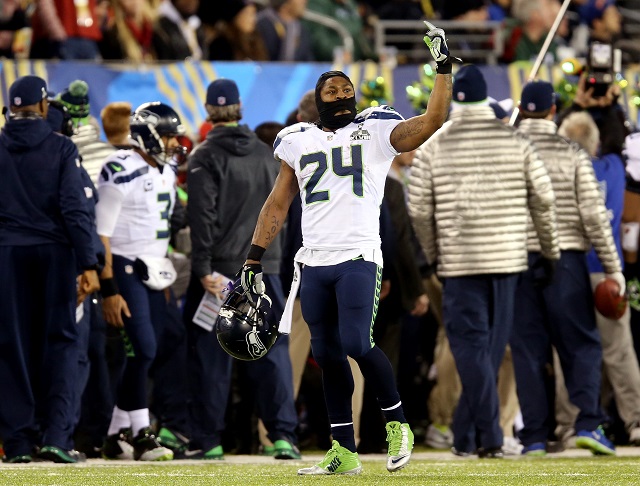 When Marshawn Lynch, then a running back for the Seattle Seahawks, called into the NFL Network to let them know he was officially holding out from the team's training session, he joined a long and questionably illustrious list of NFL players who are so incensed about something brewing within their organization that they decide to abstain from franchise activities until they can reach some reasonable resolution to the problem at hand. (And look where Lynch is now.)
This, almost without fail, goes something like the team pays the player more money than they were paying him before he started holding out. That's not to say that NFL teams are particularly fond of this behavior, or aren't willing to play hardball — a holdout can last for an entire season or longer, as player and organization refuse to meet anywhere near the middle.
It's also a wildly variable ploy; some guys, like Chris Johnson, went through a pattern of holding out routinely and without much success. Carson Palmer held out because, you know, those Bengals teams were bad and they weren't going to get very much better in the near future. Incidentally, the Bengals felt the same way about Palmer, and they eventually traded him to the Raiders.
But the NFL holdout will continue for as long as there are financial disagreements between the players and ownership, since the few people gifted enough to make it to the NFL are left with few ways to leverage any sort of bargaining power with the teams that contract them to play. These are the most infamous holdouts in recent NFL history.
9. Howard Slusher's clients, 1977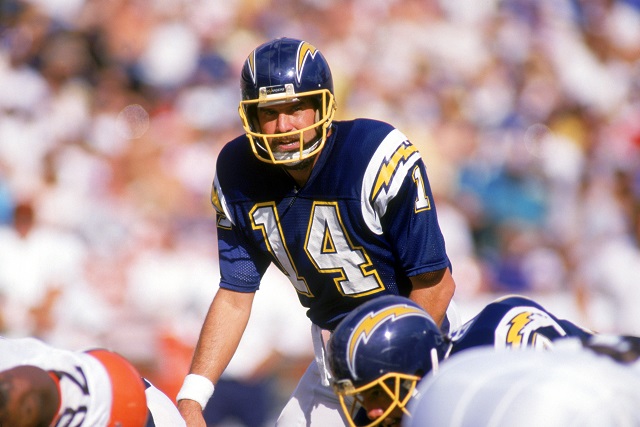 From Dan Fouts to old Patriots Leon Gray and John Hannah, NFL players represented by agent Howard Slusher were often driven to hold out for larger contracts, deals that the teams would inevitably agree to. This strategy hardly endeared Slusher to front offices, and in 1985 the Manager of the New York Giants went on the record about Slusher, telling People that, "Howard Slusher's not an agent, he's a terrorist," even though a Miami News breakdown of the agent's antics allowed for a bit more perspective.
"We talk for a long period of time before we have a plan of action," Slusher told The Miami News. "They've got to honestly tell me what they want and honestly be willing to back it up." That most players (and most people) want more money for their services, and are willing to put some of their athletic prime on the line in order to get paid, is an essential bit of knowledge to understanding the entire holdout phenomenon.
8. Cornelius Bennett, 1987
After being drafted first overall by the Indianapolis Colts, Alabama alum and Lombardi trophy winner Cornelius Bennett began his holdout during training camp, and continued to wait while the NFL dealt with a strike — and a dip into the disastrous idea of "replacement players" on the league's side — Bennett would eventually be dealt to the Buffalo Bills, where he contributed to the Bills stay at the top of the AFC, winning defensive player of the year, and playing in five Super Bowls, four with Buffalo and one with Atlanta.
7. JaMarcus Russell, 2007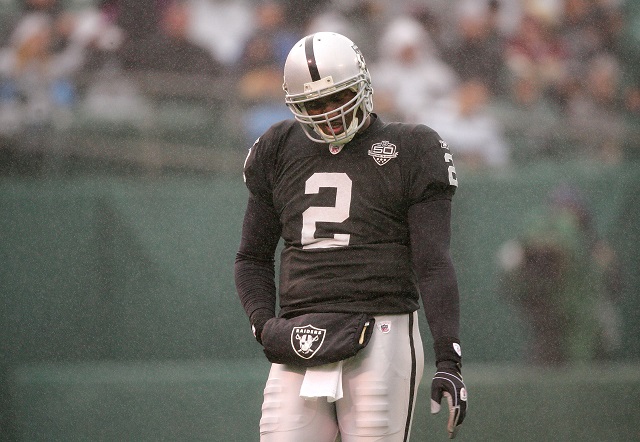 Coming out of LSU at six foot five and 260 pounds, JaMarcus Russell's athleticism was never in doubt — he had the size that NFL general managers salivate over with an arm to match. Unfortunately for Oakland, he also had a problem sticking to anything resembling a conditioning plan, and when the player who threw for over six thousand yards and 52 touchdowns in college decided to hold out for a better deal with the Raiders, his rookie season turned into such a disaster that he's still a touchstone for the word 'bust.' Suffice it to say, nothing in Russell's career made holding out look like a good decision.
6. Marshall Faulk, 1999

Faulk, who held out on the Indianapolis Colts and continued to hold out after he was traded to the St. Louis Rams — eventually culminating in a seven-year contract — became something of an expert on the subject when he retired and took up an analyst gig with the NFL Network, a run of employment that coincided with Chris Johnson's Titans holdout.
"Chris has outplayed his rookie deal. He has beyond exceeded the expectation where he was drafted," Faulk told The Tennessean (via ESPN.) "When you are drafted you are paid as to where you were drafted, not to how you play. And then after you play and prove your worth you are then paid as to how you play. He has exceeded the money he is making, the Titans know it and everyone in the league knows it." This is another key bit of insight into the thought process behind a holdout. Faulk was inducted into the Hall of Fame in 2011.
5. Darrelle Revis, 2010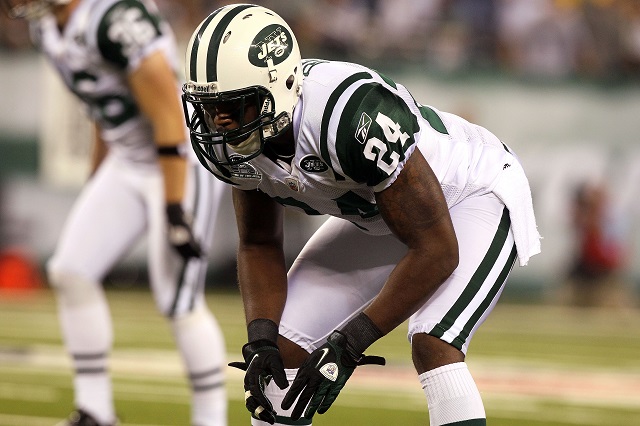 Also known as "the holdout that you saw on Hard Knocks," Darrelle Revis' holdout was certainly the most visible escape from an unfriendly contract situation, as he spent over seven months fighting with the Jets before actually conducting a hold out that lasted for over a month.
The HBO series captured the acrimony between the two sides, as Revis tried to capitalize on his career year (2009) and the owners attempted to publicly shame him for being greedy. It was unfriendly. His teammates and coaching staff didn't seem to harbor any ill-will against him, though. At least not during his triumphant return to camp.
4. Emmitt Smith, 1993

The better you play the season before you hold out, the better your chances at getting the mega deal that you want, and no one is a better example of that truth than Emmitt Smith. Smith, the running back who nabbed back to back single season rushing records during the Cowboy's stretch of early '90s dominance, decided to hold out for a max contract — holding out during his restricted free agency, shopping his talents around the league, and trying to force owner Jerry Jones to give him a ton of money.
Jones didn't budge at first, and the Cowboys went into the 1993 season without Emmitt Smith. They were awful. Eventually, Emmitt Smith rejoined the 'Boys as the highest paid running back in the league. Sometimes holding out is worth it.
3. Eric Dickerson, 1985 and 1990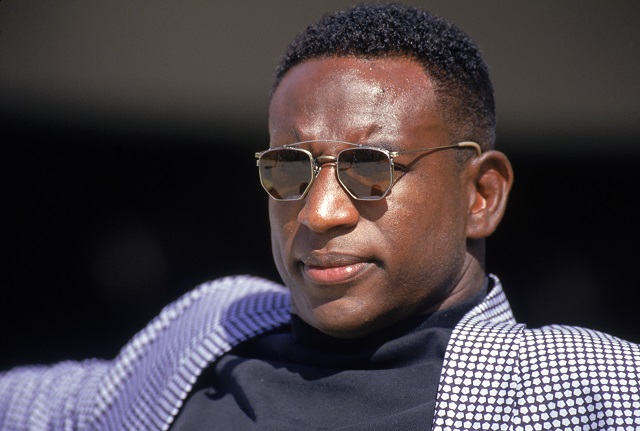 Another running back, another single season rushing record — one that still stands as the best rushing season in NFL history — and another holdout. Dickerson's 1985 attempt to get paid what he was worth was understandable, if not a great situation for Los Angeles Rams fans to be in at the time. The rift between the back and the management never really healed, and he was shipped out to the Colts.
The second holdout around, the one that saw Dickerson's off-the-field activies described by The New York Times as " blast[ing] everyone from the Colts organization to his offensive linemen," was just as successful. Per The NYT, "[T]he Colts started the year 0-3, and Dickerson got what he wanted: a four-year, $10 million contract." He would never really recover his form and retired in 1993 after playing for three teams in three seasons.
2. John Riggins, 1980 and 1985

This holdout happened for an entire season, and when Riggins came back in 1981 — over thirty and self-admittedly broke and bored — no one expected him to do it again. In 1985, Riggins proved everyone wrong when he successfully signed the largest single season contract for a running back, at least at the time, pulling in $850 thousand. You've got to remember that NFL players were paid a lot less back then.
1. Bo Jackson, 1986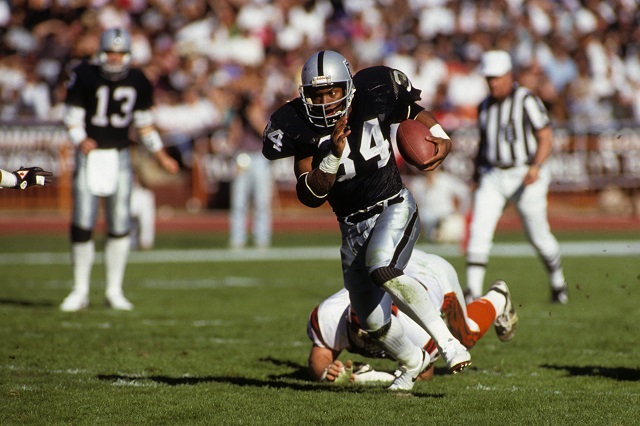 Supreme commander of the Tecmo universe, the most athletic athlete of all time forever, and the subject of a phenomenal 30 for 30, Bo Jackson's holdout wasn't so much about the money as it was about baseball. Drafted by the Tampa Bay Buccaneers, Jackson found out that the franchise was set in their ways, refusing to let Bo set foot on a baseball diamond while he was playing for the Bucs. For the prototypical multisport athlete, this was unacceptable.
Jackson's response? He signed with the Kansas City Royals, waited out a year as the Bucs rights to him expired, then wound up being drafted by the Raiders in 1987 — one of the biggest steals in NFL Draft history. Tampa Bay missed out on one of the best running backs of all time, and have wallowed on the outskirts of victory ever since.
Statistics courtesy of ESPN and Pro-Football-Reference.