NFL: Is Marshawn Lynch a Hall of Fame Running Back?
Rumor has it Marshawn Lynch may not return for another NFL season and that he's considering his second retirement. Lynch is one of the NFL's most controversial figures, but he is also one of the most hard-nosed running backs in football.

If this truly is the end of Lynch's playing days, it's time for fans and media to evaluate his career and put it in perspective. It begs the obvious question — is Marshawn Lynch a Hall of Fame running back?

Marshawn Lynch's overall career numbers
Drafted by the Buffalo Bills in 2007, Lynch played three full seasons for the Bills before moving on to the Seattle Seahawks and, most recently, the Oakland Raiders. He put together some impressive accomplishments over his illustrious career, including:
A Super Bowl victory in which he was a key element of the Seattle Seahawks' offensive attack
5 Pro Bowl selections
1 first-team All-Pro selection
Fourth overall in rushing yards for active running backs
Led the league in rushing yards (2013) and rushing touchdowns (2014)
Eighth among active players in total yards
Lynch's reputation includes a play in which he didn't even touch the ball. In Super Bowl XLIX, Seahawks coach Pete Carroll opted to let Russell Wilson throw the ball on the goal line during the critical last play rather than give Lynch the ball for the score. Wilson threw an interception, the Patriots won the game, and fans around the league widely chided Carroll for his decision not to give Lynch the rock. It was a reminder of how respected he is throughout the league as a performer.

How Marshawn Lynch stacks up to Hall of Famers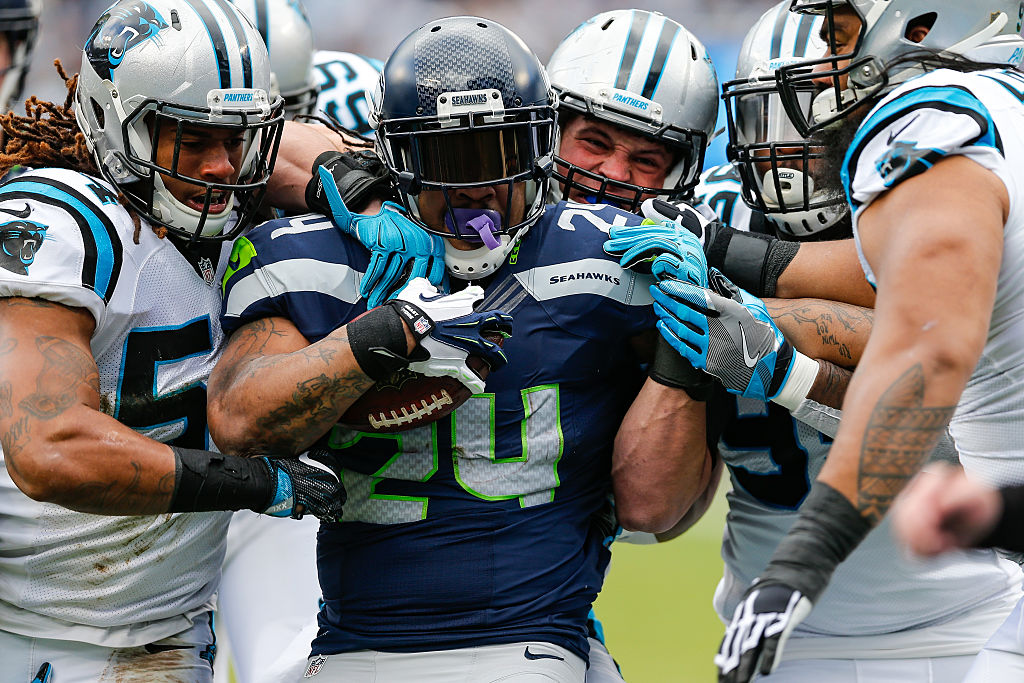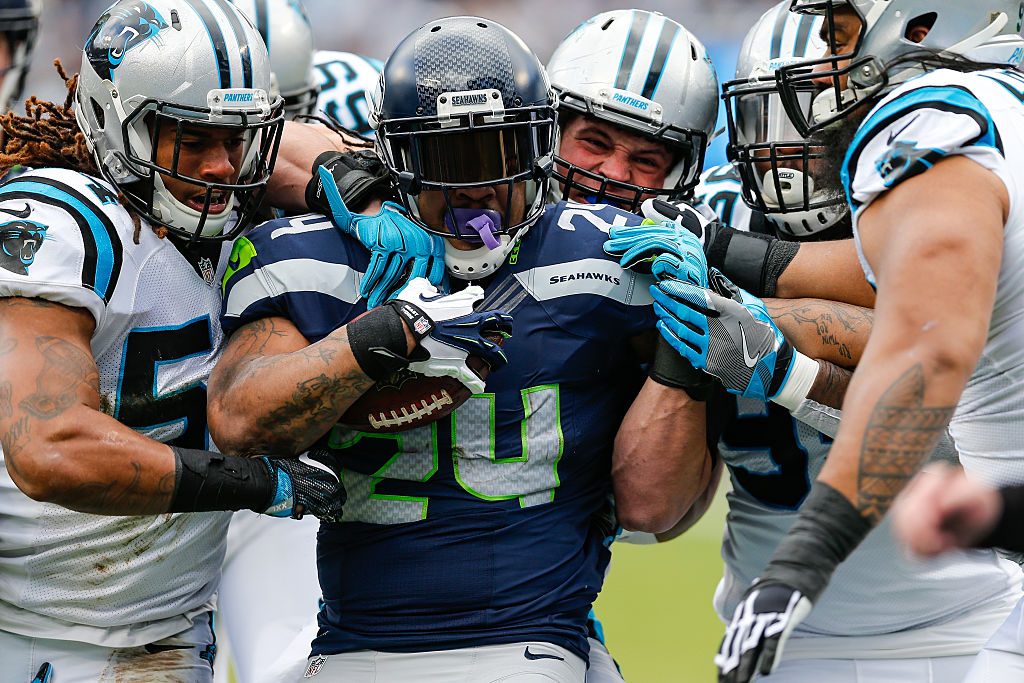 Lynch has 10,379 career rushing yards. To put that in its proper context, here are some Hall of Famers who he ranks above in that category:

Earl Campbell
Jim Taylor
Larry Csonka
Terrell Davis
Leroy Kelly
John Henry Johnson
Floyd Little
Steve Van Buren
Hugh McElhenny
Gale Sayers
Marion Motley
What's also impressive about Lynch's career rushing yards is that he plays in an era in which teams favor passing the ball more than running the ball. Not only that, but he's avoided major injuries while playing a position that is prone to frequent injuries.
In almost any way you look at his career, Marshawn Lynch has been one of the most dependable scoring running backs of this era (or any era, for that matter). His 84 career touchdowns are good for 16th all time. That puts him in an elite class of scoring running backs — top 20 all time.
Comparable players
Pro Football Reference compares individual players to others at the same position based on performance at different points throughout their career. Here are some Hall of Fame running backs to whom Marshawn Lynch's production was comparable to:
Floyd Little
Jerome Bettis
Earl Campbell
Larry Csonka
John Riggins
Some other great but not Hall of Fame running backs Lynch compares favorably to include Ottis Anderson, LeSean McCoy, and Matt Forte.

Is Marshawn Lynch a Hall of Fame running back?
Lynch has had a fascinating career marked by some controversy, at least one false retirement, and a lot of quirky behavior. What cannot be debated is his performance on the field. Lynch is without a doubt one of the most dependably solid running backs of the last 20 years. While he may never have been the best player at his position at any given time, he played a physical style of football that produced results for a long period of time.

If you ask us to be the judge, then we are ready to rule. The verdict on Marshawn Lynch as a potential Hall of Fame player? A resounding yes.

Lynch's aggressive style of play combined with his ability to produce at a high level for an extended period of time means he will most likely be enshrined in Canton before it's all said and done.