Marshawn Lynch Says There's Only 1 Way Aaron Rodgers Comes out as a Winner in His Feud With the Packers
After an offseason-long feud between Aaron Rodgers and the Green Bay Packers, Rodgers is at training camp, and he finally addressed all the issues he has had with his team this offseason. The future for Rodgers and the Packers beyond this upcoming year is still unclear, but, for now, their battle is taking somewhat of a break as it looks like Rodgers will play for Green Bay in 2021.
However, what does Rodgers' former college teammate, Marshawn Lynch, think about all this? He recently said there's only one way Rodgers comes out a winner, and the same goes for the Packers.
Aaron Rodgers put a pause on his feud with the Packers
After a plethora of reports about Rodgers' problems with the Packers surfaced throughout the entire offseason, the three-time MVP reported to training camp this week and has since addressed the feud that has taken up most of the headlines in recent months.
On July 28, the first day of camp, Rodgers spoke to the media via press conference for 30-plus minutes, and he detailed where things went wrong between him and Green Bay.
His major issue? He wants more involvement in personnel decisions, as he named several players he felt the organization should have attempted to keep throughout his career.
"I wanted to help the organization, maybe learn from some of the mistakes in the past … and about the way that some of the outgoing veterans were treated," Rodgers said, per ESPN. "And just the fact that we didn't retain a number of players that I felt like were core players to our foundation, to our locker room. High-character guys."
Rodgers said he isn't sure whether there have been any assurances on if things will change regarding his involvement in those conversations, but the Packers reacquired a player he felt they treated unfairly in Randall Cobb on July 28. The Houston Texans traded Cobb to the Packers after he caught 38 passes for 441 yards in 10 games for Houston in 2020.
Marshawn Lynch gave his reaction to the drama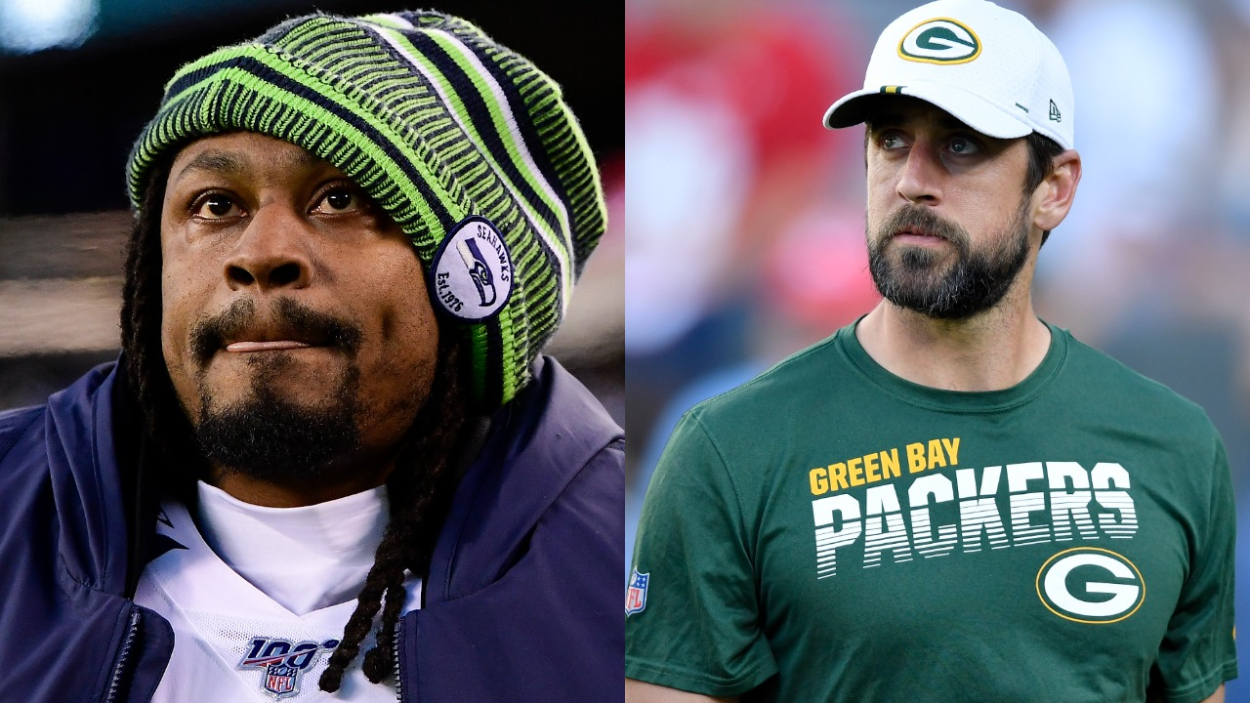 The relationship between Rodgers and the Packers still doesn't seem great, but he's practicing with the team, so, as mentioned above, it appears their feud is at least taking a pause so they can try to win a championship.
In fact, winning a championship is the only way Rodgers, or the Packers, win in this situation, according to Marshawn Lynch, who played with the quarterback in college at California in 2004.
"If they don't win a Super Bowl, then they both lost," Lynch said on the July 28 episode of First Take via the show's Twitter account. "…I said if they don't win a Super Bowl, then they both lost; that's what it's about."
Host Molly Qerim Rose then asked Lynch to clarify why the Packers would be losers, and he doubled down, saying that winning the Super Bowl is the only ultimate goal.
"The whole point of playing the game is to win a Super Bowl, so if you don't win a Super Bowl, then they both was bulls—in' and they should've been on their p's and q's," he said.
Lynch has a point. The goal should be to win a Super Bowl, so if Rodgers and Green Bay can't do that together, this entire feud was for nothing.
Can Aaron Rodgers and the Green Bay Packers win a Super Bowl?
Despite all the controversy, Rodgers and the Packers still have a great chance to win a Super Bowl together. They went 13-3 each of the last two seasons and went to two consecutive NFC Championship Games. 
In addition to their future Hall of Fame QB, Green Bay has one of the best wide receivers in the game in Davante Adams, a talented running back in Aaron Jones, and several other weapons like Marquez Valdes-Scantling, Robert Tonyan, Allen Lazard, and 2021 third-round pick Amari Rodgers.
Winning a Super Bowl is difficult, especially when you have team drama, but Rodgers and the Packers have proven to be one of the top teams in the NFC in recent years. They have as good a chance as anyone to win the Vince Lombardi Trophy this upcoming season.
Like Sportscasting on Facebook. Follow us on Twitter @sportscasting19.