Marshawn Lynch To Follow in Tony Romo's Footsteps With New Commentating Gig — Sort Of
Marshawn Lynch was one of the most exciting NFL players to watch during his prime. His ability to go beast mode on the football field will most likely never get matched. However, Lynch now has a new gig somewhat similar to Tony Romo's, as he now enters the broadcasting world. However, it isn't in football — it's in karate.
Marshawn Lynch has had a ton of success on the football field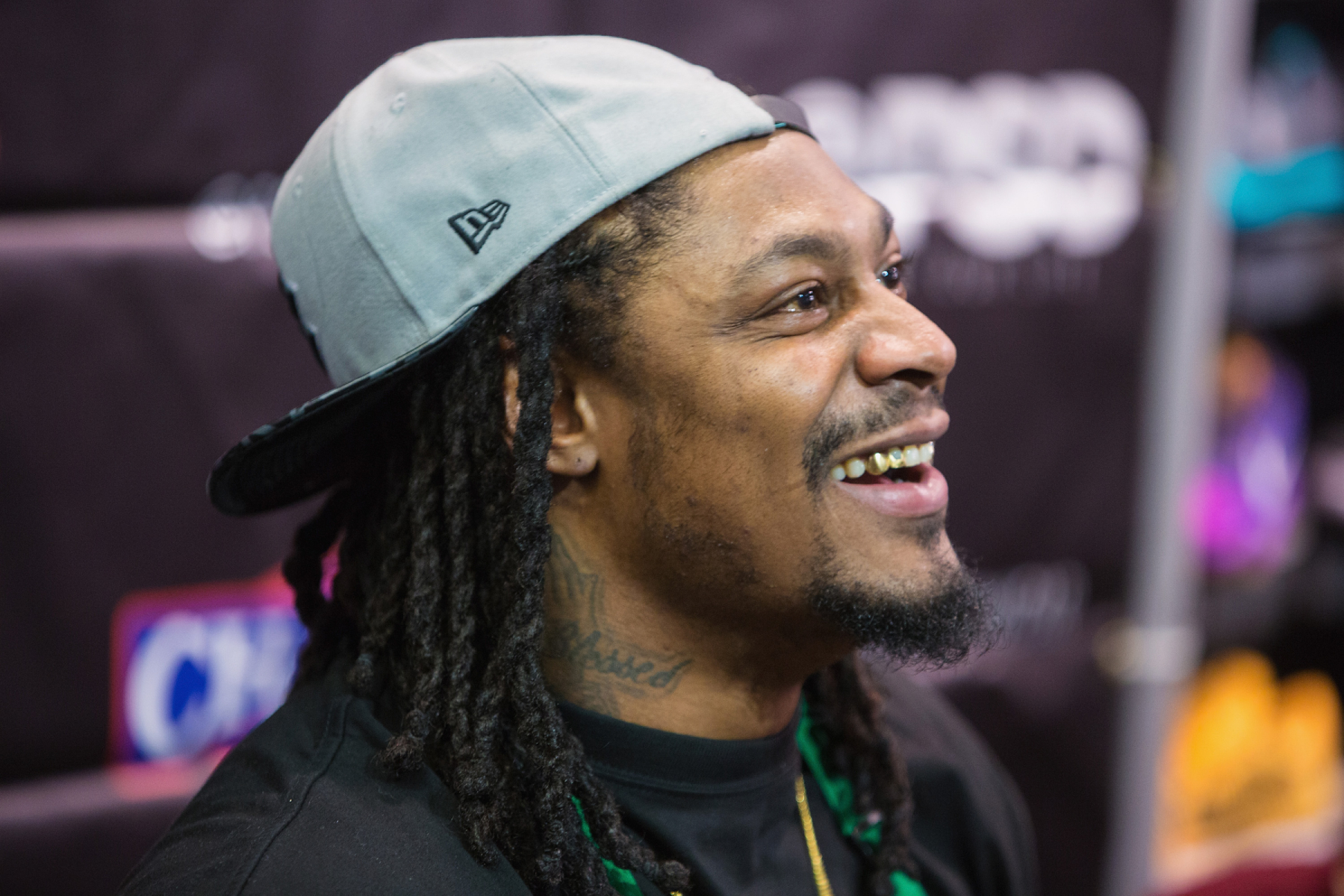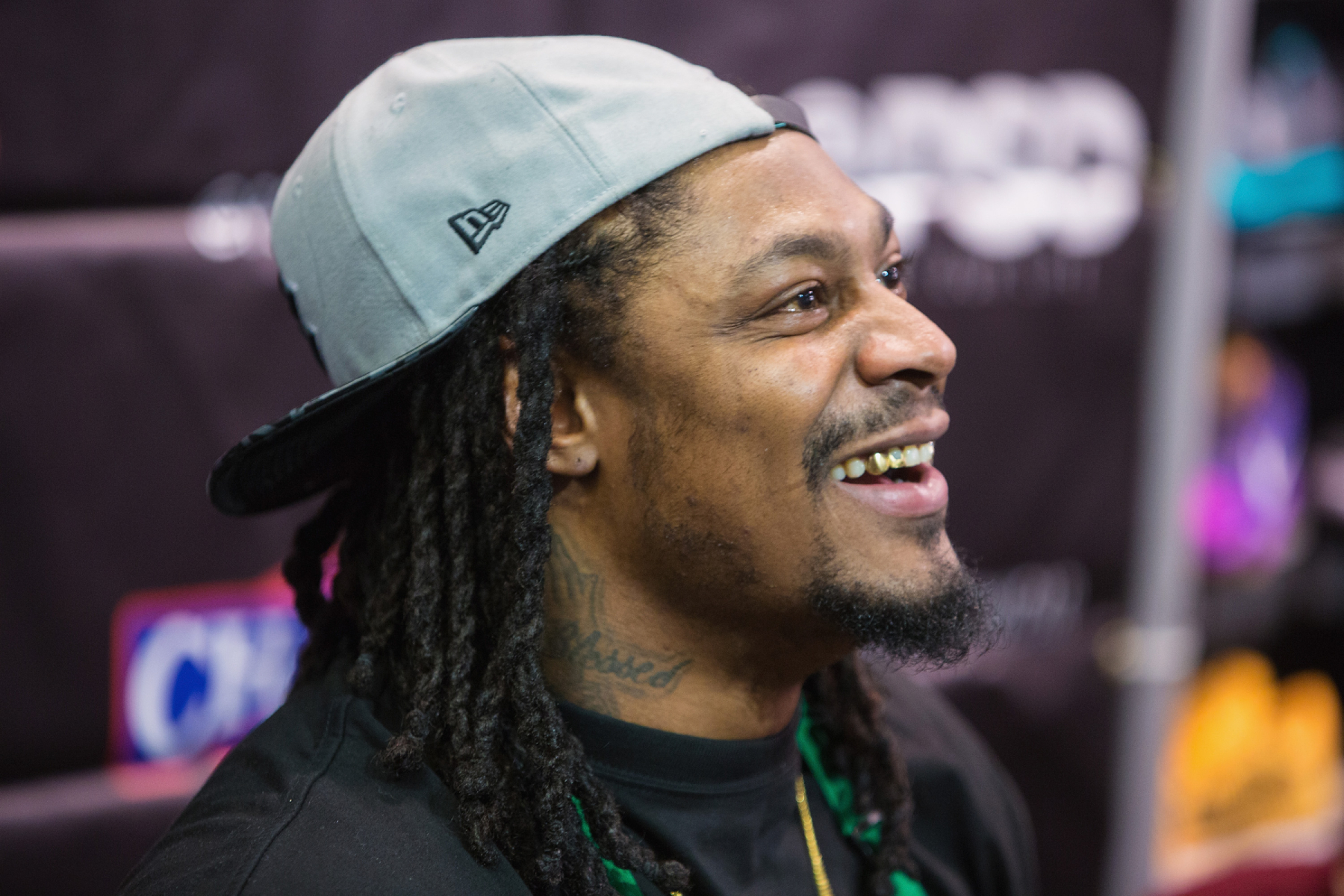 Lynch was a first-round draft pick by the Buffalo Bills in the 2007 NFL draft, and for good reason. He was an incredible back pretty early on in his NFL career. Lynch ran for over 1,000 yards in each of his first two seasons with the Bills, and he earned a Pro Bowl selection in 2008.
The Bills later traded Lynch to the Seattle Seahawks in 2010, and that is where he became an absolute legend. Lynch ran for over 1,200 yards in four consecutive seasons from 2011 through 2014. He ultimately earned a Pro Bowl selection in each of those seasons and was a First-Team All-Pro in 2012 as he ran for 1,590 yards. Lynch also led the NFL in rushing touchdowns in 2013 and 2014.
Lynch later played in seven games for the Seahawks in 2015, and then 21 games for the Oakland Raiders in 2017 and 2018. He also appeared in one regular-season game for the Seahawks in 2019 and two playoff games.
For his career, Lynch has run for 10,413 career yards and 85 touchdowns. He is a five-time Pro Bowl selection, and he won one Super Bowl with the Seahawks during the 2013 season.
Now, he is following in Romo's footsteps by entering the broadcasting world — sort of.
He is going to be a commentator for Karate Combat
Karate Combat recently announced that Lynch will do color commentary during its upcoming second season that debuts on Sept. 27. Lynch will appear in the first three episodes of the 12-week season and will sit alongside Bas Rutten, the former UFC heavyweight champion.
"This fighting s*** is for real — none of that cage or boring rolling around on the ground, just that get down with the get down, ya' know what I mean," Lynch said, according to TMZ. "I'll be kickin' it with Bas watching guys get knocked out, doing all types of crazy moves in wild a** Indiana Jones type settings. It's hella dope."
Rutten also appears to be excited to work with Lynch.
"I've always enjoyed watching Marshawn just bulldoze people on the field," Rutten said, according to TMZ. "He's a natural to analyze and react to all the amazing action we'll see — and he's really, really funny."
What is Karate Combat?
Those who aren't sure what Karate Combat is, it began in 2018 with events in various places like Miami Beach and Dubai, according to Bleacher Report.
According to PR Newswire, Karate Combat features more than 100 of the top Karate fighters in the world. They compete in an "innovative, modern, sports experience, optimized for digital and mobile consumption to showcase fast-paced Karate competitions."
The 12-episode season of Karate Combat will premiere at 7 p.m. on Sept. 27 and will air on Sundays on karate.com. Lynch is also not the only well-known name to guest star on Karate Combat, as Danny Trejo and Chuck Lidell also have, according to a press release on Karate Combat's site.
So, Marshawn Lynch is not quite fully starting a broadcasting career like Romo has, but everyone knows that Lynch is always entertaining whenever he is on the TV.
Stats courtesy of Pro Football Reference