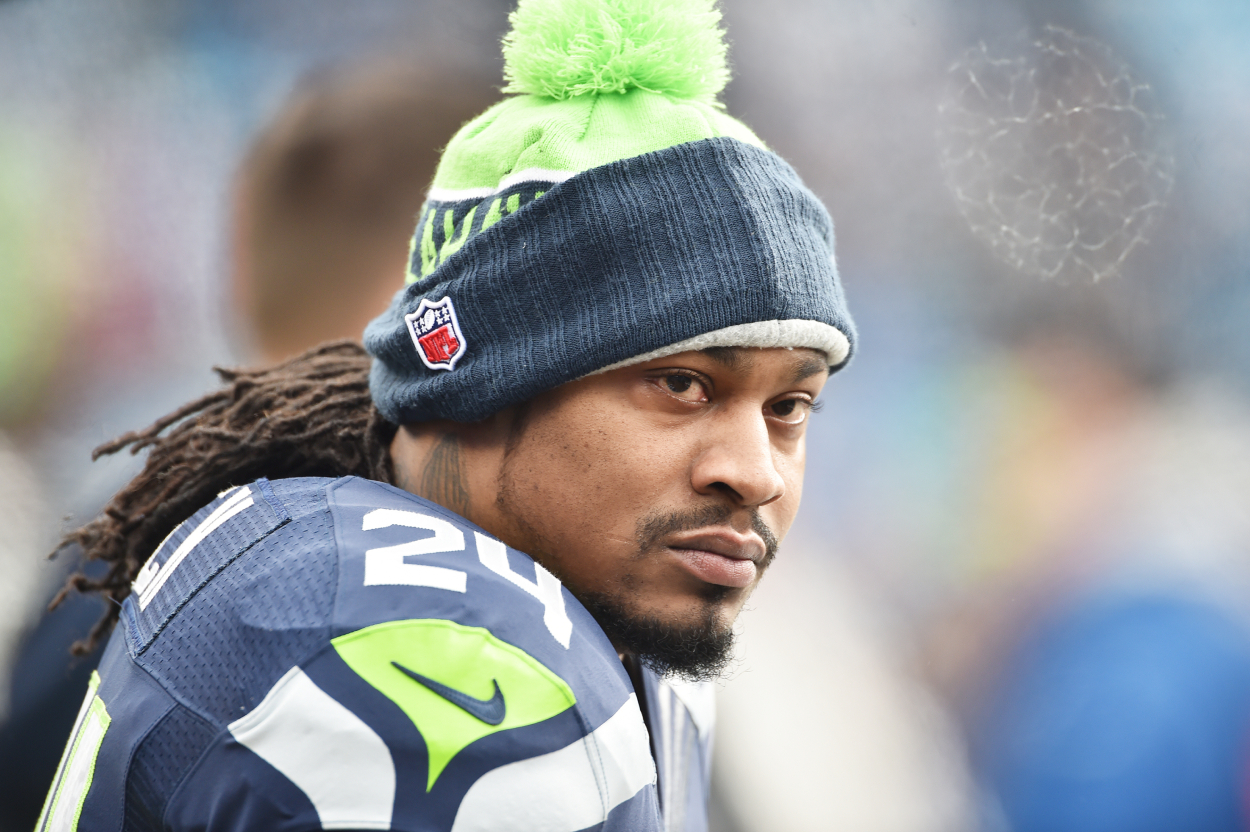 Marshawn Lynch's New Business Venture Used a Pile of Human Feces to Give Him a Rude Awakening
Former Pro Bowl running back Marshawn Lynch was rudely awakened by one of his new business ventures thanks to a pile of human feces.
Marshawn Lynch proved during his NFL career that he is box office. His play with the Buffalo Bills and Seattle Seahawks, and his infectious personality, helped him become a pretty wealthy man. However, while some of his off-field endeavors have played a role in his wealth, one of his newer business ventures used a pile of human feces to give him a rude awakening.
Marshawn Lynch had a legendary NFL career
Marshawn Lynch went to the Buffalo Bills with the No. 12 overall pick in the 2007 NFL draft out of California. He then had success immediately.
Lynch ran for over 1,000 yards in each of his first two seasons with the Bills. He also earned a Pro Bowl selection in 2008. However, after only starting in six games in 2009, the Bills traded him to the Seattle Seahawks in 2010.
He ultimately ran for 737 yards with the Bills and Seahawks in 2010, but Lynch then dominated with Seattle from 2011 through 2014. He ran for over 1,200 yards in each of those seasons, gaining as many as 1,590 in 2012. Lynch also scored over 10 rushing touchdowns each of those years as he even led the NFL in rushing touchdowns in 2013 and 2014. During those seasons, Lynch ended up earning four Pro Bowl selections and was a First-Team All-Pro once in 2012.
In addition to his regular-season success with the Seahawks, though, Lynch also went to back-to-back Super Bowls with Seattle in 2013 and 2014. The Seahawks ultimately won the title during that 2013 season, too.
Lynch then only played in seven games for the Seahawks in 2015 before playing for the Oakland Raiders in 2017 and 2018. He then retired after the 2018 season, but later played in one regular-season game and two playoff games for the Seahawks in 2019.
Overall for his career, Lynch earned five Pro Bowl selections and ran for 10,413 total yards. He also scored 85 rushing touchdowns, which is 16th in NFL history.
He has his own restaurant
During his NFL career, Lynch earned an estimated $56.76 million, according to Spotrac. That, and his off-field endeavors, have helped Lynch rack up an estimated $35 million net worth, according to Celebrity Net Worth.
In December 2018, Lynch used some of that money to open up a restaurant with his aunt Kecia Johnson, according to ABC7 News of San Francisco. The restaurant is called Rob Ben's and is located in Emeryville, California, which is right outside of San Francisco.
Lynch's place was even featured on Bar Rescue. According to Yelp, it is a four-star establishment that serves soul food, salad, and chicken wings.
However, Lynch quickly learned the challenges of being a restaurant owner thanks to a pile of human feces.
Marshawn Lynch received a rude awakening thanks to a pile of human feces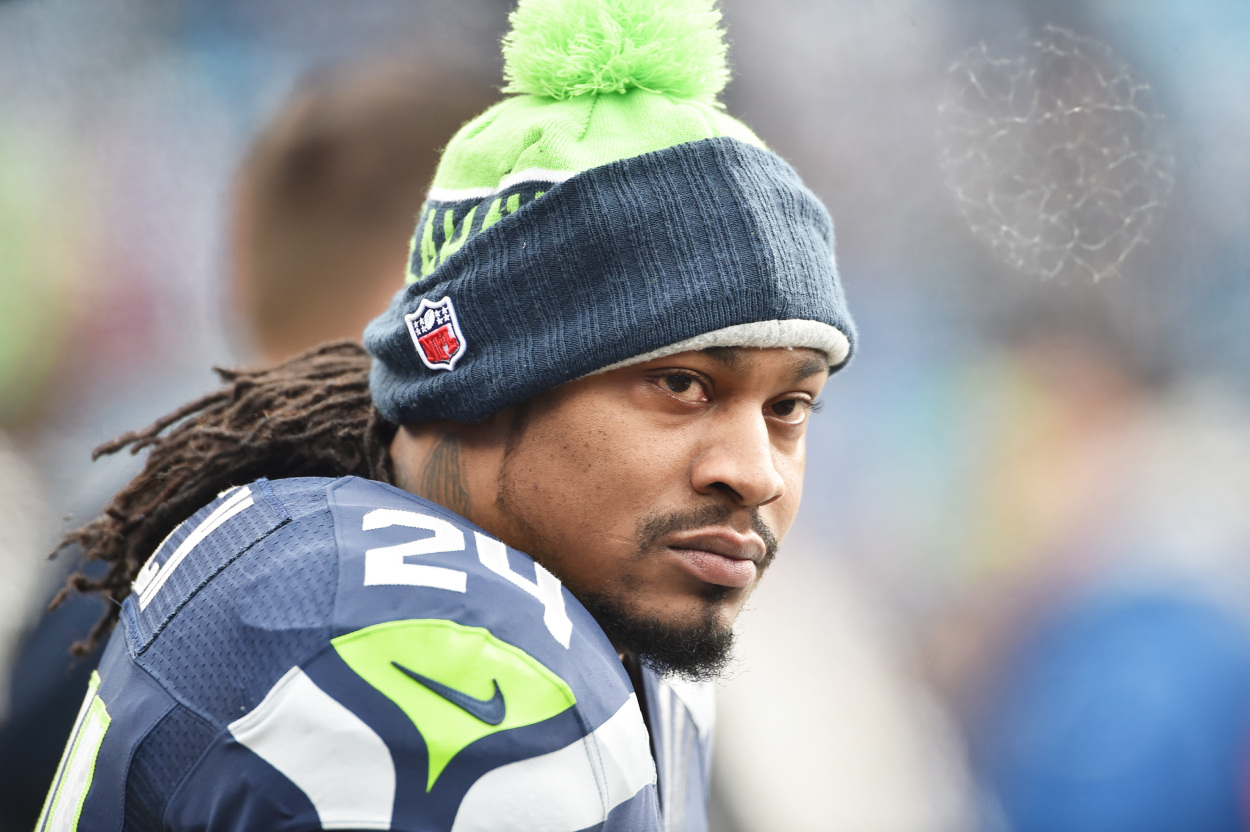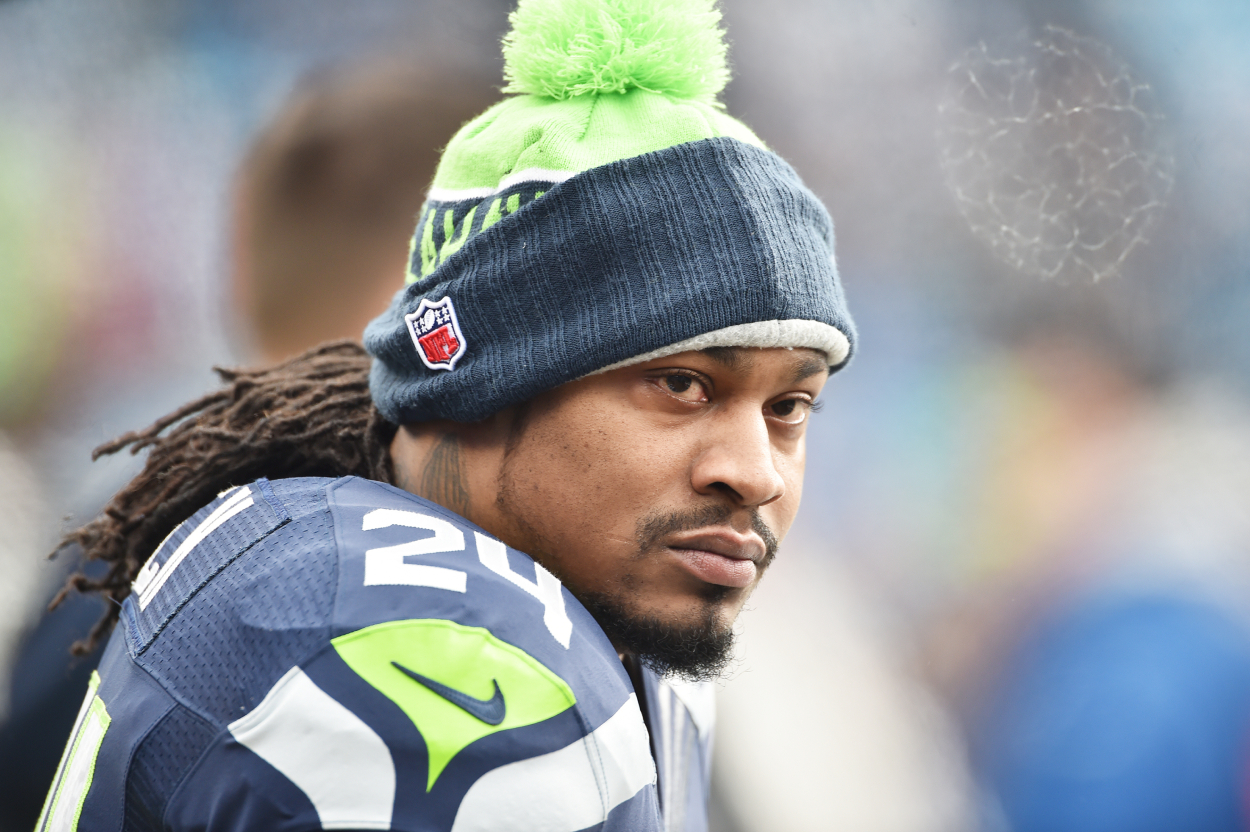 Lynch recently appeared on The Pat McAfee Show, and McAfee asked him, "What's the craziest s*** you've ever seen in your entire life?"
Lynch's answer then didn't disappoint.
"I had got the restaurant, which I'm in right now, and when we first got it, I would come in here, and I would clean up and go outside in the front, sweep up," Lynch said on the Feb. 7 episode. "… One morning, I got up here, and I noticed, 'Damn that's a funky-a** smell.' I looked to the side of my front door, and it's a big a** pile of s***. I'm talking about human s***. It was right on the side of the door."
He continued: "I can't be in here serving food, and motherf****** come walk in and they smellin' straight a** cheeks when they come in here, like, 'I don't think that's the restaurant I need to eat in.' So, man, I get the water hose, and I'm hosing it down. We got a couple dope fiends that usually walk back [and forth] up in front … One of them owned up to it, and I said, 'Well, look, man, check it out, so you don't do this no more, you come by here, and we get you a broom. You help us, we help you.' I put a proposition together for him, and I ain't cleaning up s*** no more."
Marshawn Lynch went through some ups and downs in the NFL. Now, he is dealing with some messy challenges off the field. At least it appears that he took care of that situation before it got out of hand.
Stats courtesy of Pro Football Reference