Marshon Lattimore Spent $25,000 on a Rolex But Still Believes 'You Gotta Save Your Money Like It's Your Last Snap'
Marshon Lattimore is a three-time Pro Bowl selection with only four seasons in the NFL. The New Orleans Saints knew they had someone special on their hands when they drafted the cornerback back in 2017. And he's proved he's worth every cent. And let's be clear: It's a lot of cents.
Lattimore proved himself so definitively at Ohio State that the Buckeye was picked early and paid handsomely. He managed this despite missing swathes of playing time. Coming from a comparatively modest background, he's now a multi-millionaire. So how does Lattimore deal with his newfound wealth? It turns out, very carefully.
Marshon Lattimore's journey from Ohio State to the NFL
RELATED: Conor McGregor's Boujee Watch Collection Is Worth Over $1 Million
Lattimore was rated a four-star recruit at CB and wide receiver out of high school. He was seen as the next big thing for Ohio State when he accepted their offer to play at CB there. Then, as ESPN reports, a nagging hamstring injury kept him on the bench.
Lattimore was devastated at the prospect of his career falling apart before he got to the point where one actually gets paid for it. He spent all of 2014 watching Ohio's games from the sideline.
After a shaky offseason recovery,  the cornerback played only seven games in 2015. Once he recovered in 2016, Lattimore quickly earned a spot as a starter. He was named First Team All-Big Ten, even as he spent his time off the field carefully managing his injury.
Lattimore's huge contract and signing bonus changed his life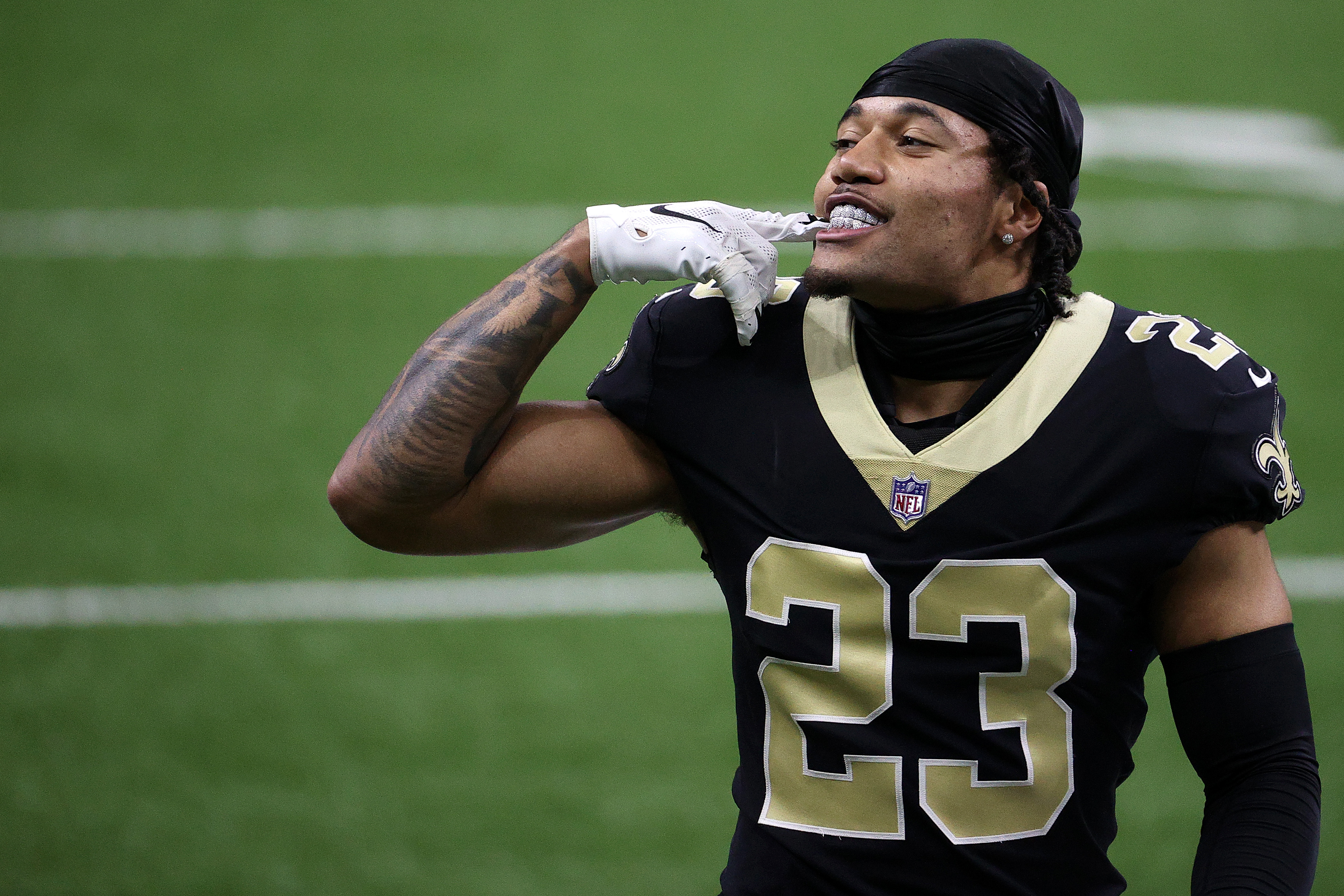 Off the back of essentially a single full season of play, Sports Illustrated ranked him as the No. 1 prospect at CB. He ran positional drills at the NFL Combine. The Saints in particular were convinced he was what they needed. New Orleans snapped him up with their first round pick, 11th overall.
According to Spotrac, Lattimore was signed for a fully guaranteed four-year, $15.35 million contract, alongside a $9.31 million signing bonus. He has lived up to that lofty contract.
The now-24-year-old's worst season on this contract was 2020 — enough that Pro Football Focus dropped him from their top 100 for players with a minimum of 20% of snaps. Yet the same year, he hit his career high of 62 tackles, implying a change in priorities rather than a strict decline.
Marshon Lattimore saves his money but he'll splurge on a $25,000 Rolex
RELATED: Dale Earnhardt Jr. Reveals Why He Will Never Get Rid of His Rolex 24 Car
Growing up in East Cleveland wasn't easy, as Lattimore and his family opened up about in a Cleveland.com profile. His family history was dotted with football players who never quite succeeded. Their returns to average life left them facing near-poverty. So Lattimore knew he had to find a way from the Ohio State bench to the NFL.
He pulled it off, with tens of millions in career earnings coming his way. In a sit down with GQ, he explained exactly how his injury taught him that no amount of money is enough when you know your career can end at any time. He has to save as if it all ends tomorrow.
"Going with a financial advisor, you really just learn that they're trying to help you. You just got to take the knowledge in," was the sage advice Lattimore shared. "You gotta save your money like it's your last snap."
That doesn't mean he's living a purely austere lifestyle. He simply puts away the vast majority of his money, while intensely managing how he spends on helping his family as well as some fun items for himself.
Working with a financial advisor, he made sure to buy a $35,000 car for his mother. He leased a $60,000 Range Rover for himself. And yeah, he bought a $25,000 Rolex. But each of these purchases was not an impulsive splurge. It all goes through his financial team, to make sure that if it really does end tomorrow, Lattimore is still set for life.