NASCAR Cup Series Driver Martin Truex Jr. Has 'No Idea' How He Got So Lucky Qualifying for Championship 4: 'I'm Gonna Buy a Lottery Ticket on the Way Home'
As far as NASCAR Cup Series Round of 8 elimination event rides goes, Martin Truex Jr.'s opening 450 laps were largely uneventful.
The stakes were high, a spot in the Championship 4.
Action and drama ensued all around Truex.
But there he was, just cruising right along.
"It was a smooth day, and then all hell broke loose."
NASCAR Cup Series driver Martin Truex Jr.'s 'smooth' Round of 8 elimination race turns bumpy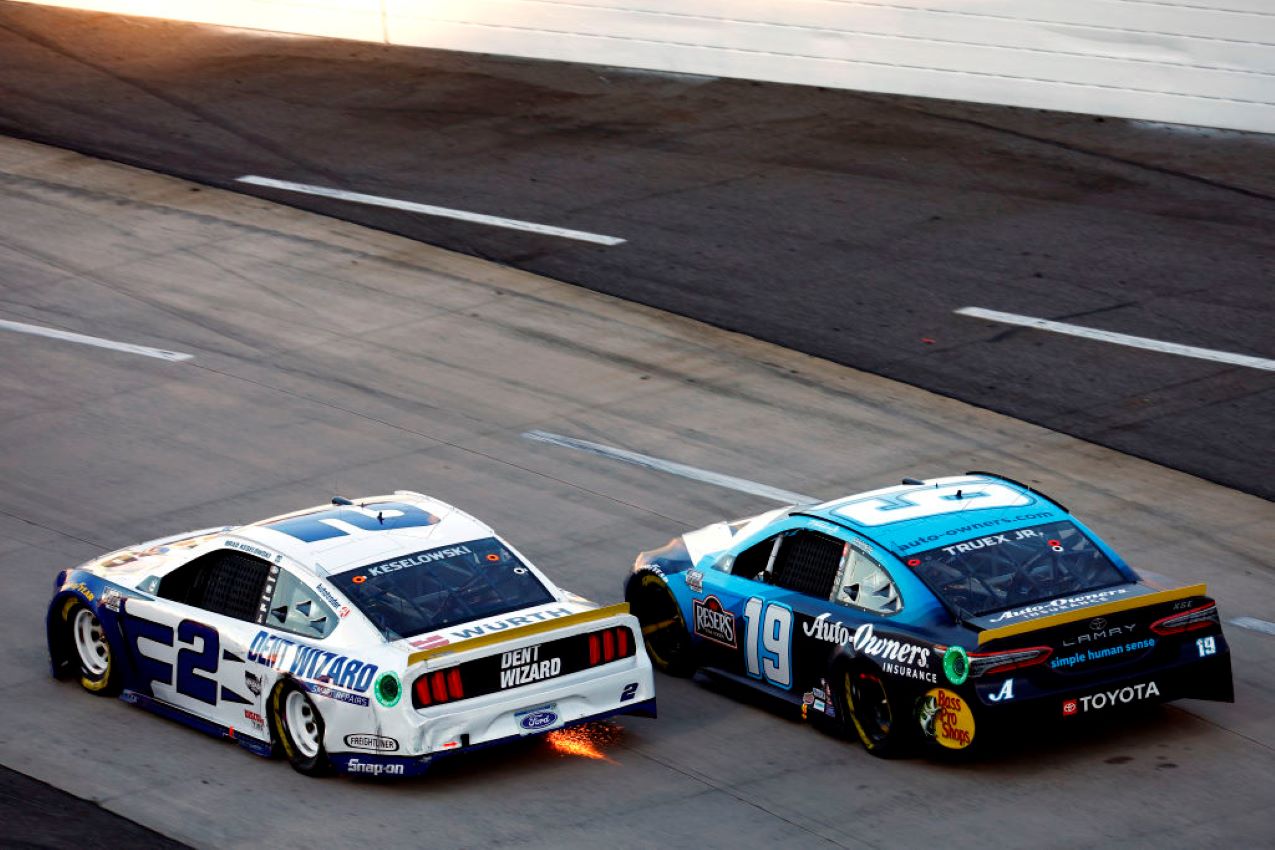 That's how NBC Sports pit reporter Parker Kligerman described the action to Truex moments after he emerged from his worn No. 19 Toyota following his surprising fourth-place finish during the Xfinity 500 at Martinsville Speedway on Oct. 31.
Truex grinned.
"Talk to me about the damage and your position after that," Kligerman asked.
Truex went on to describe the action.
"We had a solid car," he said. "We weren't a winning car, but we were a third or fourth place car all day long, and everything was going smooth.
And then the two (car of Brad Keselowski) and the 18 (car of Kyle Busch) came up there in the front, kind of out of nowhere."
And suddenly, Truex's smooth ride turned bumpy. Racing side-by-side with Busch, Truex's machine sustained damage. He fell back and tangled with non-playoff driver Aric Almirola.
"Then came the marbles, and the one car (of Kurt Busch) came by and clipped my left front and drove me into the fence."
Truex's initial thought of his standing in the Round of 8 elimination race, which he needed to win to earn automatic qualification, was anything but optimistic?
"Oh, damn," he said, "we're in big trouble here."
Truex doesn't stop to 'cry,' drives 'forward,' and catches a 'break'
Truex's troubles weren't over.
Over the final 50 laps, the team's pit crew put Band-Aids on the overheating machine, which had water spewing out of its front and a piece of sheet metal causing a dangerous rub on the left-front tire.
When Truex was forced to pit on the final two-lap restart, the team's chances of qualifying for the final four at Phoenix Raceway on Nov. 7 appeared dashed. But it had to come in. More Band-Aids.
Truex maintained his composure.
"You can either cry over it, or you can drive forward," he said. "Just got to drive forward (and) I got a break."
A big break.
When a series of drivers dove down to the bottom of the track on the restart, Truex couldn't believe his luck.
Truex: 'I have no idea how we finished fourth'
"I had a big smile on my face at that point," he said. "I saw the hole up there, and I said, 'I gotta go for it.'
"It worked out for us."
Because of the season-saving move on the restart, Truex edged Kyle Busch by four points, earning a final-four invitation.
The 2017 Cup Series champion, Truex, will compete against Kyle Larson, Chase Elliott, and Denny Hamlin for his second title.
"I have no idea how we finished fourth (at Martinsville)," Truex said. "I'm gonna buy a lottery ticket on the way home."