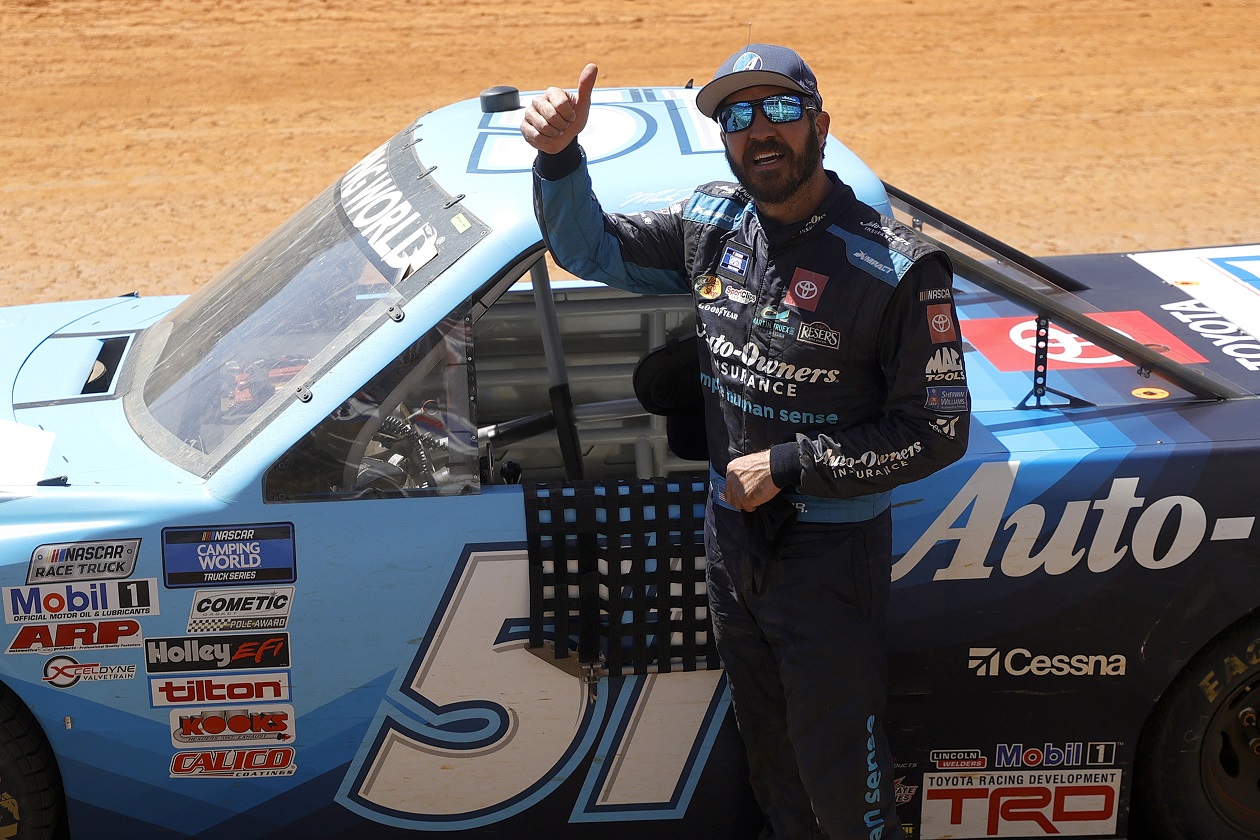 Martin Truex Jr. Joined an Exclusive NASCAR Club With His Truck Series Win at Bristol
Martin Truex Jr. picked up a dominating Truck Series win on the Bristol dirt. In the process, he joined an exclusive club of NASCAR drivers.
Martin Truex Jr.'s Cup Series debut on dirt could have gone better. Although the driver of the No. 19 Joe Gibbs Racing Toyota led a large chunk of the race, he suffered late tire troubles and finished 19th.
However, his Truck Series race a few hours earlier was a rousing success. Even though he hadn't driven in the Truck Series since 2006, Truex coasted to an easy win on the Bristol dirt. In the process, he joined an elite group of NASCAR drivers.
Martin Truex Jr. made NASCAR history with his truck win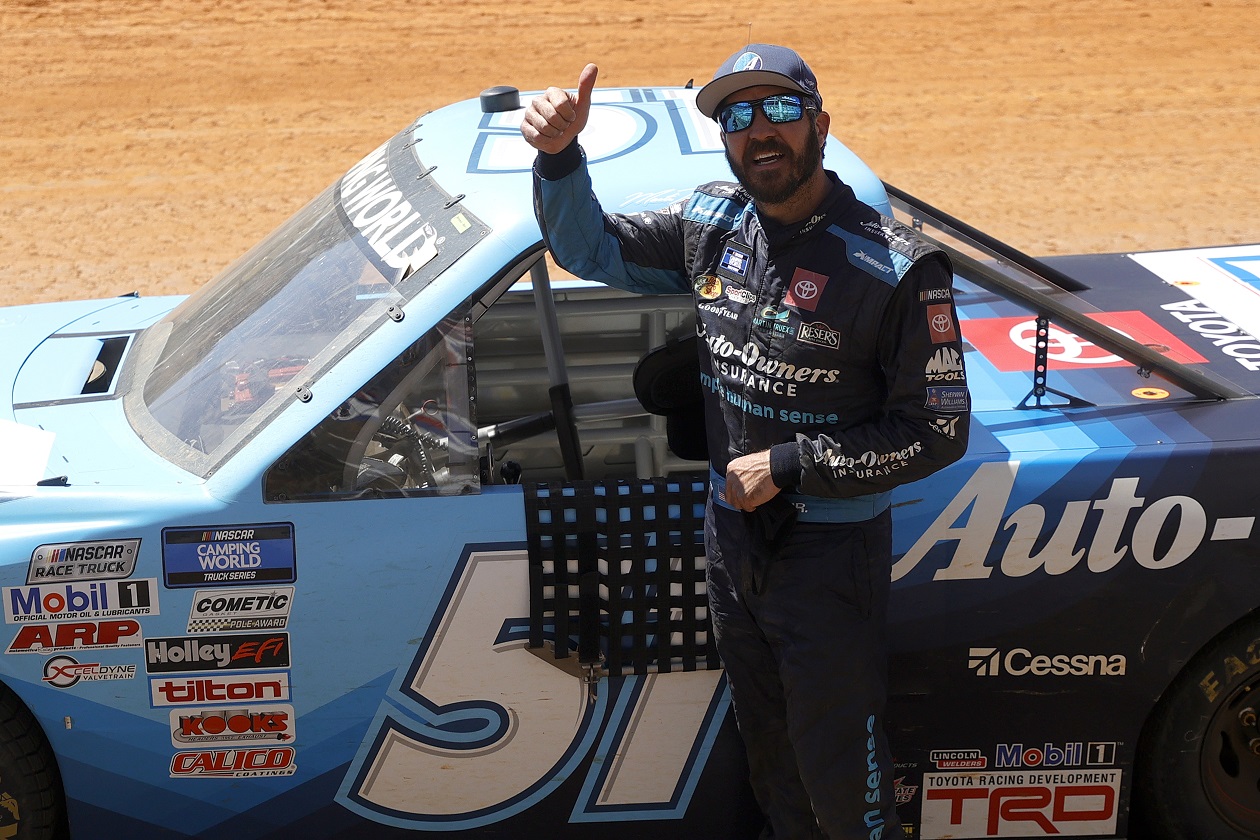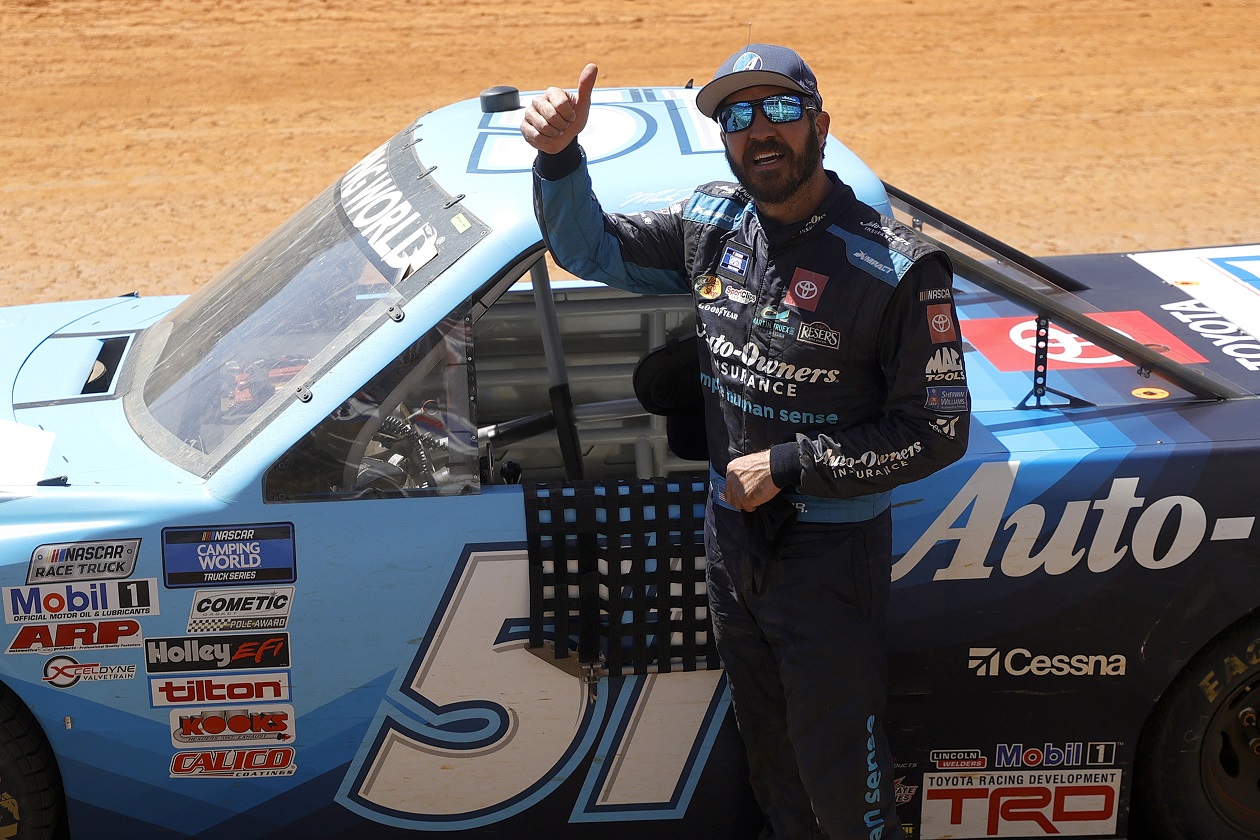 Truex was one of six Cup Series regulars who entered the Pinty's Truck Race on Dirt at Bristol Motor Speedway on Monday. The others were Chase Briscoe, Kyle Larson, Bubba Wallace, Kevin Harvick, and Daniel Suarez. It was only the third Camping World Truck Series race Truex ever entered, and his first since the June 2006 race at Michigan.
Driving the No. 51 Kyle Busch Motorsports Toyota, Truex Jr. dominated the proceedings, leading 105 out of 150 laps. On the final restart, he pulled away from Ben Rhoades to win by 1.149 seconds. The win was all the more surprising, as Truex had next to no experience whatsoever with dirt racing.
"I've only raced twice on dirt. Both of them were at (Ken) Schrader's (track), having a charity race out in Missouri. I did that a few times in a modified," Truex told NBC Sports. "That was the only times I raced on dirt, after growing up on four-wheelers and motorcycles.
With his victory at Bristol, Martin Truex Jr. became the 36th driver to win at least one race in all three of NASCAR's top national series — presently known as the Cup Series, the Xfinity Series, and the Camping World Truck Series. These drivers are informally known as Triple Threats. Truex Jr. has 28 Cup Series wins and 13 Xfinity Series wins in addition to his first Truck Series triumph.
The other NASCAR legends to achieve 'Triple Threat' status
The possibility of a NASCAR driver to achieve "Triple Threat" status emerged in 1995 with the creation of the Truck Series — then known as the SuperTruck Series. Ken Schrader became the first member of this club. After previously winning races in the top two series, he won the third-ever Truck Series race at Saugus Speedway in California.
Earlier this year, Christopher Bell also gained admittance into NASCAR's "Triple Threat" club. He earned his first Cup Series victory in February at the Daytona road course, adding to his victories in Xfinity and Truck competition.
The undisputed king of triple threats is Kyle Busch, who is (well, was) a threat to win any race anywhere. Between all three series, the younger Busch brother has won a combined 214 races. Twice, Busch has swept an entire three-series race weekend at Bristol — first in August 2010, and again in August 2017.
Martin Truex Jr.'s Truck Series win comes with a catch
Truex Jr.'s win probably provided some short-term satisfaction and knowledge of the dirt track. However, it means very little in terms of the race for the Truck Series championship.
Ever since 2011, NASCAR has allowed drivers to collect championship points for only one series. Since Truex Jr. is still competing for the Cup Series championship, he collected zero Truck Series points for his dominating victory. This means that in the grand scheme of things, the biggest winner was second-place finisher Ben Rhoades, who collected 48 points.
These were 48 very important points. Rhoades now trails John Hunter Nemechek by only six points for the lead in the Truck Series standings.