Martin Truex Jr. Won at Dover in 2019 Despite Having Faulty and Life-Threatening Equipment Issues
A thrilling victory at Dover in 2019 should have been a happy day for NASCAR driver Martin Truex Jr.
Truex, the 2017 Cup Series champion, secured his second victory in three weeks on May 6, 2019. As pleased as Truex was to hold off Alex Bowman and Kyle Larson, the veteran driver was also in a bit of a frenzy.
Truex drove the entire race, and somehow won, despite having a faulty seatbelt.
Martin Truex Jr. won at Dover in 2019 with a faulty seatbelt
RELATED: Dale Earnhardt Sr. Regularly Pulled off a Dangerous In-Car Move During NASCAR Races According to Jeff Gordon
The idea that Martin Truex Jr. won Gandar RV 400 in May 2019 with a faulty seatbelt is both incredible and terrifying.
In an interview with The Athletic later that year, Truex explained specifically what happened. Truex went to qualify and had issues strapping in.
After spending multiple minutes trying to get the seatbelt secure, Truex finally succeeded. However, Truex made a major mistake along the way.
"I can just remember totally freaking out, getting ready to go qualify, because I couldn't get the stupid thing clicked in all the way. And then it finally latched. But then stupid me forgot to tell my interior guy about it! For the start of the race, I literally barely got it clipped before we took off. Then the whole day I was thinking about it: 'What if this thing comes undone? What am I going to do? Why didn't I tell him? That was so stupid.'"
Think about that for a second. By the time Truex realized that he hadn't fixed his seatbelt — which is among the most important safety features in a car, let alone one that is racing — it was realistically too late to do anything.
Truex Jr. described the incident as a 'scary moment'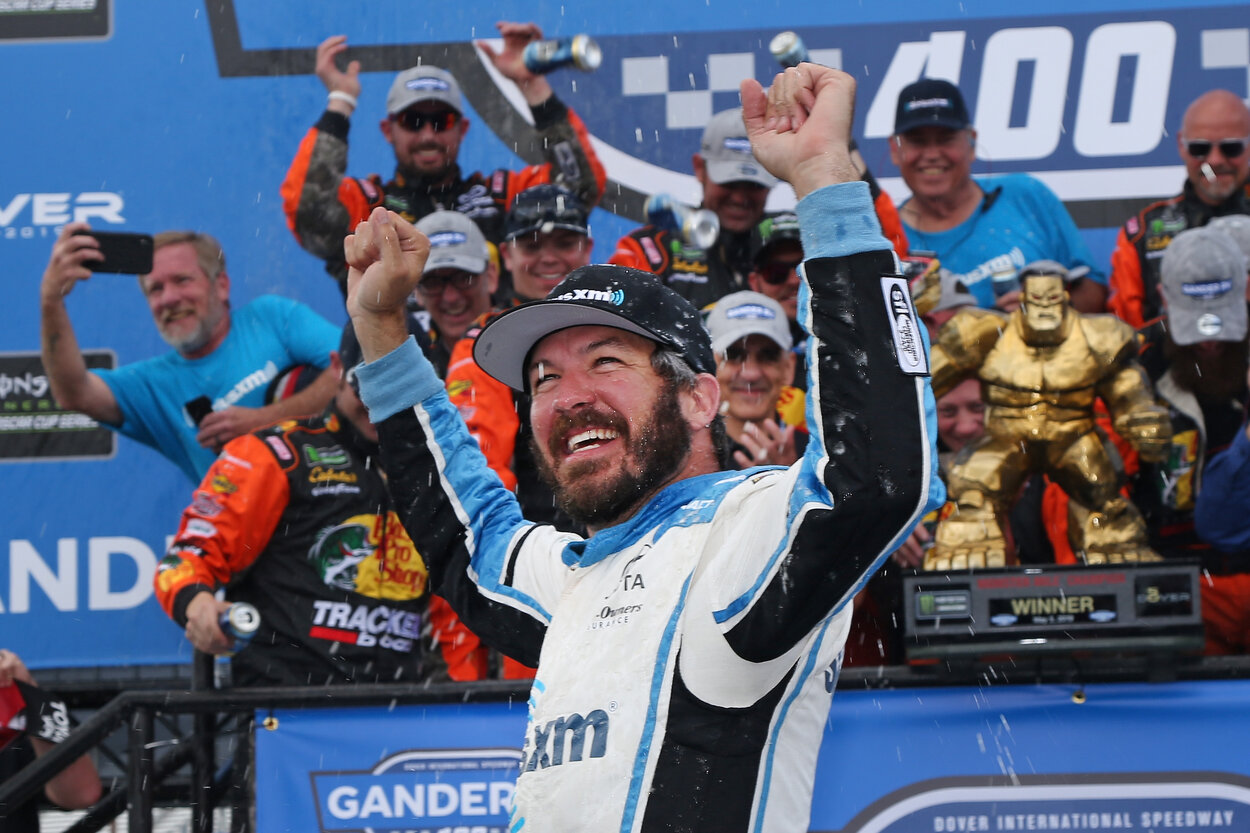 RELATED: Dale Earnhardt Jr. Says He's Never Seen a Ghost, but One of Them Might Have Saved His Life
Martin Truex Jr. survived at Dover in 2019 and walked away with the trophy in his hands.
Jeff Gluck, who interviewed Truex for The Athletic, said that Truex laughed about the incident during their conversation two years ago. Still, Truex acknowledged just how serious the situation really was — and how grateful he was for how things ended.
"[W]e ended up winning the race, so that was pretty awesome. … But it's a scary moment when you can't get that thing buckled and you're about to go out on the racetrack – especially a track like Dover."
With an improved seatbelt at Kansas Speedway a week later, Truex finished 19th. However, he won the next Cup Series event, the Coca-Cola 600, en route to a second-place finish in the final standings.
Martin Truex Jr. is an early contender to win at Vegas
RELATED: Angry Martin Truex Jr. Went Ballistic and Cussed Out Teammate Denny Hamlin After Incident That Allowed William Byron to Sneak in for Stage 2 Win
It has been nearly two years since his frightening incident at Dover, and Martin Truex Jr. is still going strong.
After placing 25th in the Daytona 500 on February 14, Truex recorded 12th and third-place finishes in the last two weeks. According to Odds Shark, Truex remained the favorite to win at Vegas this weekend as of publication.
Truex holds +550 odds, right ahead of Kevin Harvick (+650) and Kyle Larson (+700). Brad Keselowski and Joey Logano round out the top-5 at +750.
Betting odds courtesy of Odds Shark as of March 4, 2021.