Martina Navratilova Has Faced Controversy and New Careers Since Tennis Days
Martina Navratilova is one of the best female tennis players ever. Although it's been more than 25 years since she retired from singles competitions and 14 years since her overall retirement, the 63-year-old is still a household name among sports fans. Several of the records she set still stand today. 
But Navratilova's fame and on-court success don't make her immune to controversy, which she's dealt with since her playing career ended. Here's a look at what Navratilova has done since her retirement, including new careers and stepping into controversy.
Martina Navratilova's tennis career
Navratilova turned pro in 1975 when the Czech defected to the United States as an 18-year-old. It only took her three years to win her first singles title at Wimbledon, the biggest tennis tournament of them all. This was the first of nine Wimbledon titles — a record among all tennis players, male and female — and six straight championships from 1982-87.
Navratilova has also completed the career grand slam twice by winning two French Opens, three Australian Opens, and the U.S. Open four times. Those major championships go along with her 167 WTA titles, which is an Open Era record.
She entered the International Tennis Hall of Fame in 2000. In 2004, she participated in the 2004 Summer Olympics — the oldest tennis player to do so.
Navratilova's retirement and post-tennis life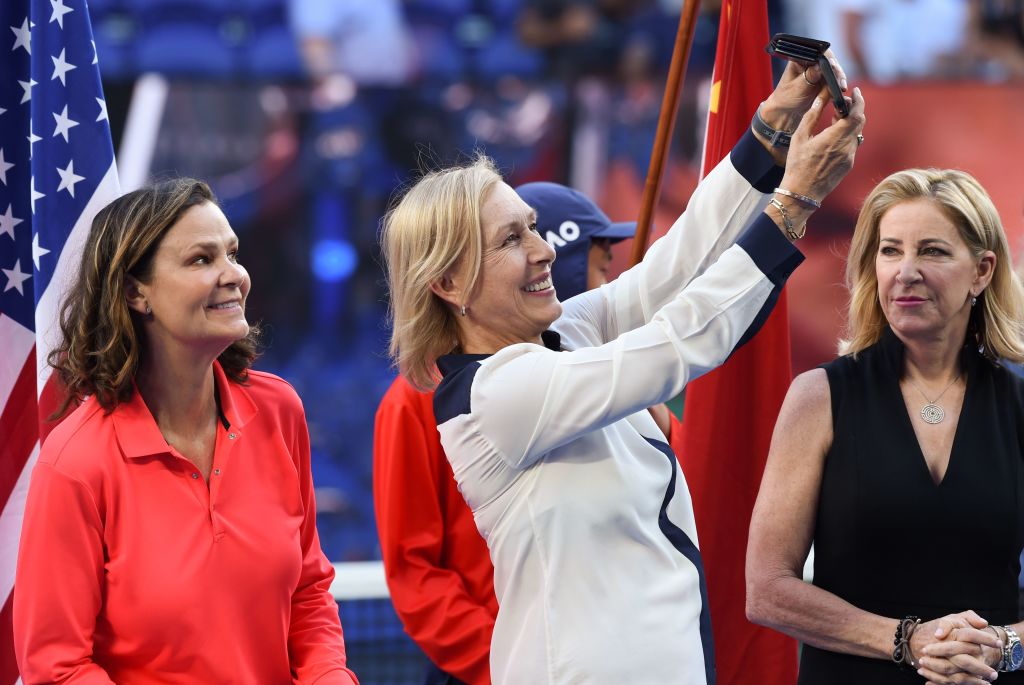 Navratilova has remained in the public eye since ending her playing career. She serves as a tennis commentator for various networks, including for the BBC at Wimbledon. (She has called out the British network for paying her 10 times less than what John McEnroe earns for the assignment.)
In addition to running an academy for young tennis players in her native Czech Republic, she still plays tennis, runs in triathlons, and serves as a fitness ambassador for the AARP. Navratilova was a contestant on Dancing With the Stars in 2012. She became the first star eliminated in a competition won by another star athlete, former NFL wide receiver Donald Driver.
Navratilova spends a lot of time as an activist, advocating for issues she cares about, including LGBTQ rights. She was one of the first openly gay professional athletes. She came out as a bisexual in a 1981 interview, and she later began identifying as a lesbian.
Controversy over comments about transgender athletes
Despite her sexual orientation and LGBTQ activism, Navratilova came under fire in 2019 for comments she made about transgender athletes. She wrote an article in the February 17 edition of The Sunday Times. Her writing explained that it was "insane" that "hundreds of athletes who have changed gender by declaration and limited hormone treatment have already achieved honors as women that were beyond their capabilities as men."
Social media users called her out for the comments. People believed to be "transphobic" accusations that Navratilova rejected. Two days after her comments, nonprofit LGBTQ athletic advocacy group Athlete Ally removed Navratilova from its advisory board. The group said it does not affiliate with "those who further misinformation or discrimination in any way."
On March 3, Navratilova posted an apology for her controversial remarks on her website. She said she was "not suggesting that transgender athletes, in general, are cheats." But she did acknowledge she didn't have all the answers about physical advantages that transgender athletes have in women's sports. In her post, Navratilova did call for a debate based on "science, objectivity, and the best interests of women's sports as a whole."