Marty Schottenheimer Spent a Forgotten Year in Washington
The NFL suffered a devastating loss on Tuesday with the death of Marty Schottenheimer, one of the game's greatest coaches. His passing will be felt in the fanbases of the Cleveland Browns, Kansas City Chiefs, and San Diego Chargers. While he didn't quite win a Super Bowl with any of those teams, he instilled a winning attitude in all of them throughout his 21 seasons.
Between all of that, however, was a brief stint in Washington. His one season with the team then known as the Redskins started in disaster, pivoted toward hope, and ended in acrimony.
Washington before Schottenheimer
RELATED: How 'Mandalorian' Creator Jon Favreau Is Connected to the Most Embarrassing Loss (or Inspirational Win) in NFL History
In 1999, under the direction of Norv Turner, Washington pulled off a surprise NFC East title. They defeated the Detroit Lions in the wild-card game before bowing out to the Tampa Bay Buccaneers in the divisional round. This was the first season for new owner Dan Snyder, and during the 2000 offseason, he brought in several high-priced free agents to boost the team's title hopes.
The future looked bright in D.C., until it wasn't.
Their new acquisitions, which included Deion Sanders, Jeff George, and Bruce Smith, were too old to make any positive impact. The team regressed from the previous year, losing six of their last eight games to finish .500 and miss the postseason. Before the season even ended, Snyder fired Turner. It was time for a bold change of leadership.
Snyder spared no expense in his head coaching search. Among the coaches he pursued were two-time Super Bowl champion Bill Parcells, Miami Hurricanes head coach Butch Davis, and Florida head coach Steve Spurrier. Eventually, Washington managed to lure Marty Schottenheimer out of retirement to fill the vacant position.
Marty brings hope, then Dan Snyder snuffs it out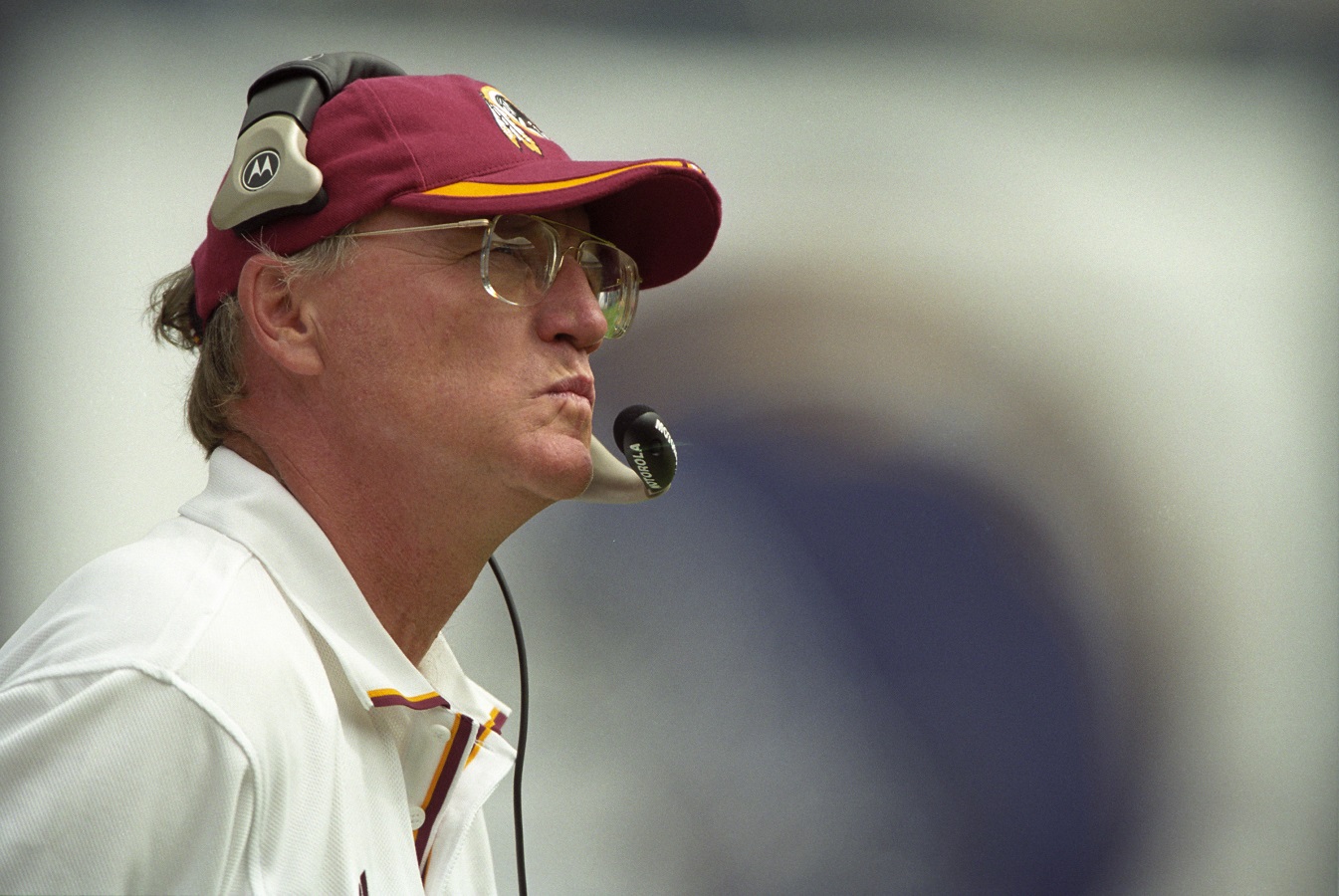 RELATED: Washington Lineman-Turned-Surgeon Mark Adickes Now Treats Athletes Like Robert Griffin III and Yao Ming
Schottenheimer couldn't have imagined a worse start to the season, as Washington lost their first five games. These weren't even competitive losses. They fell by an average score of 29-6. The scores of the first three games went as follows: 30-3 at San Diego, 37-0 at Green Bay, and 45-13 at home to Marty's old team, the Kansas City Chiefs.
Finally, Washington managed to right the ship with a 17-14 win over the hapless Carolina Panthers. It was the start of a trend, as they went on a five-game winning streak and returned to playoff contention. They became the first team in NFL history to win their next five games after losing their first five games.
The signature win of the season came in week 11, when they knocked off the division rival Philadelphia Eagles 13-3 at Veterans Stadium. That same Eagles team, led by Andy Reid, would narrowly lose the NFC Championship Game later that year.
Washington's rebound wasn't quite enough to earn them a postseason berth. After a late-season slide, they finished 8-8, just as they had the previous season. Considering how poorly the season had started, however, even a .500 season was something of a success. Washington had something to build off of next season. But for the second year in a row, their fickle owner tore it all down.
In what commentators saw as a power struggle, Snyder fired Schottenheimer after his first and only season in Washington. His successor, Steve Spurrier, spent two unsuccessful years in the nation's capital before realizing he belonged in college instead of the pros.
Marty Schottenheimer after Washington
Schottenheimer quickly moved on from the dysfunction of Dan Snyder's organization. On Jan. 29, 2002, just over two weeks after Washington let him go, the then-San Diego Chargers hired him as their 13th head coach.
His tenure in San Diego followed the same pattern as it had in both Cleveland and Kansas City. In two of his five seasons with the Chargers, he would lead them to great success in the regular season, only for the team to stumble in the playoffs. In both 2004 and 2006, San Diego won the AFC West only to lose their initial playoff game at home. The Chargers controversially dismissed him after the 2006 playoff failure, even though he still had one year remaining on his contract.
Unfortunately, Washington fans never got to see Schottenheimer even lead his team into the postseason. They can only wonder what might have happened if he were given more than one year to prove himself.
Schottenheimer's 205 total wins (regular and postseason) are the most for any NFL coach who did not win a Super Bowl. Likewise, he is still the only NFL head coach with at least 200 regular season wins not to reach the Pro Football Hall of Fame.