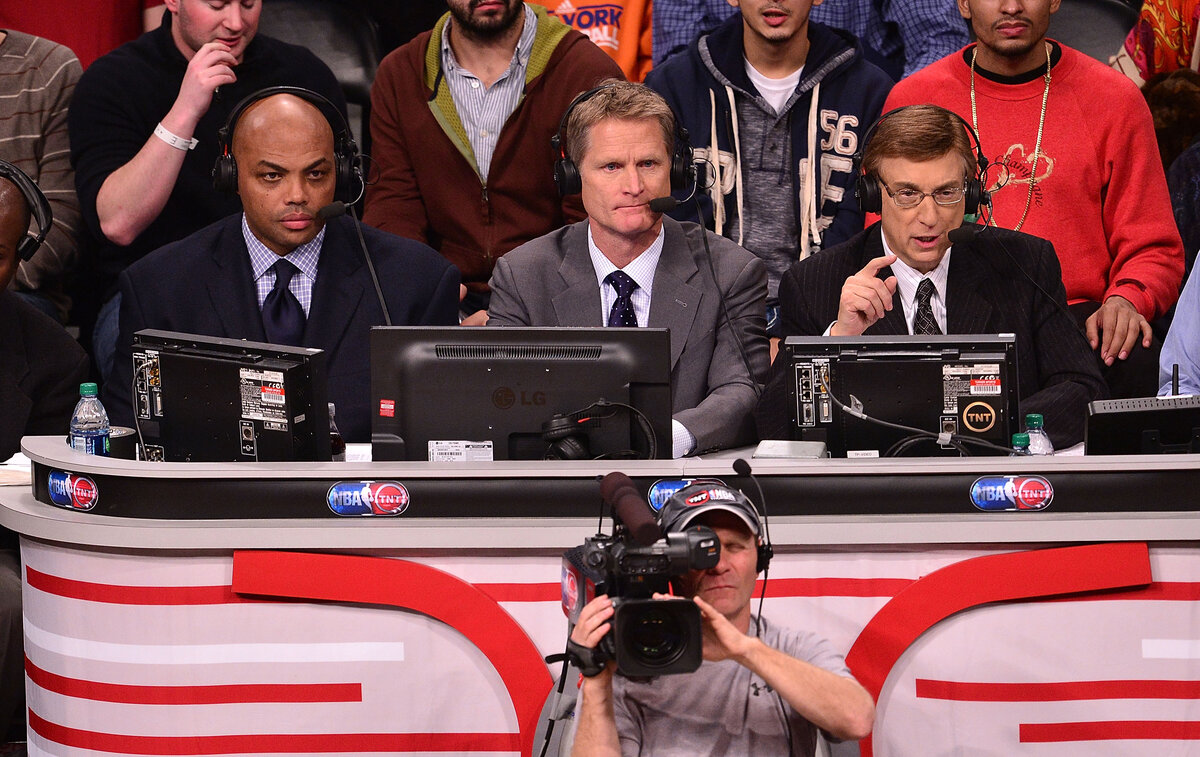 Marv Albert Persuaded Steve Kerr Not to Coach the New York Knicks: 'It Never Ends Well'
Veteran announcer Marv Albert did his best to save fellow broadcaster Steve Kerr from pain. Albert talked Kerr out of coaching the New York Knicks in 2014.
Golden State Warriors head coach Steve Kerr can never say that Marv Albert didn't look out for him.
Albert, the longtime voice of the New York Knicks, worked with Kerr on TNT's NBA coverage for several years. When the time came for Kerr to explore coaching opportunities in the spring of 2014, he briefly spent time interviewing with the Knicks.
Albert did his best to save Kerr from a painful experience. Warriors fans can thank Albert for ensuring that Kerr chose Stephen Curry over Carmelo Anthony.
Marv Albert is a legendary broadcaster
Anyone who calls themselves a basketball fan has heard Marv Albert's voice at some point.
For nearly 60 years, Albert has been on the call for NBA events everywhere, from WCBS Radio in New York to national games at TNT. Albert spent 37 years with the New York Knicks and called the team's two championships in the 1970s.
Younger fans will only know Albert for his time at TNT. Albert has teamed up with multiple broadcast partners, ranging from Mike Fratello to Steve Kerr, on both the NBA and college basketball.
Albert also lent his voice to CBS' NFL coverage for a few years in the 2010s. Older fans will remember Albert doing play-by-play for the NBA Live video games.
Steve Kerr has become a Golden State Warriors icon
In the spring of 2014, Steve Kerr left Marv Albert and TNT to join the Golden State Warriors.
That move worked out well for all parties. Inheriting a talented team with Stephen Curry at point guard, Kerr led the Warriors to an NBA Finals victory in his first season.
Golden State won an NBA-record 73 games in Kerr's second season. LeBron James and the Cavaliers famously won three straight games to win the 2016 NBA Finals.
Through Jan. 3, 2021, Kerr is 340-141 with the Warriors and made the NBA Finals in each of his first five seasons. Golden State won three titles in Kerr's first four campaigns.
Golden State went 15-50 in last year's pandemic-shortened season. The Warriors won three of their first six games to open the 2020-21 campaign.
Marv Albert talked Steve Kerr out of coaching the Knicks
There exists an alternate universe where Steve Kerr might have signed with the New York Knicks rather than the Golden State Warriors in 2014.
Marv Albert, who worked with Kerr at TNT, did his best to make sure that didn't happen. In a 2014 interview with the New York Daily News, Albert admitted he warned Kerr that it "never ends well" with owner James Dolan and the Knicks.
"Just look at recent history. It's because of one man (Dolan). There is no happiness there. I say this with all kinds of friends I have there and (the ones) at the MSG Network. Everybody hates being there. For coaches it's very difficult. Steve couldn't accept anyone (from MSG's PR staff) following him around with a tape recorder. Like Phil, Steve is a guy who wants to say what he wants to say. He's very opinionated, which doesn't always work when you are at the Garden."
The Knicks famously parted ways with Albert in 2004, in large part because he was too critical of the on-court product.
Kerr clearly made the right decision, and the Knicks hired Derek Fisher instead.
The Knicks hired Tom Thibodeau earlier this year and are on their fourth full-time head coach since the 2014-15 season opened.
Like Sportscasting on Facebook. Follow us on Twitter @sportscasting19.