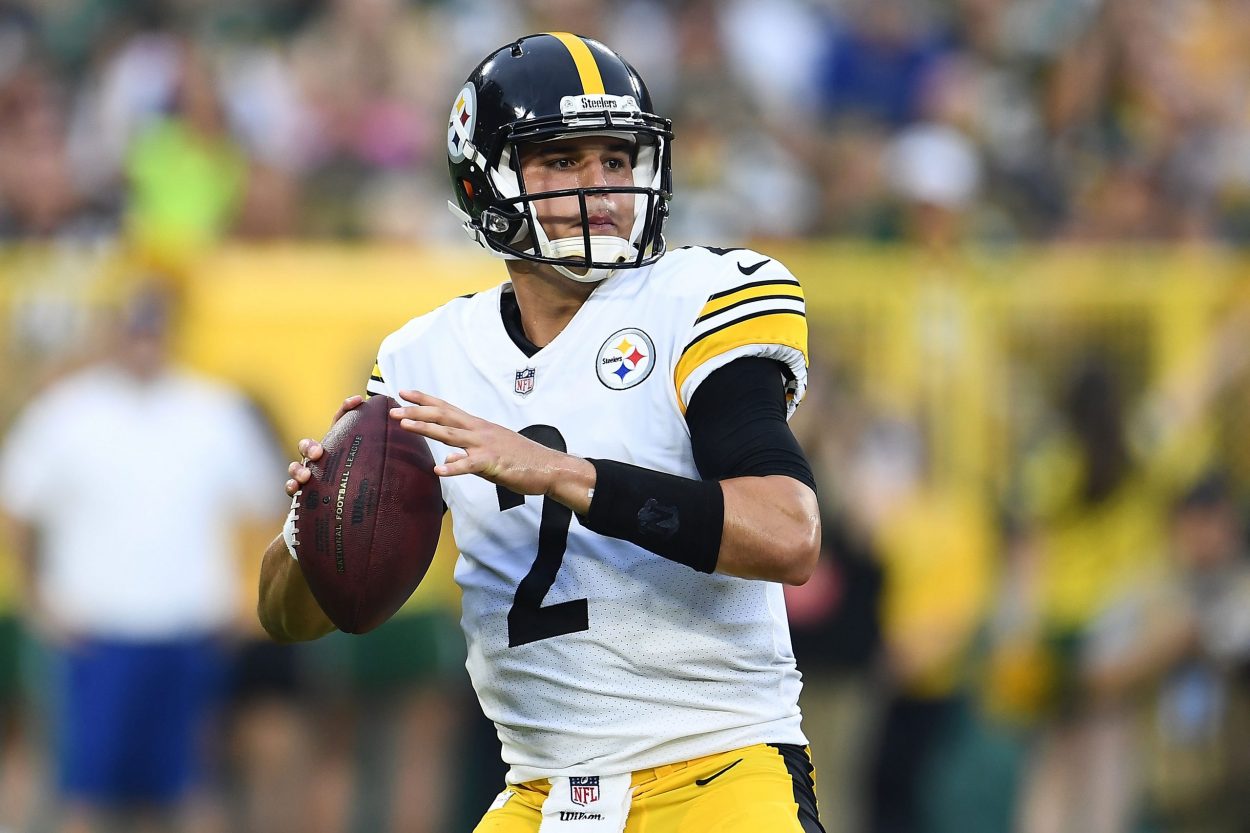 Mason Rudolph Has Inside Track To Replace Ben Roethlisberger as Steelers' Starter in '22
Mason Rudolph is expected to enter the 2022 season as Ben Roethlisberger's replacement as Steelers starting quarterback.
With Ben Roethlisberger riding off into the sunset after 18 seasons, the Pittsburgh Steelers are looking to build an entirely new foundation at quarterback. It appears the job is going to a Mason.
According to media reports Wednesday, Mason Rudolph and Dwayne Haskins have been told they are the top two candidates to replace Roethlisberger in the starting lineup. But Mark Kaboly of The Athletic wrote Tuesday that "all signs point" to Rudolph having the inside track to be the Week 1 starter in the 2-2022 season.
Rudolph would be the Steelers' first quarterback other than Roethlisberger to enter the season as the Steelers' anointed No. 1 since Tommy Maddox at the start of the 2004 season. Roethlisberger took the job away from Maddox early that season and never looked back, before playing his final game for the Steelers in Sunday night's 42-21 loss to the Kansas City Chiefs in the Wild Card round of the NFL Playoffs.
"It's a great feeling," Rudolph said Wednesday afternoon during a Zoom call with reporters. "All I want is a chance to compete and be the guy here. It seems like that's more of a real possibility now than ever.
"That's all I've ever wanted to be is an NFL starting quarterback. I think I can do it. I think I have what it takes."
With the free agent crop of quarterbacks underwhelming, the Steelers are staying in-house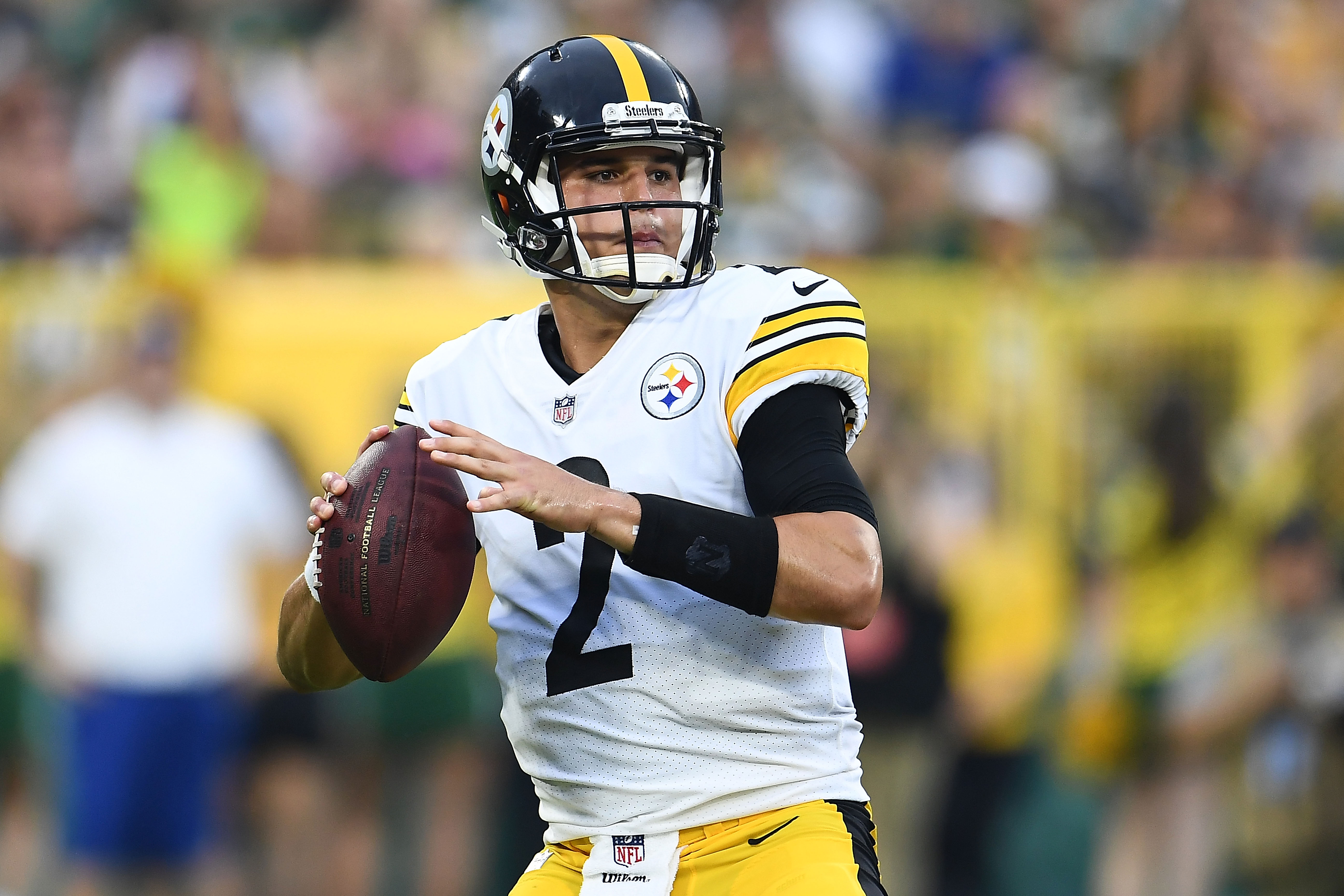 There are some big-name quarterbacks expected to be shopped on the trade market this offseason, none bigger than Aaron Rodgers and Russell Wilson. Deshaun Watson is another name likely to be floated, although his off-field situation makes any trade offer problematic.
The Steelers are not expected to be active in that market, and the crop of unrestricted free agent quarterbacks leaves everything to be desired. This is also not the year to find the type of high-upside quarterback in the NFL Draft, a year after the top three picks in the 2021 Draft, and 5 of the first 15, were signal-callers.
Kaboly wrote the Steelers, who signed Rudolph through the 2022 season on the day of the Draft's first round last April, are content to ride out the '22 season with Rudolph and Haskins as the backup, then turn their attention to making a bigger splash in 2023.
"The Steelers' best option might just be that low-key extension on draft day [in 2021]," Kaboly wrote.
Rudolph's previous starting experience came in 2019, and the results weren't always pretty
Rudolph does have experience as the Steelers' starting quarterback, after being selected by the Steelers in the third round of the 2018 Draft. When Roethlisberger sustained an elbow injury that caused him to miss several months of the 2019 season, Rudolph started eight games, going 5-3.
But it was clear the second-year player was not fully ready for such an assignment, and at one point he was benched in favor of "Duck" Hodges.
Rudolph's tenure is best remembered for the ugly incident late in a Thursday night game against the Cleveland Browns in November 2019, when Browns defensive end Myles Garrett, claiming he heard Rudolph make a racially-insensitive comment as Garrett rushed him on a pass play, ripped off Rudolph's helmet and struck him in the head with it. The comment was never substantiated and Garrett was suspended for the final six games of the regular season.
The incident overshadowed an inconsistent eight games for Rudolph, who had a 13-9 TD-interception ratio and a passer rating of 82.0
"I understand what I've put on tape in '19 and until this point there are question marks on my game," Rudolph said Wednesday. "I want to prove those people wrong, and I want to prove myself to my teammates and the guys that I really care about."
One of Rudolph's top receivers has given the quarterback his endorsement
Rudolph made one start in 2021, another memorable No. 14 in the quarterback's life, and again not for good reasons. This was the 16-16 tie at home against the previously winless Detroit Lions. Rudolph threw 50 passes in that game, completing 30 for 242 yards, one touchdown and one interception. But despite his struggles, Rudolph has the support of perhaps the only man he needs it from, outside the coaching staff.
Diontae Johnson led the Steelers in catches (107), yards (1,161), and touchdowns (8) in 2021 and is very much on board with Rudolph running the show next season.
"Mason's a great player, a great quarterback," Johnson told CBSSports.com. "He's smart. Playing with him my rookie year, he's shown that he can win us games. In those tough moments, he can make plays. He's relaxed. When he was on the sideline this year, he was always on it, telling us what to look for, what coverages [defenses] mostly were in. Just throwing out plays where we could beat certain coverages. 
"I'm sure he's going to work his tail off to compete for the starting job. I'm pulling for him." 
Stats courtesy of Pro Football Reference