Matisse Thybulle Puts the Clamps on Stephen Curry, Establishes His Bonafides as the NBA's Best Perimeter Lockdown Artist
Joel Embiid is the face of the Philadelphia 76ers. So it was appropriate when he said there was no way Stephen Curry would get the all-time 3-point record in his house. But let's be clear. When Curry was held to 3-of-14 from deep against the 76ers on Dec. 11, Curry couldn't pass Ray Allen because he was in Matisse Thybulle's world.
There's a reason Thybulle was an All-Defensive selection last season despite starting only eight games and averaging 20 minutes a night. Against the Golden State Warriors, he showed us exactly what that reason was. He is the ultimate perimeter lockdown defender in the NBA.
Stephen Curry didn't have a bad game against the rest of the 76ers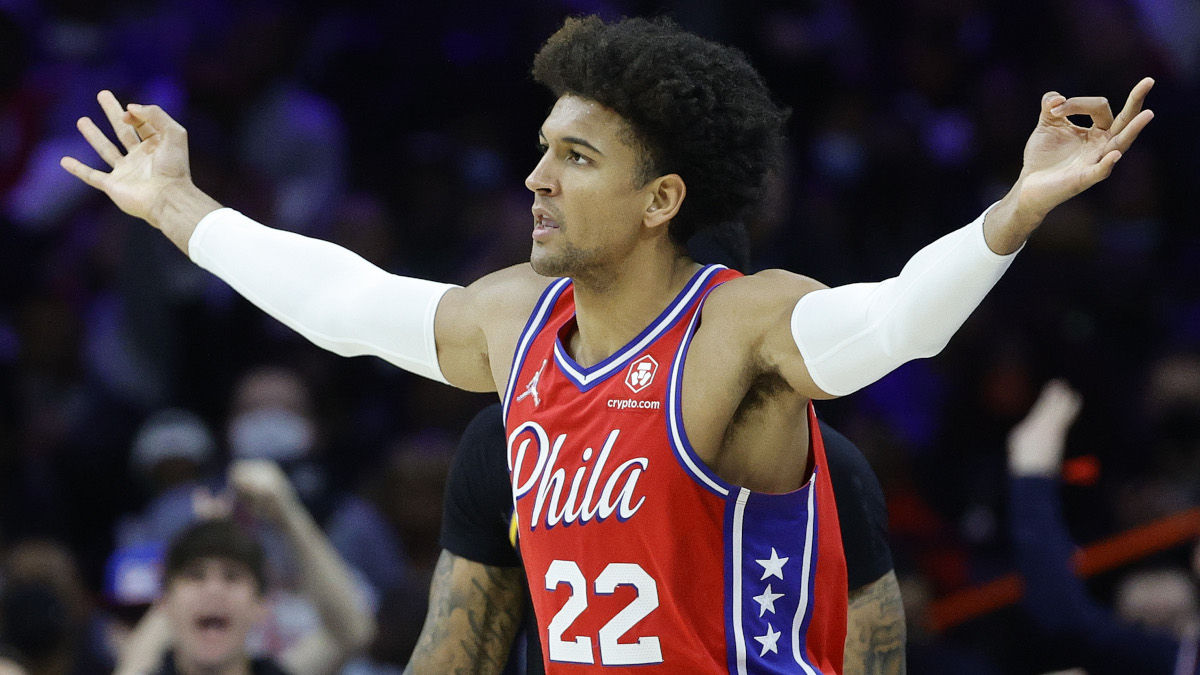 Against the 76ers, Stephen Curry had a decent night when Matisse Thybulle wasn't smothering him.
Curry averaged 1.1 points per possession against the other defenders Philadelphia coach Doc Rivers threw at him. He was 4-of-7 from the floor and 2-of-5 from deep.
It's not otherworldly, but it's not an alarming pace. In the 102–93 loss, the Warriors had other problems. As a team, Golden State was 12-of-48 from 3-point range. For a team reliant on the deep ball, that's a recipe for disaster.
Their bench was particularly dismal. The reserves for the 76ers outscored their counterparts 30-16. Golden State's bench was 7-of-27 overall and made 2-of-16 from long range. Nemanja Bjelica was particularly ineffective, racking up a minus-23 in only 13 minutes. That's playing 6-on-4 basketball.
But it's remarkable when you break down what Thybulle did to stop Curry in his tracks.
Matisse Thybulle locked up Stephen Curry, plain and simple
Most of the focus in the postgame was on Matisse Thybulle becoming the first player to block two Stephen Curry 3-point attempts in the same game.
That's what shows up on the stat sheet. Sure enough, there are two blocks next to Thybulle's name. But it's what doesn't translate to the box score that separates him from the pack as a defender.
Thybulle isn't going to dazzle anyone with his fantasy stats. In 34 minutes, he scored six points with two rebounds, an assist, and two blocks.
But when he was the primary defender on Curry, Thybulle flipped the game to Philadelphia's favor.
Curry was 2-of-13 against Thybulle and only 1-of-9 from 3-point land. Curry is acknowledged as the game's best shooter, maybe ever, and the third-year pro from Washington stopped him cold.
On the plays Thybulle guarded Curry, the Warriors averaged 0.5 points per possession. You're not beating anyone with that level of production.
The rangy wing defender is a difference-maker without scoring a point. Players like that are rare.
Who is Matisse Thybulle?
The 76ers took Matisse Thybulle with the 20th overall pick in the 2019 NBA Draft. Again, for the box-score watchers, the selection came as a surprise. Thybulle didn't even average double figures as a senior at Washington. He averaged 9.1 points, 3.1 rebounds, and 2.1 assists in 31.1 minutes per game. So what's all the fuss?
Well, maybe it was the 3.5 steals and 2.3 blocks a night from a 6-foot-5 wing that got the attention of many scouts. Then he showed up at the NBA Draft Combine in Chicago, where scouts verified his wingspan was 6-foot-11. Good luck passing around that.
Thybulle is a great defender because he knows not to do too much. His length allows him to disrupt passing lanes without gambling, so he seldom gets out of position.
Embiid recognizes how good his teammate is, telling Ky Carlin of Sixers Wire:
"He was amazing. I've been saying it since he got here. He's probably the best perimeter defender in the league, and I think he has a shot to win Defensive Player of the Year."

Joel Embiid on Matisse Thybulle
Rivers was impressed but not surprised.
"Matisse was phenomenal. How many picks did he have to fight through and keep going? Getting hit, getting hipped, getting butt picks, and he just kept doing it."
It's difficult for a perimeter defender to earn DPOY honors. The last to do it was Kawhi Leonard when he went back-to-back for the San Antonio Spurs in 2014–15 and 2015–16. Before that, you must go back to Metta Sandiford-Artest (then known as Ron Artest), when he won the award in 2003–04.
Thybulle got an opportunity to show how good a defender he is on a big stage. The 24-year-old was up to the moment and then some. One does not simply lock down Stephen Curry, yet Matisse Thybulle did precisely that.
Statistics courtesy of Basketball Reference and NBA.com.