Matt Fink Leads USC Trojans to Victory in Place of Injured Kedon Slovis
The USC Trojans already had their work cut out for them on Friday night hosting the undefeated No. 10 Utah Utes. The task at hand became even more daunting when freshman quarterback Kedon Slovis left the game with an injury early in the first quarter. With JT Daniels out for the year with a torn ACL and Slovis suffering an upper-body injury, the Trojans were down to their third-string quarterback, Matt Fink.
Fink was brilliant on his first two drives of the game
Matt Fink took over on 1st and 10 at the USC 36. His first pass was incomplete. Here's how the rest of his drive played out:
Pass complete to Tyler Vaughns for 12 yards to the USC 48, first down.
Pass complete to Amon-Ra St. Brown for 15 yards to the Utah 37, first down.
Pass complete to Michael Pittman Jr. for 8 yards to the Utah 29.
Pass complete to Tyler Vaughns for 29 yards and a touchdown.
After Utah responded, Fink countered brilliantly on his second drive. After taking over at the USC 26 and handing the ball off for no gain to running back Vavae Malepeai, the following four plays went as follows:
Pass complete to Tyler Vaughns for 5 yards to the USC 31.
Pass complete to Michael Pittman Jr. for 26 yards to the Utah 43, first down.
Pass complete to Josh Falo for 12 yards to the Utah 31, first down.
Pass complete to Amon-Ra St. Brown for 31 yards and a touchdown.
Eight straight completions, 133 passing yards, two touchdowns. Not a bad start to the game.
The Trojans held on for the upset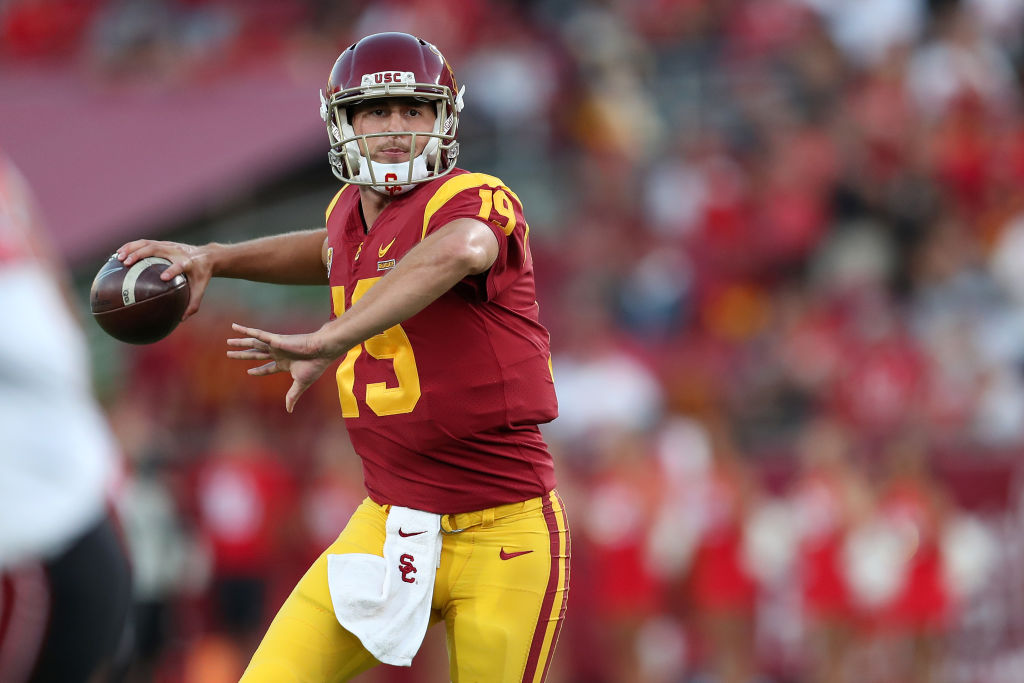 By the end of the game, Matt Fink ended the day going 21-for-30 with 351 passing yards, three touchdowns, and one interception. He led the Trojans to a 30-23 victory over the No. 10 Utes, who were 3.5-point road favorites coming into this game.
Taking nothing away from what Kedon Slovis accomplished against Stanford, this performance was arguably even more impressive. Utah's stout defense had given up only 29 total points through the first three games of the season, including a 30-12 win on the road over the same BYU team that defeated the Trojans 30-27 last Saturday.
With the win, the Trojans improve to 3-1 on the season, and more importantly are off to a 2-0 start in conference play.
Rewarded for his loyalty
As the season was set to begin, sophomore JT Daniels was named as the USC's starter. True freshman Kedon Slovis was named as the team's backup. There was no realistic path to playing time for junior Matt Fink or sophomore Jack Sears. Sears left the team through the transfer portal, but Fink decided to stay after briefly considering a transfer of his own.
"Thank you to all the coaches that have reached out to me and gave me an opportunity to continue my career elsewhere," Fink wrote on Instagram. "But after a long month of soul searching, I have decided that my football future will continue here at USC with this special 'Band of Brothers.'"
In the "next man up" world of football, Fink had his number called on Friday and delivered in impressive fashion. Whether Slovis can return for the Trojans next week or needs to miss some time, it looks like Matt Fink will be ready when the USC Trojans needs him.