Matt Hasselbeck Believes Andy Reid's Painful Weekly Process Will Save Patrick Mahomes From Himself
In news that Kansas City Chiefs head coach Andy Reid and the NFL at large may not have known entering this year, Patrick Mahomes is human.
Yes, in spite of his jaw-dropping throws and ability to turn a nothing play into something, Mahomes is indeed a red-blooded, Earth-born male. However, for the first time in his four seasons as an NFL quarterback, the Super Bowl 54 MVP has looked flawed and beatable.
With the Chiefs under .500 for the first time in Mahomes' career, Reid and his staff may want to hear ESPN analyst Matt Hasselbeck out on how to turn things around.
Matt Hasselbeck believes Andy Reid will help Patrick Mahomes throw fewer interceptions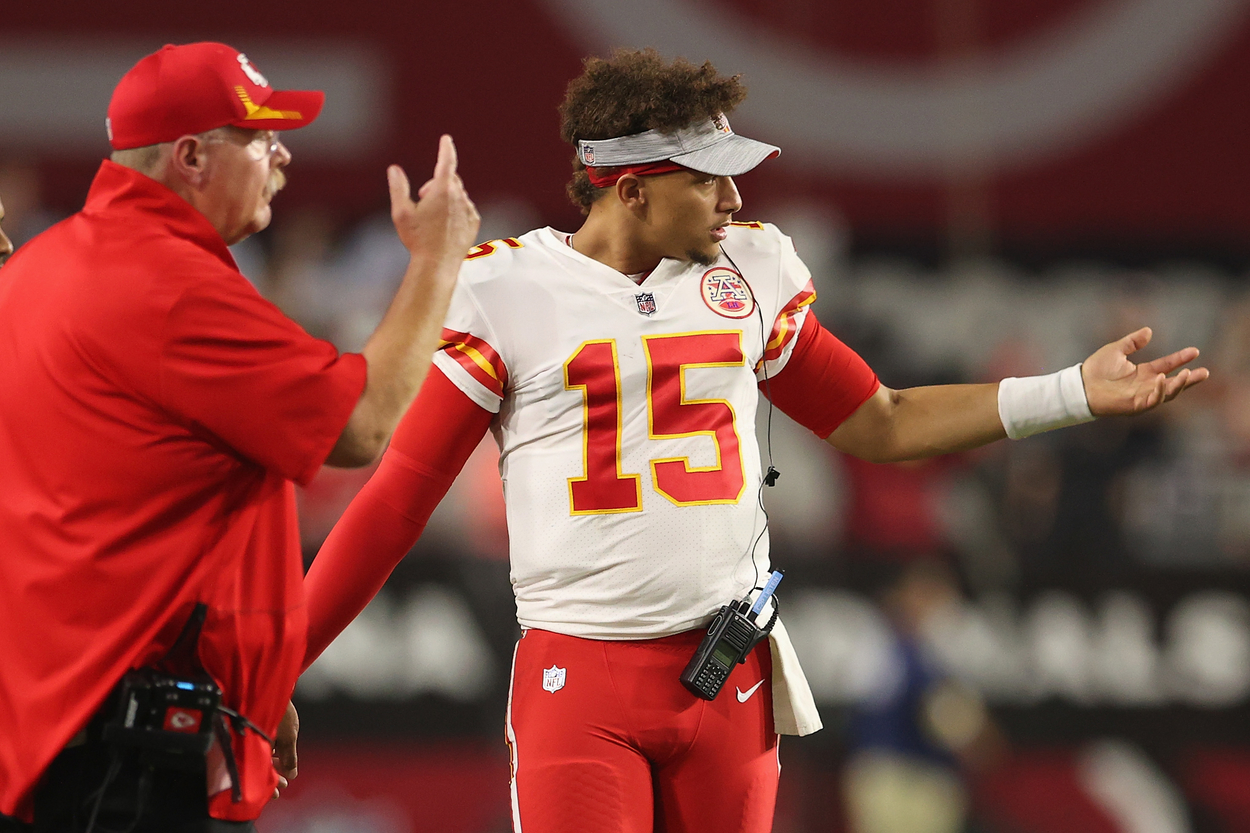 If you want to feel old, consider that Mahomes was born on Sept. 17, 1995. If you're in the mood to feel older, remember that the Green Bay Packers drafted Hasselbeck in 1998, several months shy of the future NFL MVP's third birthday.
On the Oct. 3 edition of Sunday NFL Countdown, Hasselbeck recalled his weekly film sessions as a rookie with then-Packers quarterback Brett Favre, head coach Mike Holmgren, and Reid, who was in his second season as the team's quarterback coach. Holmgren and Reid played an interception reel in each week's meeting.
"The interception reel was really ugly," Hasselbeck shared.
Hasselbeck said Reid, who became the Eagles' head coach in 1999, ensured the negative vibes in the room only lasted so long. Once the tape showing the turnovers ended, the veteran offensive mind began playing a new video.
"Andy Reid did a great thing: he popped in the tape of the touchdown reel, and it was a lot of that same creativity, a lot of that playground football, and you want to keep the great of Patrick Mahomes, but somehow lose the unnecessary mistakes. You're trying to do too much."

Matt Hasselbeck
Mahomes entered the 2021 season having never thrown an interception in 10 career September games. Although he totaled nine passing touchdowns over the first three weeks this year, he also threw three interceptions in that span. The Chargers intercepted him twice in a 30-24 upset at Arrowhead Stadium in Week 3.
Hasselbeck chose to stay optimistic about the Chiefs' offense moving forward.
"I do believe, firmly, because Andy Reid is the coach in this situation … he can keep the greatness of Patrick Mahomes," Hasselbeck declared.
Reid definitely had plenty of footage for the Packers' interception reel each week
With respect to Reid's painful process, keep in mind that Favre's 336 career interceptions remain the most in league history. In fact, teams picked him off 23 times during the 1998 regular season.
Favre threw another two interceptions in that year's NFC Wild Card Round. Considering Steve Young and the San Francisco 49ers took a 30-27 lead with eight seconds left and held on to win, one can only wonder what would have happened if the Packers' legendary gunslinger had avoided turning the ball over that afternoon.
With that said, it's hard to disagree with Hasselbeck here. Reid watched Favre throw 44 interceptions in 36 total games between the 1997 and 1998 campaigns. Even with all of the regular-season turnovers, the perennial Pro Bowl quarterback carried his team to the postseason and continued playing at a high level.
For all of his flaws and postseason failures, Favre spent nearly 20 years as an NFL starting quarterback, and Reid saw it up close and parlayed the Packers' overall offensive success into an NFL head coaching job. Even if one says we're all hitting the panic button too early on Mahomes, it's indisputable that his head coach has been here before.
Mahomes needs to turn things around before it's too late
Even in a 17-game season, three games remains a small sample size. Mahomes has been so good for so long that it's outright strange seeing him look human at quarterback.
According to Pro Football Focus, Mahomes had four turnover-worthy plays through the season's first three weeks. It'd be an easier problem to brush under the rug if the Chiefs held on and defeated the Baltimore Ravens in Week 2 or rallied to take down the Chargers a week ago.
The 2021 AFC West is not the division it was two years ago. Justin Herbert led the Chargers to two impressive road victories in the season's first three weeks. Derek Carr has the undefeated Las Vegas Raiders looking like a team ready to make its second postseason appearance in nearly 20 years.
And as easy as it might be to dismiss the 3-0 Denver Broncos, they're still perfect with 14 games left to play. Although the losses can and will come later, they're currently another obstacle in the Chiefs' way.
For his sake, Mahomes needs to play a couple weeks of clean football and get the Chiefs back on the right track. Otherwise, this has the potential to be a frustrating and stressful fall in Kansas City.
Like Sportscasting on Facebook. Follow us on Twitter @sportscasting19.
RELATED: Patrick Mahomes Is Oddly Excited About the Chiefs Being in Last Place in the AFC West