Matt Hasselbeck Got a Rude Awakening When He Entered the NFL, but It Led to His Invitation to an Exclusive Seahawks Club
Few Seattle Seahawks players evoke as much emotion from the team's fans as Matt Hasselbeck. The ESPN analyst spent most of his NFL career in Seattle and enjoyed plenty of success. The road wasn't easy, though.
Hasselbeck had to learn a harsh lesson to even make a career out of football. It didn't take long for him to realize what it took to be an NFL player.
ESPN's Matt Hasselbeck reflects on his Welcome to the NFL moment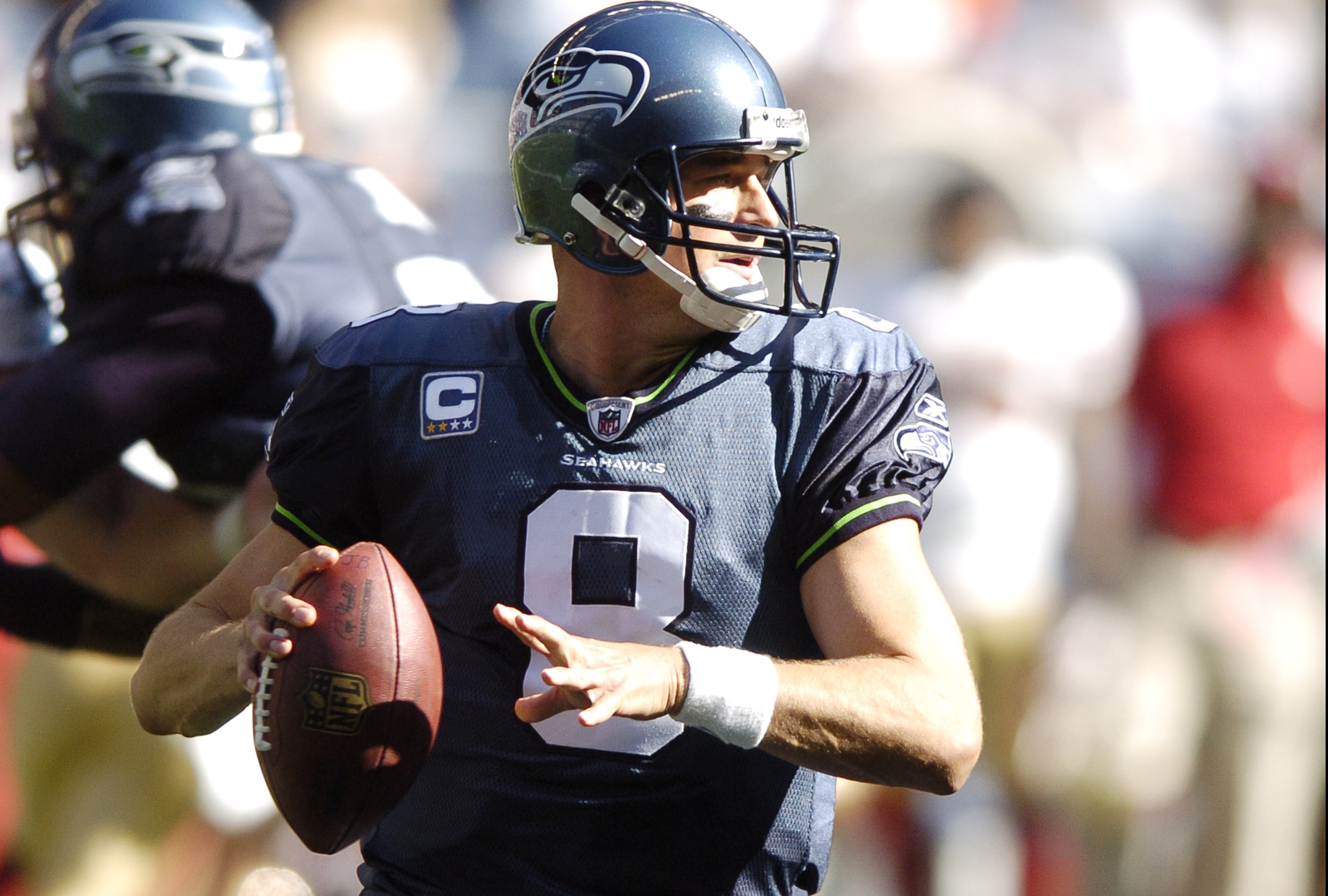 The Green Bay Packers selected Matt Hasselbeck in the sixth round of the 1998 NFL Draft out of Boston College. Despite an average few seasons in college, the Packers' front office decided to take a chance on the Westwood, Massachusetts native.
Green Bay did not expect Hasselbeck to be a starter right away. That's what they had Brett Favre for. However, the Seattle Seahawks saw something in Hasselbeck.
Seattle acquired the signal-caller from the Packers after the 2000 season in exchange for a first and third-round pick in 2001. The front office brought Hasselbeck in to become the quarterback of the future.
What the young quarterback didn't realize, though, was that instant success in the NFL is hard to come by. Hasselbeck revealed that he expected to hit the ground running with the Seahawks.
"I probably thought too much was possible, if I'm being critical of myself," said Hasselbeck per Sports Illustrated.
"I got to Green Bay, and they were coming off of their second consecutive Super Bowl. Brett Favre had his third consecutive MVP, I think it was. It was the same offense. I had played really well in the preseason, and I thought, oh, the preseason is exactly the same as the regular season. Well, that just wasn't how it was."
Matt Hasselbeck, who earned the nickname Mr. August, quickly learned that he had to put in more work to build a sustainable NFL career.
Hasselbeck spent 10 seasons with the Seahawks
Matt Hasselbeck made 12 starts in his first season with the Seahawks. He experienced some early struggles as he tried to transition his mindset to that of a professional quarterback.
The Boston College product threw more interceptions than touchdowns in 2001. In his debut with the new team, he tossed two interceptions and zero touchdowns.
Mike Holmgren, who was the head coach for the Packers when they drafted Hasselbeck, helped bring the 26-year-old to Seattle. Holmgren benched him in favor of Trent Dilfer, but later returned to Hasselbeck.
After gaining better familiarity with the Seahawks' offensive system, Hasselbeck started to find a rhythm. He passed for 29,434 yards and 174 touchdowns in his ten seasons in Seattle.
The Seahawks reached the postseason six times with Hasselbeck under center. They advanced to Super Bowl XL but lost to the Pittsburgh Steelers.
Still, Matt Hasselbeck left a lasting mark on the Seahawks organization and the city of Seattle.
The Seahawks QB and Mike Holmgren are joining an exclusive club
Although Mike Holmgren was hard on Matt Hasselbeck early in his tenure in Seattle, the 46-year-old former quarterback appreciates everything his old coach did for him.
"There were some things I needed to learn and some humbling that probably needed to happen. Learning to be a lot more coachable needed to happen," said Hasselbeck.
"It meant a lot and to go through that journey with him where it wasn't always easy, but we weathered the storms, stayed the course, and bought into his message, and we were able to do some special things and set a foundation for future success."
Hasselback and Holmgren will enter an exclusive Seahawks club together in 2021. The organization is inducting the quarterback-coach duo into its Ring of Honor. The three-time Pro Bowler joins the club at halftime of the team's Week 7 Monday Night Football game against the New Orleans Saints.
Just 12 individuals have entered the Seahawks' Ring of Honor through the franchise's 46-season existence. The most notable honorees are Walter Jones, Cortez Kennedy, Steve Largent, and longtime owner Paul Allen.
Matt Hasselbeck feels honored to be inducted the same year as the coach who helped him become a better player.
"The fact that he's going in and I'm going in the same year where I know that could have easily been some other combination of some players and coaches. I'm very grateful."
All stats courtesy of Pro Football Reference.
RELATED: ESPN's Matt Hasselbeck Just Revealed the Biggest Misconception Regarding Dak Prescott and the 2021 Dallas Cowboys