Matt LaFleur Failed Jordan Love as the Green Bay Packers Lost Without Aaron Rodgers, and He Knows It: 'Squarely This Thing Falls on Me''
The Green Bay Packers have once again lost a football game. Making his first NFL start, Jordan Love looked like a young quarterback making his first NFL start. The Packers, who fell 13-7 to the Kansas City Chiefs, now find themselves in the loss column for the first time since Week 1.
It wasn't a pretty game for Green Bay. Frankly, it wasn't a pretty game for either team. With Aaron Rodgers watching at home because of a positive COVID-19 test, Green Bay, now 7-2, managed just one score and went 2-of-12 on third down.
Kansas City's offense wasn't all that much better, though, as the Chiefs continued to struggle.
Patrick Mahomes and company ultimately pulled out the win to improve to 5-4, and the Packers are left with a few critical questions to answer.
The least of their worries is Love.
Green Bay Packers head coach Matt LaFleur placed the loss squarely on his shoulders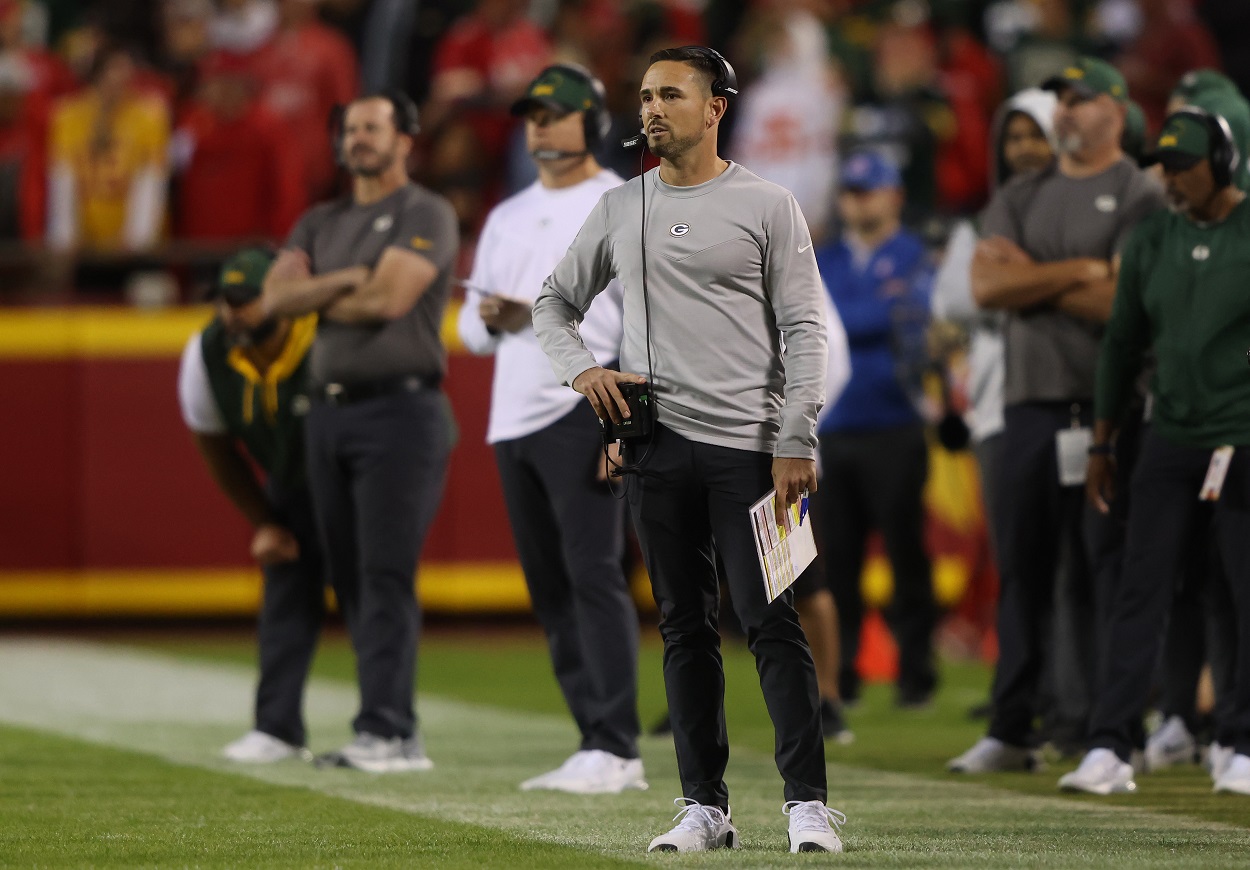 It's tempting to look at how the Packers played without Rodgers and blame the loss on Love. After all, Green Bay entered the game with a Top 15 offense, scoring over 20 points per game. Kansas City, on the other hand, has been terrible defensively. Surprisingly, the Packers couldn't take advantage.
Frankly, Love wasn't great. He completed 19-of-34 passes for 190 yards passing, one touchdown, and one interception. He was able to average only 5.6 yards per throw, and he was consistently under pressure from Kansas City's defense.
According to LaFleur, failing to prepare for pressure is squarely on him, and not something that should fall on the young quarterback's shoulders.
"It wasn't necessarily any one person," LaFleur said, recapping the loss to the team website. "There's a lot to get corrected. Squarely this thing falls on me – just not having a good enough plan to go out there versus that pressure, especially with a young quarterback."
Kansas City notched just one official sack, but the Chiefs blitzed Love in every big moment. That makes sense as well. That's how you play defense against a young quarterback, so it's shocking Green Bay wasn't prepared for that.
Though only getting home for one sack, Kansas City was able to put seven hits on Love. He finished with a quarterback rating of 27.5 and a passer rating of 69.5
There was a silver lining in Love's performance
It would be a cop-out to predict that Rodgers would have taken the field in Kansas City and thrown for four touchdowns and 400 yards. Of course, that type of stat line is always possible with the three-time MVP, but trying to use made-up stats to diminish Love's performance just isn't fair.
No, Love didn't light the world of fire like Green Bay general manager Brian Gutekunst was undoubtedly hoping he would. And yes, he looked outmatched at times and he was likely a bit surprised by the speed of an NFL defense playing in a real game. Remember, not only was this Love's first start, but it was also his first regular-season game action outside of garbage time.
Love is basically a rookie quarterback. He didn't suit up at all in 2020 and has seen minimal opportunities with Green Bay's first-team offense.
In that context, while he did struggle at times, he also looked good at times. Love obviously has a live arm and he's athletic enough to play in the modern NFL. He showed off a strong throw at times with a tight spiral, and he clearly has the physical tools to succeed in the NFL.
Love's touchdown drive late in the fourth quarter was actually very promising. The Packers went on a 10-play, 53-yard drive culminated by a 20-yard touchdown pass from Love to Allen Lazard. On that drive, Love found Randall Cobb for 15 yards to keep the sticks moving on a 3rd-and-10. His touchdown pass to Lazard was a clutch throw on 4th-and-5 while staring down immense pressure.
Ultimately, the head coach praised Love for what he showed the Packers in his first start. He also lamented the fact that his offense wasn't prepared to protect the young quarterback, and that's a coaching mistake.
"I thought Jordan, I was really proud of the way he played. He hung in there, he was taking hits and delivering the ball," LaFleur said, according to ESPN. I thought he did a really good job. But I think that, ultimately, I've got to be better and this one falls squarely on me."
LaFleur failed his young quarterback, and he knows it.
Green Bay's special teams is a problem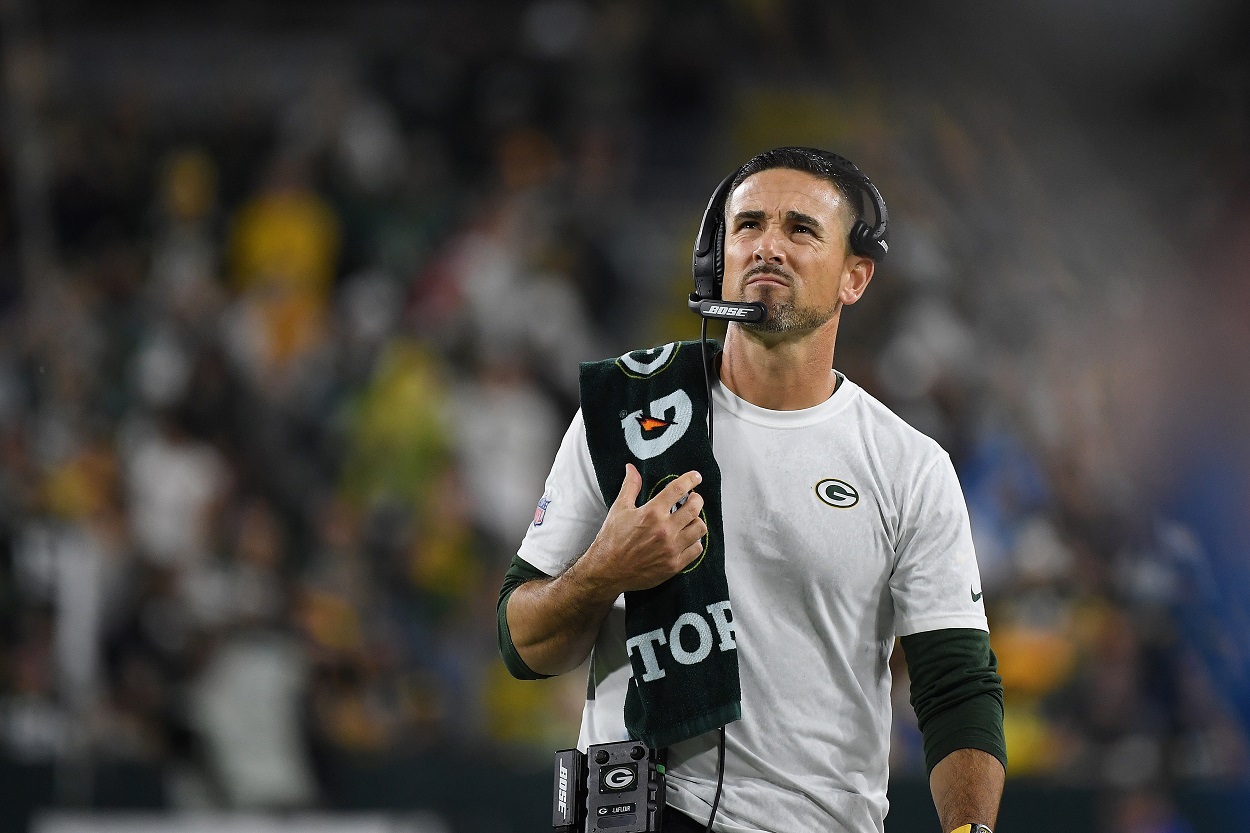 LaFleur said the Packers will start Rodgers in their next game against the Seattle Seahawks if he's available, but Green Bay has a larger problem on its hands.
Special teams always seem to be an issue for the Packers, and this year it's been no different. Special teams coordinator Maurice Drayton has found a great punter in Corey Bojorquez, but ultimately, the rest of the unit has been far too mistake-prone. They've become a liability for a team that otherwise looks like a Super Bowl contender, especially now that the defense is coming together.
The biggest issue for Green Bay has surprisingly been veteran kicker Mason Crosby and the field goal unit. Crosby's zany game against the Cincinnati Bengals will go down as one of his worst career performances, but he had another rough day against the Chiefs.
Crosby missed a 40-yarder wide left and had a 37-yard field goal blocked. Green Bay's special teams also failed with 2:48 to go in the second half when rookie returner Amari Rodgers let the football bounce down near the end zone, and it bounced off Malik Taylor's foot. The Chiefs got the ball back on Green Bay's 10-yard line and capitalized with a field goal to increase their lead to 10-0, heading into the half.
In what ended up being a six-point loss, Green Bay's special teams cost them nine.
"Obviously we could have used the six points," LaFleur said. "And we basically gave them points when we fumbled the ball. We can't have that happen."
Winning in the NFL is a total-team effort, and the same can be said for losing. Even Rodgers would have had a hard time making up for nine points given up on special teams while on the road in Arrowhead, so this loss was far from an indictment on Love.
Ultimately, Love left his very first start leaving an impression on his teammates. Maybe he's not the three-time MVP, but he still handled himself like a starting NFL quarterback.
"He took control of the huddle even when we were down 13-0, he's still in the huddle, 'Hey, we need a play, come on guys, let's lock in,'" starting running back Aaron Jones said. "All the right things you want to hear from your quarterback and you can tell in that game he never once got down on himself and just continued to play."
Stats courtesy of ESPN and Pro Football Reference.
RELATED: It's Time To Show Some Respect to the Green Bay Packers' Most Important Offensive Weapon…and It's Not Aaron Rodgers