Matt LaFleur's Scary Truth About A.J. Dillon and What It Means for the Green Bay Packers
The Green Bay Packers are dealing with a lot of question marks as free agency and the start of the 2022 league calendar quickly approaches. This is a team that could look drastically different at the start of the season, all depending on the futures of players like Aaron Rodgers and Davante Adams.
One place where the Packers feel very secure is at running back, though, where Aaron Jones and A.J. Dillon headline one of the best one-two punches in the league.
Recently speaking to the media about his running back tandem, head coach Matt LaFleur dropped an opinion about Dillon, specifically, that should have the rest of the league (and especially the NFC North) on notice.
Matt LaFleur says the Green Bay Packers have two No. 1 running backs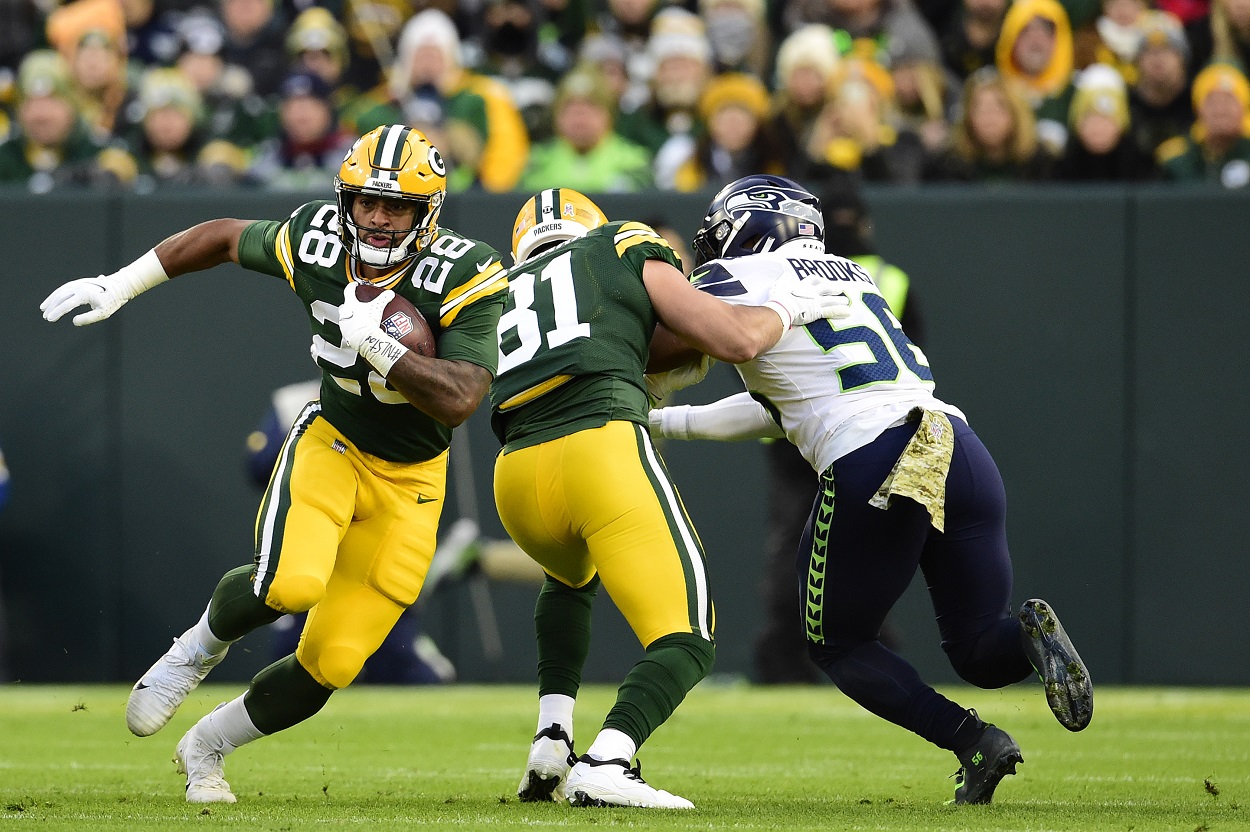 Gone are the days of the bell-cow back, who consistently weathered 30 to 40 carries a week and was a team's primary option offensively. In those days, players like Shaun Alexander, Edgerrin James, and LaDainian Tomlinson could single-handedly rush a team into the playoffs. They were even MVP candidates. Alexander won the NFL's MVP award in 2005. Tomlinson won it the very next season.
It was an era of elite running backs, but that style of play has given way to a more wide-open offense that leans on MVP play from quarterbacks and multiple star wide receivers instead.
Running backs are still important, of course, but teams have become weary of wear-and-tear at the position. Running back by committee has also become very popular, and few teams are doing it better right now than the Packers. They have their "thunder and lightning" combination in Jones and Dillon.
"We're fortunate, we've got two No. 1 backs," LaFleur recently said, per NFL.com. "They both offer a little bit something different. But the one thing I love about both of those guys is obviously they can run the football at a very high level, but just their contributions in the passing game. Whether it's in protection, whether it's receiving out of the backfield, whether it's lining them out wide. I think both of those guys are very versatile, and that's an important part to our offense."
The Packers expect even more from Dillon in 2022
General manager Brian Gutekunst turned some heads when he drafted Dillon with the Packers' second-round pick in the 2020 draft. The timing was notable because Dillon was Green Bay's next pick after Jordan Love. You may not remember the reaction to Dillon being drafted immediately after Love, but it wasn't good.
Public opinion was strongly in favor of the Packers selecting a wide receiver in that draft in order to give Rodgers more weapons to play with. Gutekunst instead drafted Rodgers' heir apparent and then followed that pick up with a running back despite having Jones and Jamaal Williams on the roster.
Getting out of the drama of that moment, it was easy to see was the Packers saw in Dillon. Running backs with his combination of size (6-foot, 247 pounds) and agility don't come around often. He was compared to Derick Henry, and it's a comp that still holds water two years later.
It especially holds water after seeing what Dillon could do as the 1B to Jones' 1A this past season. In fact, he actually led the Packers in rushing despite coming "off the bench". Jones rushed 171 times for 799 yards and four touchdowns. Dillon led the way with 187 rushes for 803 yards and five touchdowns. He also caught 34 passes for 313 yards and two touchdowns through the air.
It was a breakout season for the running back, who became known for his bruising ruining style and surprising agility in space.
Looking ahead to 2022 and beyond, LaFleur expects more, though.
"I thought we mixed him in a decent amount last year, but apparently not enough," LaFleur said. "He is a premier back."
The Packers don't think A.J. Dillon has reached his ceiling yet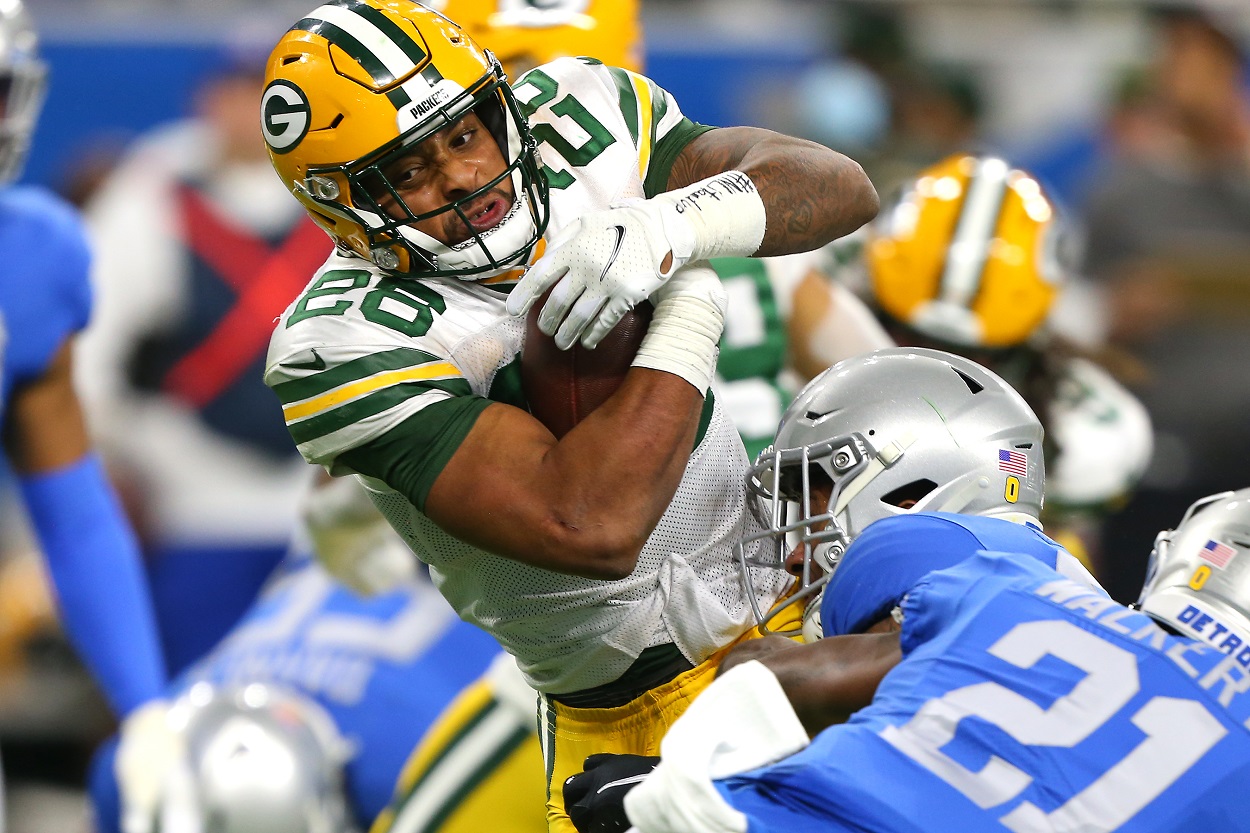 Dillon runs the football like he's channeling his inner Jerome Bettis. When he gets in space, though, he has the footwork, explosion, and agility of a Jamaal Charles.
There's a reason the Packers are so high on Dillon. For as explosive and quick-twitch as Jones is, there just aren't many players out there with Dillon's skillset.
To be able to run a defender over on one play and then juke them out of their socks on the next is special. No, he's not Derrick Henry, but it's worth noting that the Packers don't want to use Dillon like Henry.
Green Bay is content to keep defenses off-balance between the two distinct running styles of Jones and Dillon. And to be fair to Jones, he deserves his fair share of snaps as well. There are few players in the league able to take it to the house as he can right now.
Still, you get the sense when watching Green Bay's offense that it's best when the two are working in tandem. One threatens the defense sideline-to-sideline while the other is both the hammer and the nail coming downhill.
"We're super excited about both those guys, and I think AJ is just kind of scratching the surface of what he can become," LaFleur said.
Dillon is already a superb talent. To think that he has even another level that he can reach in his third season? That has to have the rest of the NFL, and specifically the rest of the NFC North, on edge.
Stats courtesy of ESPN and Pro Football Reference. Contract information via Spotrac
RELATED: 2022 NFL Combine: 5 Players the Green Bay Packers Should Watch