Matt Leinart Is Ready to Make an Improbable Comeback in The Rock's XFL
If Matt Leinart had his way, he'd be leading one of the XFL's various teams out onto the field whenever the league returns.
Leinart, a Heisman Trophy-winning quarterback at Southern California and former first-round NFL pick, recently tweeted he wanted to return to the field with Dwayne 'The Rock' Johnson and the XFL.
Football fans wanting to see Leinart make one more comeback probably won't get that chance. But what if Leinart actually got that opportunity?
Matt Leinart had a wild football journey
RELATED: Reliving the Greatest Football Team in USC History
Matt Leinart had one of the greatest three-year stretches by any starting college quarterback. From 2003-05, Leinart completed nearly 65% of his passes for 10,693 yards, 99 touchdowns, and 23 interceptions at Southern Cal.
He finished in the top-6 of Heisman Trophy voting every year and captured the award in 2004.
Playing alongside Kurt Warner, Leinart completed 56.8% of his passes for 2,547 yards, 11 touchdowns, and 12 interceptions as a rookie. Injuries limited him to five starts and only two touchdowns passes in 2007, though.
From there, though, Leinart only started two more games in the rest of his career and was out of the NFL by 2012.
Leinart retired with 21 interceptions against 15 touchdowns, a disappointing ratio given his stellar college career.
Leinart said he wants to play in the XFL
RELATED: The Rock Just Saved the XFL for $15 Million
Now working as a college football analyst at Fox, Matt Leinart just hinted he's open to playing again.
Well, his tweet could be interpreted as hinting … or joking .. or a flat out admission he wants to take the field again. Leinart, now 37, tweeted he wants to play in the XFL.
Although the XFL folded earlier this year, entertainer Dwayne 'The Rock' Johnson led a group that bought the league for $15 million. Dany Garcia, Johnson's business partner, told ESPN she hopes the league can play next season.
If the XFL returns in 2021, it could move to a bubble format, similar to the one the NBA adopted during its restart.
Could Matt Leinart actually return and play in the XFL?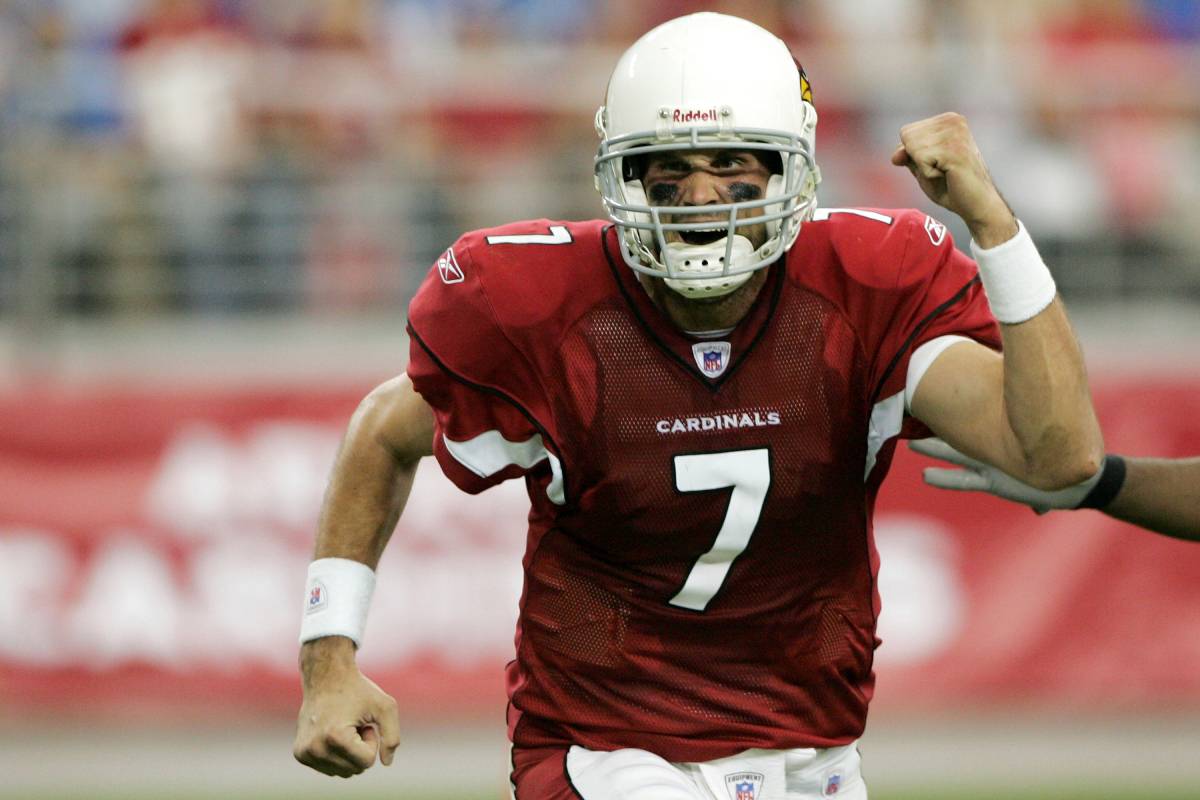 RELATED: Dwayne 'The Rock' Johnson Already Has Pat McAfee Reaching Out to Him for an XFL Job
The 2020 version of the XFL, or the XFL 2.0, viewed itself as a spring football league much like the first version. But many of the league's players were either just out of college or former NFL players in their mid to late 20's.
The XFL did not operate the way independent baseball leagues or arena football leagues do. There were no 40-year-old quarterbacks slinging the ball or 55-year-old kickers showing off their legs.
If Matt Leinart genuinely wanted to play again, he'd bring a name and a following to the XFL. But the league doesn't want to be a gimmick production.
If Leinart is involved with the XFL, it would likely be in a broadcasting or advisory role. It doesn't make sense for the league to bring him on with the intent of him playing and competing for a starting role.
Leinart should start his own league with other older NFL players. NFL fans missed out on yearly showdowns between Matt Leinart and Vince Young. A side league, not the XFL, could give us those games.