Matt Nagy Will Reportedly Be Fired After the Thanksgiving Game, and if That's True the Chicago Bears Will Have Finally Made the Right Decision
Chicago Bears head coach Matt Nagy is reportedly nearing the end of the line, and it sounds like his lame-duck session won't go far past Thanksgiving.
The Bears are a putrid 3-7 this season, and they're coming off a loss to the Baltimore Ravens without Lamar Jackson at Soldier Field. As unacceptable as that loss was for Chicago, the greater context of the season isn't great for Nagy either. The Bears are on a five-game losing-skid and things are so bad that they're not even a major favorite to beat the 0-9-1 Detroit Lions on Thanksgiving.
The latest reporting is suggesting that no matter the outcome, the game against the Lions will be Nagy's last with the Bears.
Matt Nagy will reportedly coach his last game for the Chicago Bears on Thanksgiving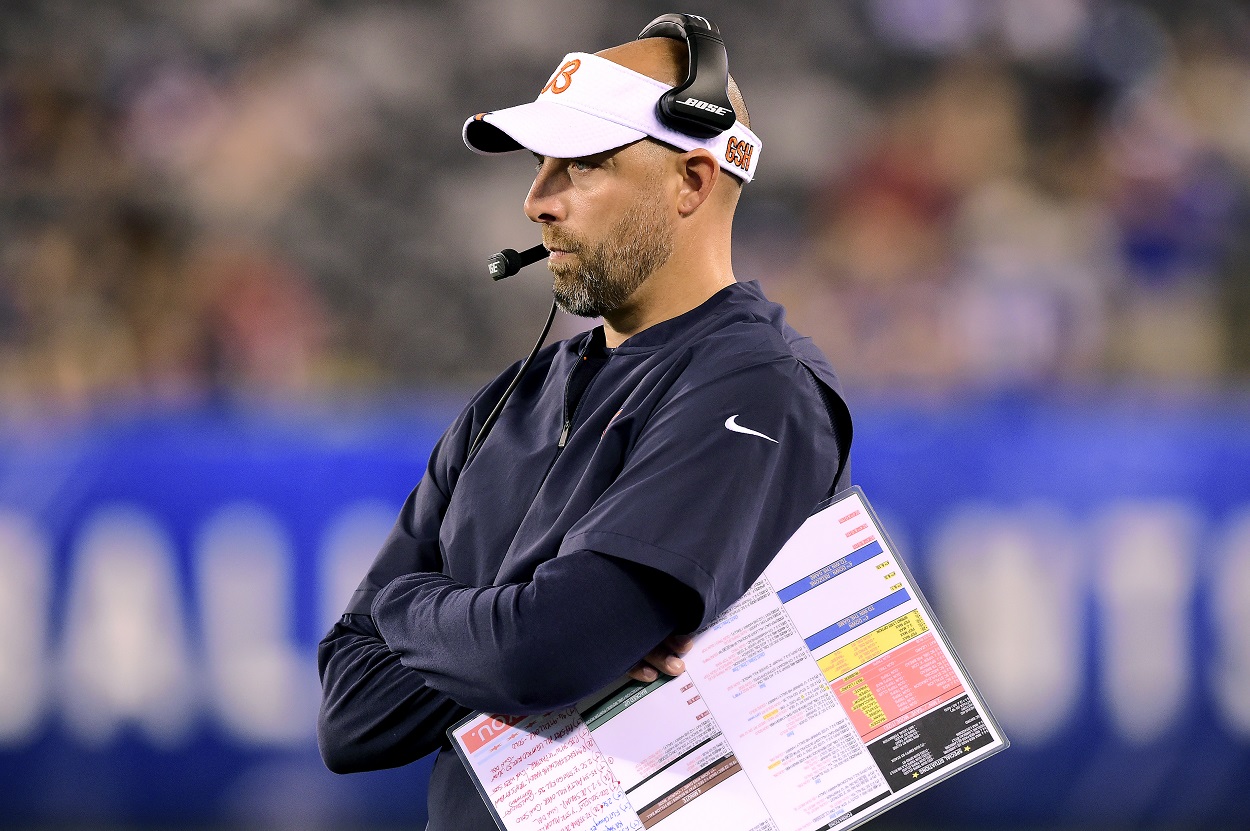 This is a fluid situation and it's worth pointing out that Chicago has never fired a coach in-season, so let's take a second to parse through the various reports. Take everything with a grain of salt right now.
Matt Konkol of Patch.com is reporting that according to his sources, Nagy will be terminated after Chicago's Thanksgiving game against the Lions.
Matt Nagy will coach his last game for the Bears on Thanksgiving in Detroit, a top source with knowledge of the decision told Patch. Nagy was informed of his pending post-Turkey Day termination on Monday, the source said.

Path.com's report on Matt Nagy
Konkol did say that the story is developing, and just like with any rumor mill, there is another side.
247Sports is reporting that Chicago special teams coordinator Chris Tabor doesn't know anything about the report from Patch. Jarrett Payton, son of legendary Bears running back Walter Payton, Tweeted that he talked to someone in the organization who also had "no clue about the rumors."
For his part, Nagy did deny the report, but of course, he would.
If Nagy is indeed fired after the Thanksgiving game, this would be quite the departure from the norm for Chicago.
The franchise is one of the NFL's oldest and is known for its tradition and "old school" values. The fact that no head coach has been fired midseason in 101 years does throw some cold water on this report. Consider that Konkol is a Pulitzer-prize-winning reporter known for his knowledge of Chicago, though. Not known for covering the Bears, the fact that he's put this report out there does lend it credibility.
It's a developing situation, indeed.
Nagy has been a major disappointment for Chicago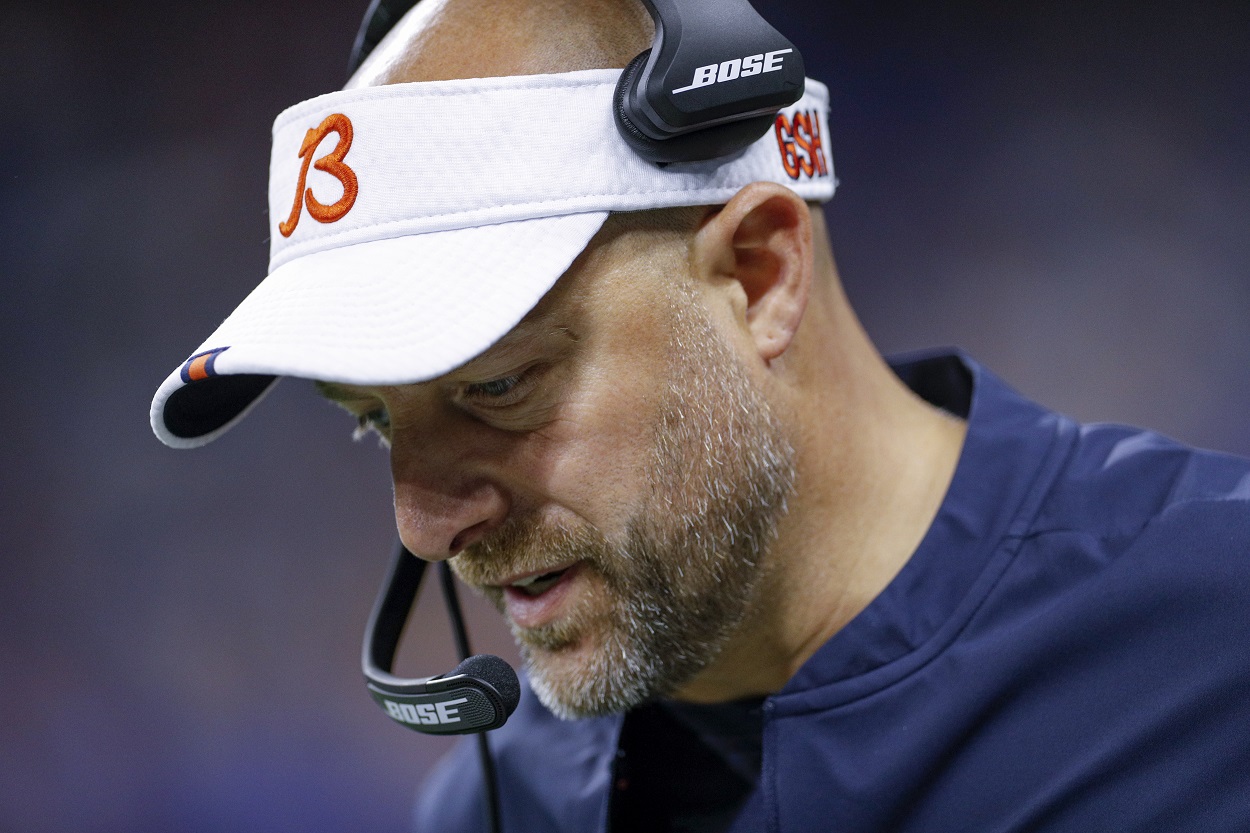 Frankly, Nagy should have been fired before the season even began.
The Bears drafted quarterback Justin Fields No. 11 overall in this past draft, signaling the beginning of a new era in Chicago. Along with a new quarterback should have come a new head coach more equipped to help a young quarterback grow. Despite the signs that Nagy wasn't up to the task, the Bears decided to keep him around on a scorching hot seat for 2021.
The Bears hired Nagy in 2018 when he was supposedly an up-and-coming offensive mastermind coming from the Kansas City Chiefs. He started his tenure in Chicago with a bang, leading the Bears to a 12-4 record and 1st place in the NFC North in his inaugural season.
He's gone 8-8 in the two seasons since, though, and has only three wins so far this year.
Nagy couldn't figure out how to unlock the potential of Mitch Trubisky, who the Bears drafted No. 2 overall in the 2017 NFL Draft. He's also largely wasted the talents of players like running backs David Montgomery and Tarik Cohen, wide receiver Darnell Mooney, tight end Cole Kmet, and notably, wide receiver Allen Robinson. That's not even going into the talent he's had on the defensive side of the ball. If Nagy was a halfway competent coach, he's had himself a defense that is at the very least playoff-worthy.
Given another chance to mold a franchise quarterback in his image, Nagy has all but ruined Field's rookie season. After a 38-3 loss to the Tampa Bay Buccaneers, Fields, who played college ball at Ohio State, was visibly dejected and frustrated. In one of the more tone-deaf comments you'll ever hear, Nagy was actually happy that he felt his team had come together and gotten closer to each other despite the blowout.
Nagy has also seemingly preferred Andy Dalton, when healthy, so there's a sense that he genuinely hasn't given Fields the keys to the offense. That's baffling when considering the talent difference between the two quarterbacks.
Why else would the front office have drafted Fields in the first round?
Firing Nagy ASAP is the right move for the Bears
The Bears are a franchise slow to take action, but the right move is to move on from Nagy as soon as possible. At this point, why even let him coach on Thanksgiving? Detroit is an absolutely putrid organization, but if Nagy can't lead his team to a win against the Lions on national television, Chicago will look even worse.
Who has confidence in Nagy? Not even his team does at this point, according to reports.
"An overwhelming number of Bears players want Matt Nagy gone, NFL insider Jordan Schultz recently reported, citing his league sources. "He lost some of the locker room last season, but now it's gone."
Truthfully, the Bears have been suffering from a comedy of errors ever since they drafted Trubisky ahead of Patrick Mahomes and Deshaun Watson. That turned out to be the wrong move, clearly. The "double-doink" then proceeded to kick the Bears out of the playoffs in Nagy's first season, and things haven't been the same since.
If Nagy has truly lost his locker room, it's time for Chicago to make the right move. It's time for the Bears to buck the trend before Nagy does any more damage to the psyche of a once-proud organization.
According to the reports, that's exactly what they will do, but we'll have to wait and see for sure.
Stats courtesy of ESPN and Pro Football Reference.