Matt Nagy Shares a Baffling Update on the Chicago Bears' QB Situation Which Only Casts Further Doubt on Justin Fields Being Named the Full-Time Starter
Since the moment he was drafted in the first round, rookie quarterback Justin Fields has been the talk of the town in Chi-Town. Most Chicago Bears fans are desperate for a franchise-caliber QB to latch onto, and Fields has all the makings of a player who can start in the NFL for a long time. Common sense suggests that the Bears should jump at the opportunity to name Fields the full-time starter, getting him crucial experience under his belt.
However, due to the presence of veteran QB Andy Dalton, this has not been the case thus far. Even with Dalton suffering a knee injury during the Bears' Week 2 victory over the Cincinnati Bengals, it appears head coach Matt Nagy is remaining consistent in his desire to roll with Dalton as the starter.
Matt Nagy gave a confusing update to the Chicago Bears' starting QB battle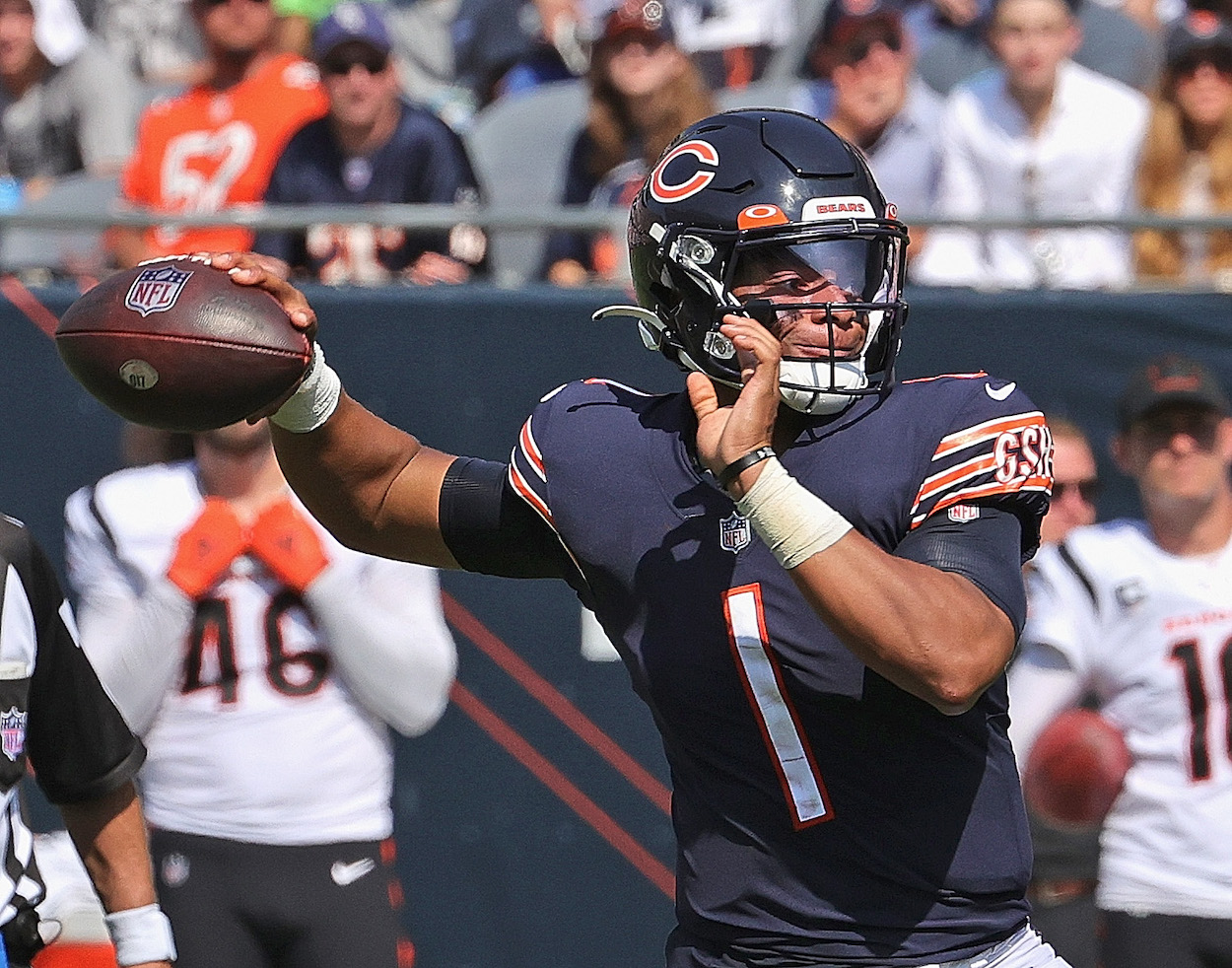 Dalton suffered a first-half knee injury while scrambling in his second consecutive game as the Bears starting QB. The veteran QB was forced to leave the game and began undergoing tests to diagnosis the severity of the injury. Early reports suggest that it isn't a torn ACL for Dalton (which was initially feared). However, there's still a possibility he misses a few games.
Upon Dalton being sidelined early in Week 2, Fields was thrust into the starting role. The Bears did walk away victorious over the Joe Burrow-led Bengals. However, it definitely wasn't smooth sailing for Fields in his first real taste of NFL action.
Fields went 6-for-13 for 60 passing yards and one interception. The rookie QB did run for an additional 31 yards on 10 attempts, taking his yards total up to 91.
While it was a very "meh" performance for Fields and the Bears offense, a common question rung out following the victory. If/when Dalton gets healthy, will the Bears award him the starting job again over Fields?
Matt Nagy wants to keep Justin Fields on the bench
The short answer to that question appears to be yes. According to Brad Biggs and the Bears' PR team, Dalton is the unquestioned starter when healthy.
With that said, Nagy's post-game comments made it seem like there was more being factored into the decision outside of just Dalton's health. When directly asked by a Bears reporter if Dalton would be his starter when healthy, Nagy replied by saying, "That's something that I'm not going to get into with scheme."
When the reporter responded by saying the question isn't necessarily scheme-related, Nagy retorted with, "Of course it is. That's 100% scheme. That's 100% scheme."
If you combine these replies with the Bears' PR team's message, you start to paint the picture of Nagy valuing Dalton over Fields outright. The "scheme" replies suggest that Nagy simply likes Dalton and how he runs the Bears offense over Fields.
The Chicago Bears have to start Justin Fields eventually, right?
While the idea of benching a rookie QB for a full season became popularized due to how the Kansas City Chiefs handled Patrick Mahomes, most teams tend to prioritize starting first-round rookies.
The Los Angeles Chargers experienced a ton of success with Justin Herbert under center last year. The New England Patriots cut Cam Newton for Mac Jones. Both the New York Jets and Jacksonville Jaguars named their respective rookie QBs day one starters.
Even if Nagy absolutely adores Dalton, getting Fields out there on game day is crucial for the Bears' future.
Dalton's current injury status is worth monitoring — even more so if/when doctors clear him to play on Sundays. How the Bears handle this minor QB controversy greatly impacts Fields' NFL career moving forward.
All stats courtesy of ESPN.