Matt Nagy's Stubbornness Has All but Sealed a Disastrous Ending for Him and the Chicago Bears
The sound Chicago Bears head coach Matt Nagy heard when he woke up this morning is the unemployment train approaching rapidly.
More often than not, coaches with two playoff appearances in three seasons are considered safe entering the season. However, Nagy's stubbornness involving quarterbacks Andy Dalton and Justin Fields may have sealed his fate as the first head coach to be relieved of his duties during the 2021 season.
Matt Nagy remains stubborn about the Chicago Bears' quarterback situation
When the Bears signed Dalton, the veteran quarterback who spent last season with the Dallas Cowboys, Nagy made it clear the three-time Pro Bowler would be his starter this season.
When the Bears traded up in the 2021 NFL Draft and used the 11th overall selection on Fields, the dynamic Ohio State product, Nagy continued asserting Dalton would start for the Bears in 2021.
This summer has been a verse repeating on a worn-out cassette tape. Despite Fields' strong play throughout training camp and the preseason, Nagy has refused to budge and re-open the quarterback competition. Unless Dalton physically cannot play in Week 1, he'll almost certainly be the one starting against Aaron Donald and the Los Angeles Rams on Sept. 12.
Nagy's motivation for wanting to start Dalton in Week 1? "We need to see him in the regular season," he told reporters after the Bears' second preseason game, a 41-15 loss to Josh Allen and the Buffalo Bills.
Dalton completed 11 of his 17 passes for 146 yards, a touchdown, and an interception in the Aug. 21 loss. Although Fields only completed nine of 19 passes for 80 yards, he also ran for 46 yards on four carries.
Nagy has all but sealed his fate with the Bears at this point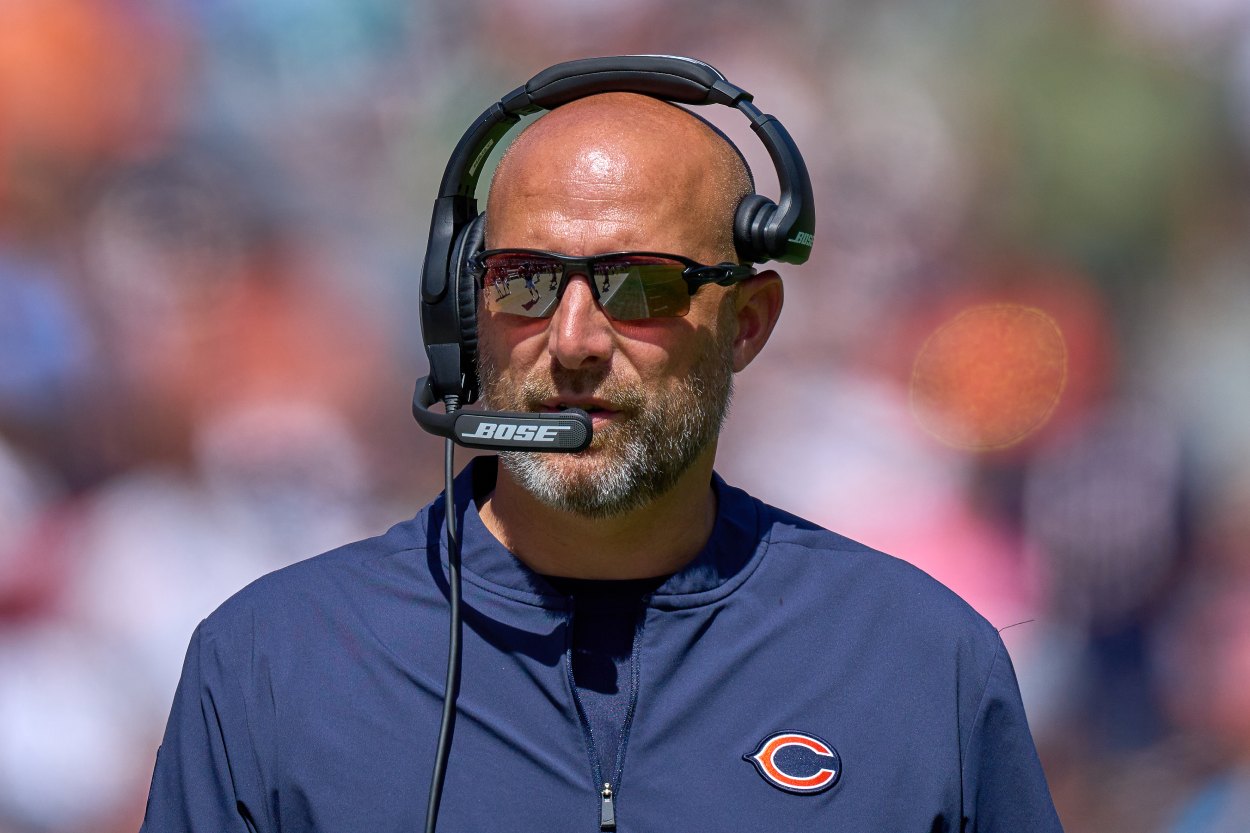 Look, no one is going to fault a head coach for wanting to give his rookie quarterback a few games — or even most of a full year — on the bench. Fields is still only 22 years old, and the Bears could be forgiven for wanting to bring him along slowly.
The problem is Nagy's stubbornness. For him, starting Dalton over Fields isn't so much about developing a player who the Bears hope wears their uniform for 10-15 years. Instead, this is about loyalty to a veteran and a desire to be proven right, two traits which a franchise looking for its first Super Bowl victory in nearly 40 years may not want to hear right now.
Yes, Nagy led the Bears to two playoff appearances — including an NFC North title in 2018 — in his first three years as the head coach. But the Bears went 28-20 in the regular season during that time while dealing with inconsistent quarterback play, whether it was Mitchell Trubisky or Nick Foles under center.
Nagy should approach this season as a make-or-break year for himself and the current regime. If starting Dalton is the safest answer for the team and Fields' development, that's one thing. But is this about the team, or is this about Nagy digging his heels in against outside pressure?
Dalton may prove all of us wrong and be an effective starter after all. But if the Bears start 1-5 out of the gate and Nagy isn't turning to Fields yet, don't be surprised if the fourth-year head coach is out of a job by November 1.
Which coaches should the Bears pursue if they eventually fire Nagy?
The NFL's coaching carousel is unpredictable. At this time two years ago, would you have imagined Urban Meyer is an NFL head coach, but Eric Bieniemy is still the Kansas City Chiefs' offensive coordinator?
If the Bears do decide Nagy isn't the answer, the team is best suited to add another offensive-minded coach as his replacement. Doug Pederson, the former Philadelphia Eagles head coach, worked with Nagy on the Eagles and Chiefs when both served under Andy Reid. Would the Bears replace one Reid disciple with another?
Bieniemy will be a trendy name for the job, as he is for every opening. Tampa Bay Buccaneers offensive coordinator Byron Leftwich is another option, although he may already have an unofficial verbal agreement to replace Buccaneers head coach Bruce Arians when the latter retires.
Chicago could always go to the college ranks. Ole Miss head coach Lane Kiffin is a far different and more mature man than the one who coached the then-Oakland Raiders from 2007-08. Elsewhere in the SEC, Florida Gators head coach Dan Mullen has been a rumored NFL coaching candidate in recent years. However, Mullen had not interviewed for any jobs despite his success with the Gators.
Then again, maybe the Bears will wind up in football purgatory, and Nagy will never leave. For the Bears fans out there, we're sorry we spoke this idea into existence.
Like Sportscasting on Facebook. Follow us on Twitter @sportscasting19.