Matt Nagy's Confusing Job Update Casts Even Greater Doubt on the Chicago Bears' Future
Owning a 6-10 record heading into the final week of the regular season, the Chicago Bears are a franchise in need of major change moving forward. It's been a disappointing year from top to bottom for Chicago, causing several disgruntled fans to start pointing the finger at veteran head coach Matt Nagy.
Nagy has undoubtedly struggled this season, especially when looking at his handling of the Bears' quarterback situation. Despite acquiring fan-favorite rookie QB Justin Fields in the spring, Nagy has spent a significant amount of time committing energy to veteran journeyman Andy Dalton.
The Bears' current win-loss record speaks for itself when assessing the effectiveness of such a strategy.
Matt Nagy is on his last legs in Chicago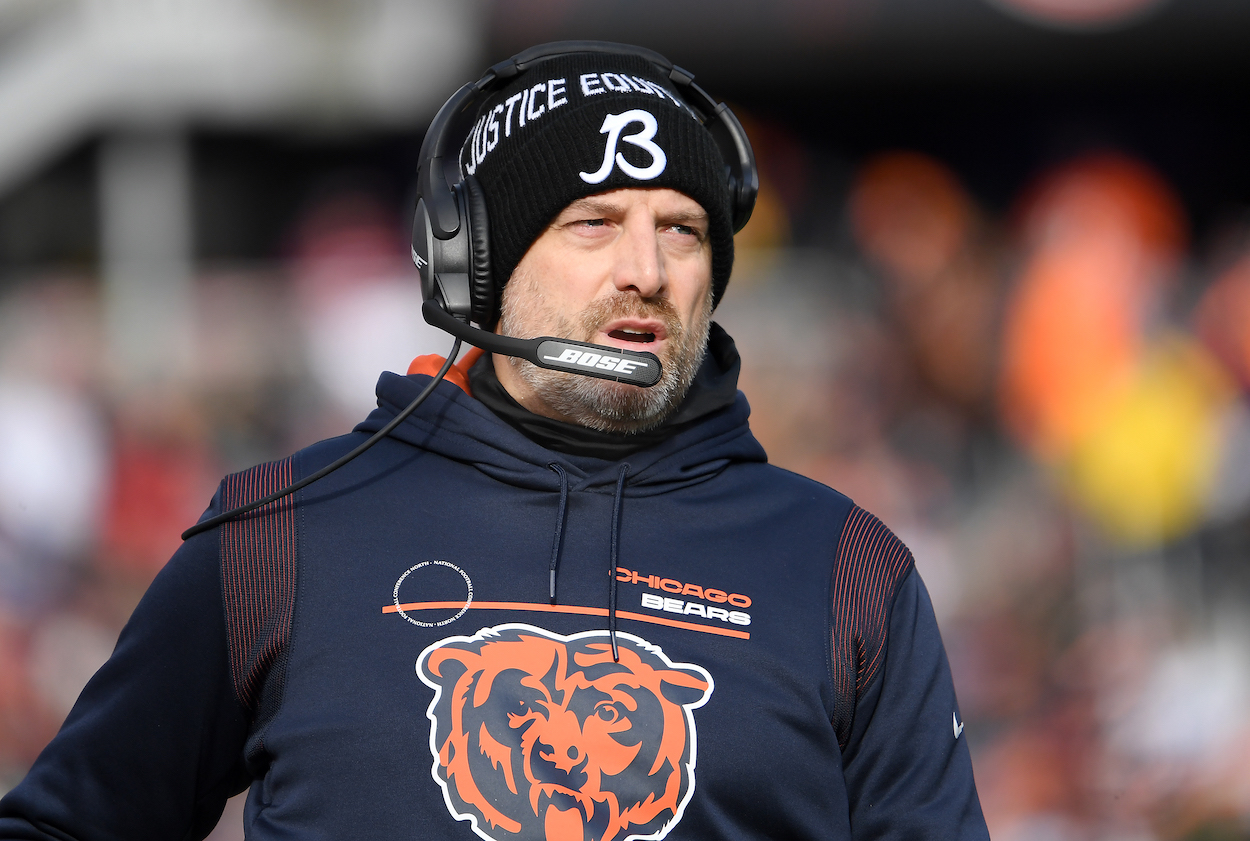 Nagy had an extremely promising start to his Bears career upon being hired in 2018. He led his team to a 12-4 record and even secured the league's Coach of the Year award. However, that's where the success train stopped chugging along. Nagy's Bears were a first-round exit in 2018 to the Nick Foles-led Eagles, followed by finishing the next two years with an 8-8 record.
Nagy and the Bears did make the playoffs in 2020 despite the 8-8 record. However, they were once again knocked out in the first round.
Much of Nagy's struggles the past three seasons were blamed on former starting quarterback Mitchell Trubisky. However, after seeing how Nagy handled the development of Justin Fields, it's hard to tell who was more at fault. Trubisky was never the answer in Chicago, yet neither is Nagy.
Rumors surfaced earlier this year that Nagy was set to be fired after Thanksgiving. That obviously didn't happen. However, it does feel like the organization is set to revisit the idea in a few weeks. The veteran HC is on his last legs.
Matt Nagy gave a confusing update
While a Nagy firing seems inevitable at this point, the Bears head coach gave a very confusing update when asked about his job status earlier this week.
He claims he hasn't been told he will be fired (ProFootballTalk) — exactly the response he gave when questioned about his job status around Thanksgiving.
This could simply be Nagy and the Bears attempting to keep in-house affairs in-house until the season ends. However, other teams around the NFL are already getting a jump start on the coach-hiring process. The longer the Bears wait, the worse their options will be.
The Bears need to construct a concrete plan moving forward
After three straight years of treading water in the NFC, the Bears need to develop a more defined plan moving forward. Starting with the quarterback position, the Bears need someone who can help Justin Fields develop and grow.
While Fields was undoubtedly hurt by Nagy's coaching this past season, his performances were far from reassuring. He struggled greatly at times.
Targeting a proven offensive mind like Doug Pederson, for example, would be a solid place to start. Pederson did a great job developing Carson Wentz in 2017 and was spotted at Bears' practices last offseason. He'd be a perfect guy to target if/when Nagy is let go.
All stats courtesy of Pro Football Reference.