Matt Olson Trade: Braves Show Appalling Lack of Respect for Freddie Freeman
Let's get this out of the way first: Matt Olson is a terrific trade acquisition for the Atlanta Braves. The former Oakland Athletics star is an elite-level talent who clubbed 39 homers with a 153 OPS+ while playing Gold Glove defense at first base. Yet, the way negotiations for Olson transpired represents a stunning lack of respect for franchise icon and top MLB free agent Freddie Freeman.
Pessimism about Atlanta's willingness to re-sign Freeman to a lucrative, multiyear deal became more pervasive as free agency went along, leading to noise about the Braves possibly eyeing Olson. Even after MLB and MLBPA ended the lockout, the defending World Series champions seemed to show as much interest in trading for Olson as bringing back the man who anchored the franchise for over a decade.
The Braves opted to pursue a Matt Olson trade instead of re-signing Freddie Freeman in free agency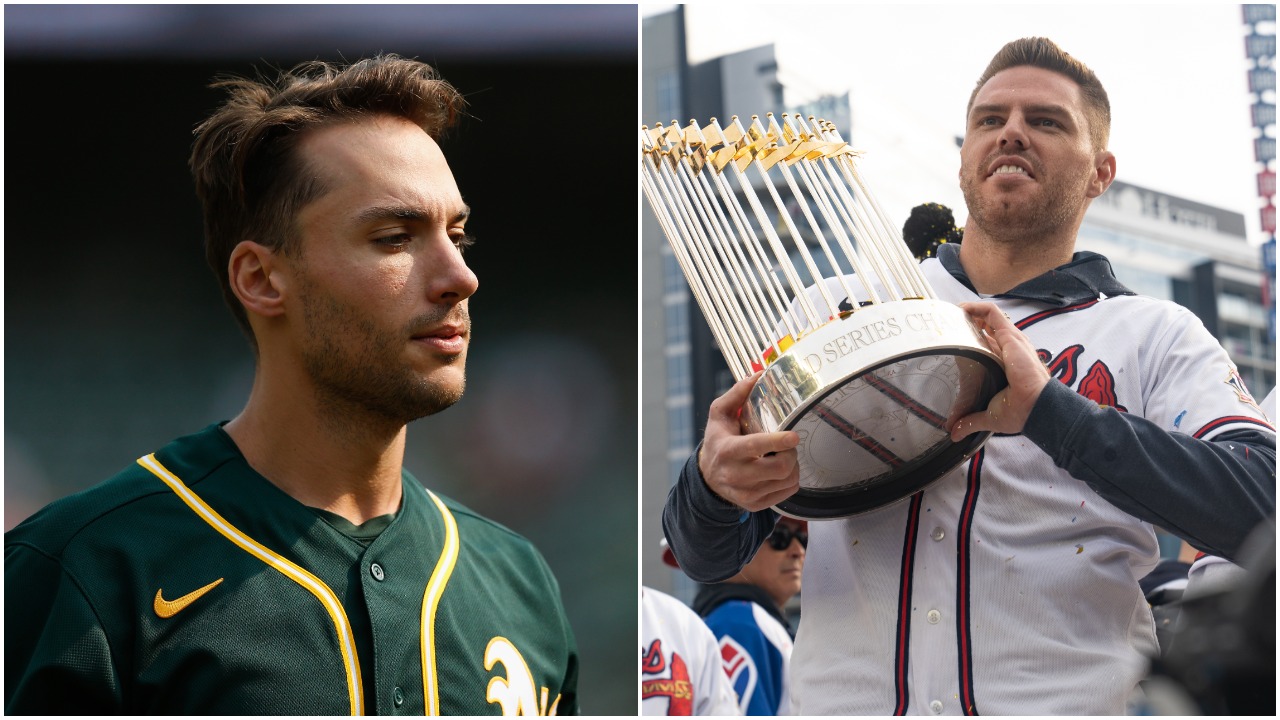 Joe Buck's home run call of Freeman's dinger in the Braves' World Series-clinching Game 6 win over the Houston Astros ultimately proved prophetic. Freddie Free is almost guaranteed to play for another team in 2022.
On Monday, Atlanta made its big move. The Braves acquired (h/t ESPN's Jeff Passan) Olson from the A's in exchange for top outfield prospect Cristian Pache, budding backstop Shea Langeliers, and a pair of arms in pitchers Ryan Cusick and Joey Estes.
It's pretty shocking to think about how Atlanta got here.
After headlining the Braves' improbable World Series run, it seemed all but certain the team would do everything in its power to re-sign Freeman in free agency. In 12 seasons with the Braves, the 32-year-old amassed a .295/.384/.509 slash line with a 139 OPS+. He finished in the top 10 in National League MVP voting six different times, winning the award in 2020.
Freeman raked during Atlanta's march to the Fall Classic. He had a 1.086 OPS during the NLDS against the Milwaukee Brewers, then a 1.063 OPS and two homers against a heavily-favored Los Angeles Dodgers team in the NLCS. The five-time All-Star capped a remarkable season by slashing .318/.360/.636 with two more round-trippers in the World Series.
Having given so much to the organization, Freeman deserved more of a courtship from the Braves, or at least advanced notice if they planned to move on. He got neither.
Atlanta reportedly did not inform Freeman that it planned to trade for Olson
Orchestrating a trade for a player of Matt Olson's caliber surely took some quick decision-making on Atlanta's part. Still, it's utterly inexcusable that the Braves reportedly failed to give Freddie Freeman a tip of the move they planned to make.
According to Joel Sherman of the New York Post, the Braves did not inform Freeman that the Olson trade was in the works. Though tension had been building since the winter, it's downright puzzling that Atlanta allegedly showed such little respect for a guy who endured so much with the franchise and is unquestionably one of the best players in franchise history.
Freeman came to the big leagues when the Braves' grip on the NL East had already begun to slip. He tied himself to a sinking franchise by signing an eight-year extension in 2014. While Atlanta twice won below 70 games in 2015 and 2016, Freeman continues to produce at a high level. Ultimately, his patience was rewarded when the Braves joined the ranks of NL contenders in 2018 and, after a 2020 heartbreak, overcame all odds to win the World Series this past fall.
Atlanta essentially spit in the face of everything Freeman did in his 12 brilliant seasons. That's a shame.
A cost-benefit analysis
Before breaking down the Braves blockbuster, a clarification: General manager Alex Anthopoulos should not receive blame for how this all went down.
Anthopoulos has to put together a winning product. But he also must do so within the confines of the Liberty Media ownership group.
From a baseball standpoint, Anthopoulos did the best he could.
The Braves gave up a lot in the Matt Olson trade. Even if Cristian Pache's bat never develops, he's a plus-plus defender with good speed. Langeliers might ultimately become the prize of the package for the Athletics, given top catchers come at a premium. He hit 22 homers with an .836 OPS in Double-A last season and has tremendous tools behind the plate.
That said, Olson's two-way value necessitates that kind of haul when he's healthy. His pop is obvious, and he could thrive as a left-handed hitter in Truist Park. Plus, the hometown kid is only entering his age-28 season.
Atlanta could have signed Freeman and kept the prospects while eventually transitioning their franchise cornerstone to a designated hitter role with the implementation of the universal DH. Instead, the Braves gave up top talent in their pipeline.
Now, the Braves tie much of their future to this move. Atlanta announced that it signed Olson to an eight-year, $168 million contract. Perhaps that alone validates the move, considering he is just entering his prime and is coming off a career season. Much of it depends on health, but it's the move to make given how much the Braves gave up to get him.
As for Freddie Freeman, he's still one of the most desirable free agents on the market. However, his Braves tenure appears to have come to a somewhat sour end.
Stats courtesy of Baseball Reference.
RELATED: The Cincinnati Reds are Proving Why They Will Always Be a Laughingstock