Matt Rhule's Brainless Response When Asked About OT Rashawn Slater Proves the Panthers Are Due for More Misery in 2022
The Carolina Panthers are coming off a disaster-filled 2021 campaign, and while teams all around the NFL are parting ways with their below-average head coaches, it appears the Panthers are stuck with Matt Rhule for at least another season.
Despite being one of the most sought-after coaching candidates less than two years ago, Rhule's first experience coaching an NFL program has not been a pleasant one. He's guided the Panthers to back-to-back losing records, including a 1-8 stretch during the final nine games in 2021.
Matt Rhule's poor offensive scheme is at the center of the Panthers' problems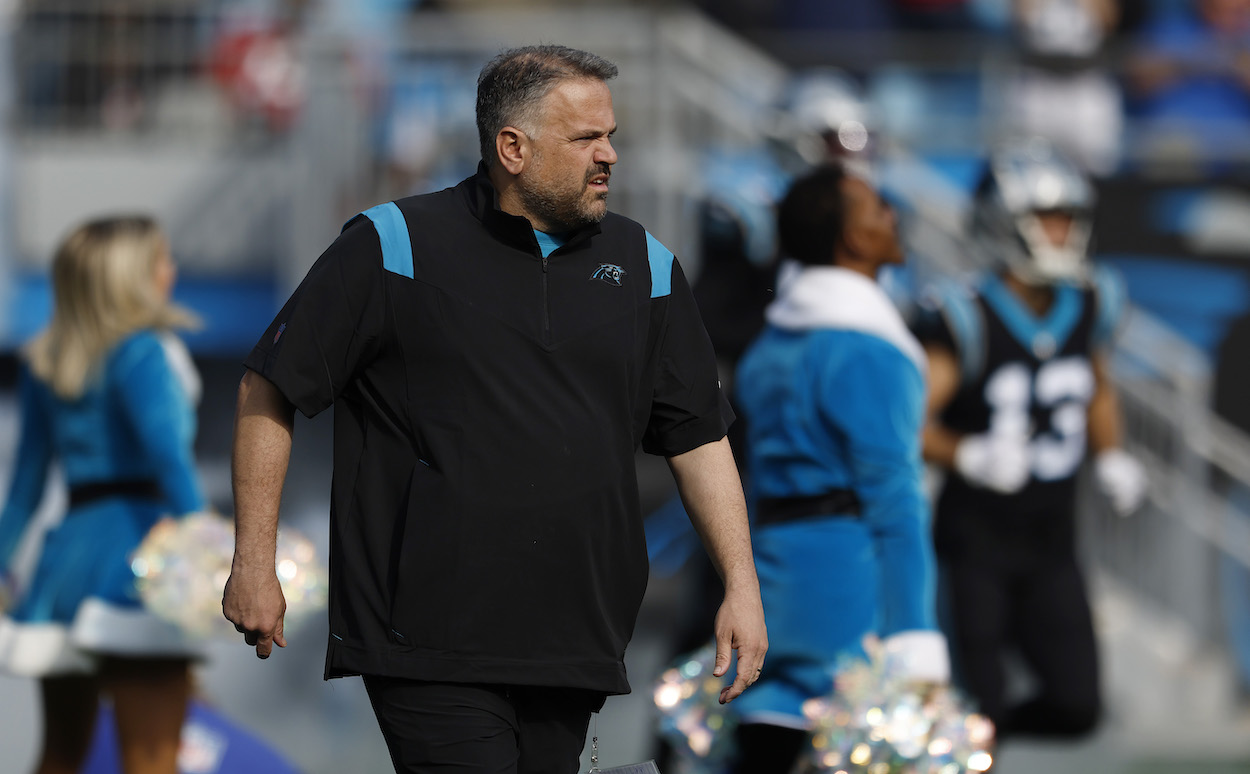 Several things went wrong for the Panthers in 2021. However, at the center of their issues is Rhule and his faulty offensive scheme. Despite being an incredibly successful play-caller in college, his ability to scheme up an offense has not translated to the NFL.
The Panthers finished 2021 with the third-fewest offensive yards, fourth-fewest points, and second-worst expected points contributed by the offense. It was a disastrous season for the Carolina offense, no matter how you slice it.
The Panthers' lack of a true franchise quarterback is the area most fans are frustrated with. However, Rhule had several issues on the offensive side of the ball that need pointing out. He struggled to get all of his WRs involved, the running game was inconsistent, and the offensive line rarely held up against above-average pass rushes.
Matt Rhule still doesn't understand how to build an offensive line
Figuring out the quarterback position is at the top of Rhule's to-do list heading into the offseason. Cam Newton is unlikely to return, and Sam Darnold didn't play well enough to warrant a solidified QB1 status. However, fleshing out the offensive line is just as important as finding a new QB.
The only problem is that Rhule seemingly has no idea how to evaluate offensive line talent.
When asked why the Panthers passed on Los Angeles Chargers OT Rashawn Slater during the draft (who played at an All-Pro level this past season), Rhule gave a downright bizarre answer. He claimed Slater was too small to play tackle in the NFL … despite starting at tackle all year long for LA.
Rhule is clearly trying to save face for his draft-day mistake (the Panthers really should've drafted Slater or a quarterback). However, this answer screams of someone who has no idea how to evaluate and identify offensive line talent.
How are the Panthers supposed to rebuild this area of their organization with Rhule leading the process?
The Panthers are staring down another bad year in 2022
Optimism is always sky-high for bad teams during the offseason. However, it's challenging to see the light when it comes to Rhule and the Panthers.
They're still searching for a new offensive coordinator after firing Joe Brady, and Rhule seems no closer to understanding the NFL than he was a few months ago.
Unless Rhule has some sort of awakening moment over the next couple of weeks, the Panthers are in line for another rough, loss-filled season in 2022.
All stats courtesy of Pro Football Reference.