Matt Ryan Has Aaron Rodgers Beat in a Surprising Stat
The Green Bay Packers turned heads recently when they drafted quarterback Jordan Love in the first round. And to make things even harder on Aaron Rodgers, they guaranteed Love a massive salary right off the bat. It's clear where the Packers believe their future lies, but Aaron Rodgers isn't done just yet.
Not only did he have an excellent Week 1 performance to kick off the 2020 season, he's still making quite a bit of money himself. But Rodgers is still trailing a player who he's considered better than in an important stat.
Aaron Rodgers' NFL career
Rodgers has done it all in the NFL. A Super Bowl victory, two MVP awards, and a guarantee that he'll continue the Hall of Fame quarterback lineage in Green Bay. Even at the age of 36 (37 later this season), Rodgers can still play. But with his history of big contracts and big games, is he the highest-paid QB in the league?
Surprisingly, Rodgers has been out-earned by five other quarterbacks. Drew Brees and Tom Brady, of course, who began playing in 2000 and 2001. Ben Roethlisberger, who started in 2004 and won two Super Bowls for Pittsburgh. Philip Rivers, the face of the San Diego (and Los Angeles) chargers for over a decade and an accomplished signal-caller despite a lack of support.
All four of those players have more time in the league than Rodgers, so it makes sense that they'd be above him. But one QB has earned more than Rodgers with three fewer years in the league.
Where Matt Ryan out-shines Rodgers
Matt Ryan has been in the news lately when it came out that the Falcons were interested in drafting a quarterback. However, Ryan still has four years on his contract — at a staggering $94 million left.
Quarterback salaries have been growing at an unbelievable rate as players like Dak Prescott continually set new limits on what they're willing to accept.
In fact, due to the timing of Ryan's contracts, he's received more money than Aaron Rodgers over the course of his career. Of course, he'd probably rather have the Lombardi Trophy Rodgers earned, especially given how close Ryan's Falcons were to winning the big one.
It's unclear how much longer Rodgers will stay with Green Bay. However, if his tutelage under Favre was any indicator, the Packers aren't afraid to let the new kid learn for a few years. After all, it's worked out just fine so far.
Matt Ryan or Aaron Rodgers: who's better?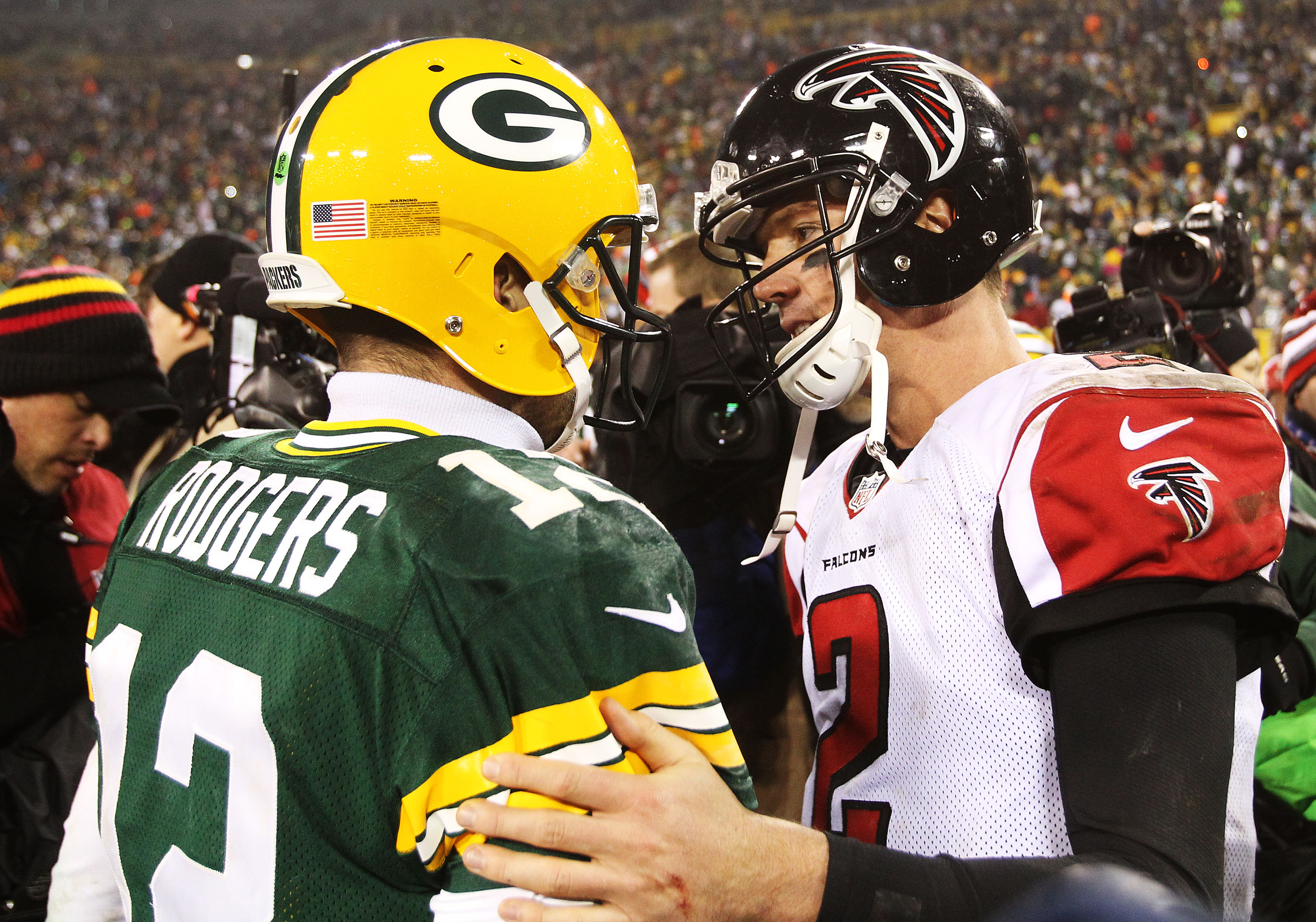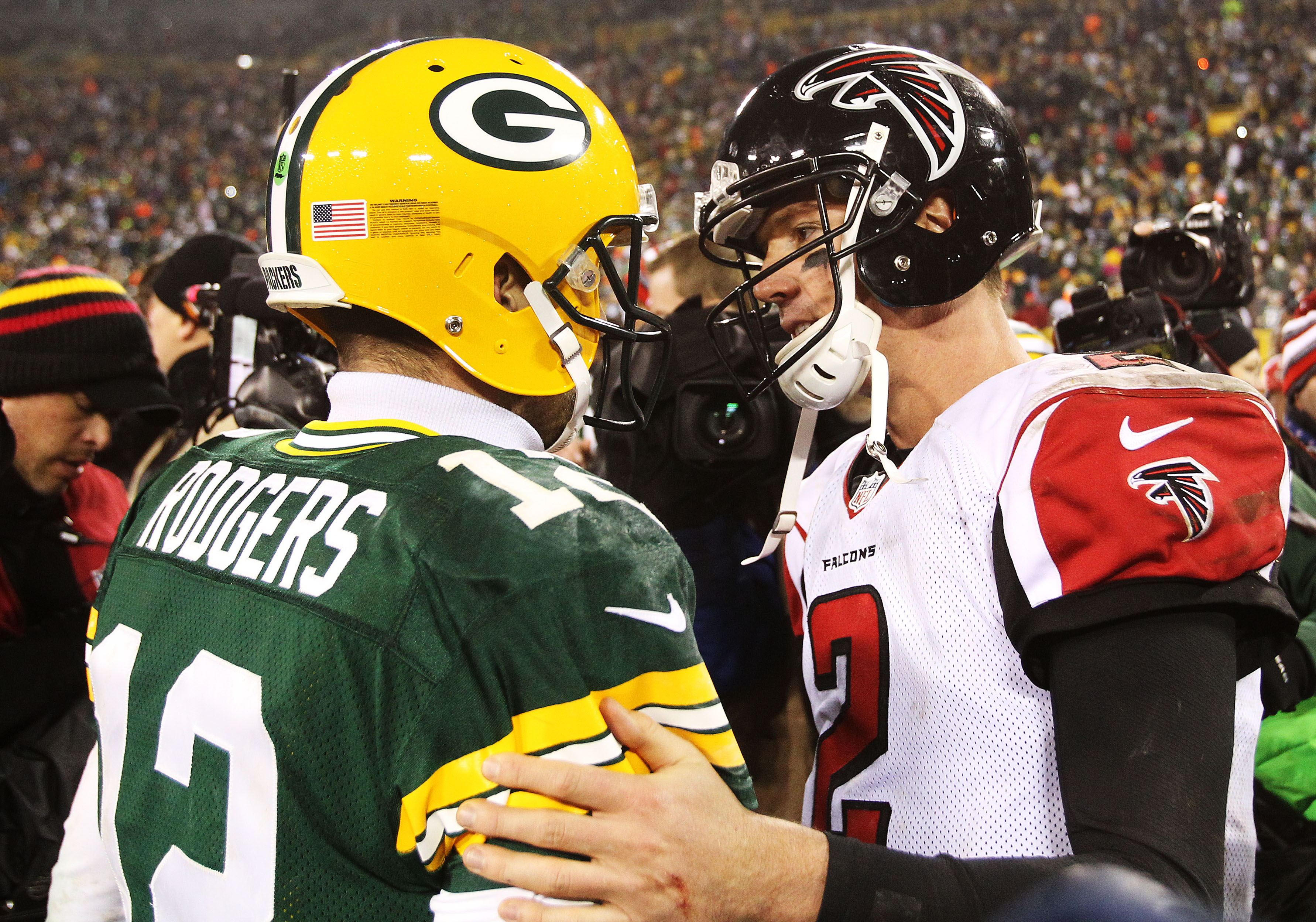 Rodgers is generally considered the better quarterback, and he's certainly had the more storied career. So is it safe to say he's "better" than Ryan? It's difficult to compare them in a lot of ways.
Despite the feelings of many Packers fans over the years, management in Green Bay has done pretty well giving him receivers to throw to and an offensive line to protect him. Of course, you could say the same for Matt Ryan who has had the luxury of throwing to players like Julio Jones for most of his career.
Fortunately for Ryan (and Love, and other upcoming quarterbacks), the contract arms race doesn't seem to be going away any time soon. The list of total earnings on Spotrac shows Russell Wilson about to break into the top 10 all-time, despite beginning his career six to eight years after the rest of the names on the list. When Sam Bradford can get a massive contract, times have changed. 
In 2016, Andrew Luck signed the biggest contract in history up to that point. Three years later, he had retired. Teams are taking on more and more risk with these huge paydays for players, and the bubble is sure to pop at some point. But until then, Matt Ryan will get to enjoy his ranking above Rodgers on a list for a change.